Take a virtual tour of the National Glass Centre's exhibition – "No Strings"
There are some brilliant virtual art and glass art exhibitions around at the moment...so you can view great art from the comfort of your living room!!
No Strings
Beads in a Modern Context
----
No Strings should have opened to the public back in March 2020 but was unable to due to the Covid-19 closure of National Glass Centre. Our curator Julia Stephenson has recorded a short video tour of the new exhibition so you can 'visit' from the comfort of home. We hope you enjoy it.
-----
The first glass beads were made one at a time by winding hot glass around a metal rod. To support a faster and greater production process, molten glass was blown and drawn out to form long, hollow tubes, which were cooled and cut into small, even beads (rocaille). In the 15th century, this technique was refined by the master glassmakers on Murano in Italy to make tiny beads for embroidery, an industry which continued well into the 20th century in Italy, Czechoslovakia, Germany and France. Today, glass beads are primarily made in countries including India, the Czech Republic, Japan, China and Taiwan.
'No Strings' features the work of seven international artists working with glass beads in unconventional ways. The exhibition will include a beaded burger and coke by Faranak Sohi, an evening dress made using beads and safety pins by Shige Fujishiro and a beaded chicken showing his gymnastic prowess on the rings by Felieke van der Leest.
.
.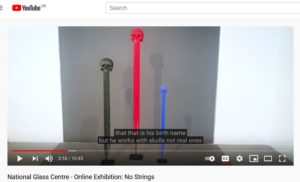 Author:nickycgs
Post date:12-01-2021
From Date:12/01/2021
To Date:27/03/2021