Richard Jackson kindly talks us through successful glass photography.
Glass photography requires a combination of technique, skill, and knowledge. If you want to photograph glass, you should know that the glass will reflect any light or objects that are within your room as a whole. While this can be a challenge, there are a few techniques that can make this process a little easier.
Photographer Richard Jackson has very kindly put together a detailed guide on how to successfully photograph glass. We also recommend members work with a professional photographer to obtain superb results: https://www.cgs.org.uk/.../how-to-photograph-glass-for.../
-
A big thank you to Richard for his help and valuable information.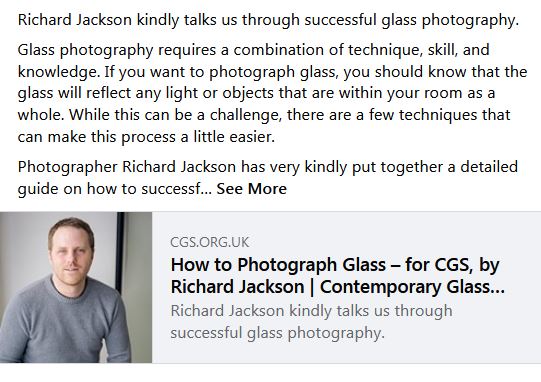 Author:nickycgs
Post date:04-06-2021
Category:Workshops/Short Courses
Contact Richard Jackson
From Date:04/06/2021
To Date:14/06/2023