Call to Artists CGS in partnership with Makers Guild Wales
Makers Guild Wales in partnership with the Contemporary Glass Society
CALL FOR ARTISTS
FLOW: Makers Guild Wales at Craft in the Bay, Cardiff
2
nd
April – 29
th
May 2022
Deadline Monday 10th November 2021
Download Application
CGS and Makers Guild Wales Cardiff FLOW application
2022 is a spectacular year for the Contemporary Glass Society.  From humble beginnings 25 years ago, it has grown over the years into a thriving and proactive society supporting a membership of over 1,000. 2022 is also the UN designated International Year of Glass, so this is our opportunity to promote to the world the glorious material that we all love.
CGS is delighted to be working in partnership with The Makers Guild Wales. The show is open to all CGS members, but we especially encourage our Welsh members to apply.
CGS members are invited to submit an application to exhibit glass that expresses individual interpretation of the word FLOW.
The FLOW of glass, of ideas, of creativity, of movement (e.g. physical in the making process, movement of material…) are just some thoughts to get you started.
FLOW – to move steadily and continuously in a current or stream.
FLOW state – being in the zone, a mental state in which a person performing an activity (such as making) is fully immersed, a feeling of hyper focus, intense, leading to a sense of ecstasy and clarity.
Glass artists are invited to submit images of up to three pieces of work within their application. There is no limit with scale but please bear in mind that artists will be responsible for covering the cost of delivery and return of work.
The gallery, Craft in the Bay, has vast windows, perfect for displaying glass to its best advantage. The gallery can accommodate wall pieces, plinth based, suspended and cabinet-based works.
Application
CGS and Makers Guild Wales Cardiff FLOW application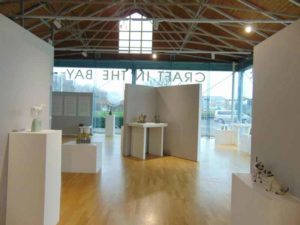 Author:Pam
Post date:20-09-2021
Category:Opportunities/Call for Artists