Introducing Art by Fire
The red-hot artists over at @ArtbyFireGlass (via @DT_Issaquah ) have openings for their upcoming Virtual Glass Blowing classes!
It's your chance to make your very own Snow Folk! Participate via live stream or in person from the viewing area. Learn more at
https://www.artbyfire.com/
.
Art by Fire -
art by fire - is a glass school and gallery on Front Street in Issaquah WA 98027 United States. They teach glassblowing and lampworking and enjoy sharing their love of glass with everyone!
Artbyfire was founded in 1997 by Renée Robbins Pound and Lenoard Whitfield. Renee and Lenoard sought to create a gallery and studio conducive for students and artists to be able to create and sell their work. Art by Fire was originally located in Ballard but after several years, Art by Fire moved to Issaquah.
There is usually glassblowing happening from 9-6 Wednesday to Sunday.
@thecontemporaryglasssociety is delighted to be able to share their workshops, courses and passion for making!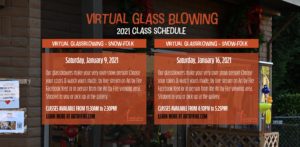 Author:nickycgs
Post date:12-01-2021
Category:Workshops/Short Courses
Website url:https://www.artbyfire.com/?fbclid=IwAR38mKPU4vlIZ_Iay2NQ7JRjTFOzsxVCiYMJlFhgAC1DZf3X6HMv_Iq1lk4
Contact https://www.artbyfire.com/?fbclid=IwAR38mKPU4vlIZ_Iay2NQ7JRjTFOzsxVCiYMJlFhgAC1DZf3X6HMv_Iq1lk4
From Date:12/01/2021
To Date:12/05/2021