GLASS WEEKEND EXTRAVAGANZA on Saturday & Sunday, 20th-21st March, 2021
GLASS WEEKEND EXTRAVAGANZA
on Saturday & Sunday, 20th-21st March, 2021
THE ZOOM LINK
IS IN YOUR CGS RECENT E-BULLETIN
PROGRAMME:
SATURDAY, 20th March:
2.30pm: Johannes von Stumm - "The Harmony of Glass, Stone & Metal"
7.30pm: David Reekie – "Techniques for Telling a Story".
SUNDAY, 21st March:
2.30pm: Joshua Kerley - Pâte de verre demonstration
7.30pm: Pippa Stacey – "Glasswork in a Spin"
SPEAKERS
2.30pm: Johannes von Stumm -"The Harmony of Glass, Stone and Metal"
Johannes von Stumm¹s unique combination of different materials has attracted public and critical acclaim in a decade of successful exhibitions, both in Britain and abroad. His startlingly original sculpture, which engages continually with risk and a defiance of accepted laws, joins iron, granite and glass to create abstract or reduced figurative works in which apparently conflicting materials exist in complex harmony.
Von Stumm¹s choice of media and instinct for experimentation is deeply rooted in his background, in a childhood and adolescence spent at the foot of the Alps with long winters, ice and rocks. His love of steel and glass is intertwined with his family history: ancestors on his father¹s side were blacksmiths and steel factory owners for 250 years and ancestors from his mother's side designed glass and were the owners of the glass factory at Harrachov.
In thirty years of combining metal with glass and stone, von Stumm has expanded the boundaries of expression by fusing the strong and the fragile, the solid and the liquid, the dark and the transparent.
7.30pm: David Reekie – "Techniques for Telling a Story"
I am an artist/sculptor who just happens to use glass as my main material. In this talk I hope to reveal how I avoid the use of too much technique and just enjoy the art of making things and along the way I will mention some important influences.
Over the last 50 years I have developed glass techniques that have enabled me to play with ideas and tell stories about us and the world we live in. Glass to me is a sculptural material that I can manipulate and abuse to my own ends. I try to avoid its potential beauty allowing it to reveal it natural subtitles. This along with using the figure allows me to investigate the human condition, politics and the society around us.
I will also be including a short video tour of my studio during the talk.
SUNDAY, 21st March:
2.30pm: Joshua Kerley - Pâte de verre demonstration
Joshua Kerley is an early-career artist, designer, and educator specialising in kiln-glass and recent graduate of the MA Ceramics & Glass programme at the Royal College of Art. In 2018, Joshua won the Academic Gold Award at the Emerge Glass Prize and subsequently exhibited with Bullseye Projects at Collect in 2019 and 2020.
Since the completion of his MA in 2019, Joshua has been awarded the Tiffany & Co. Studiomakers Prize and the Glass Art Society Saxe Emerging Artist Prize. Examples of his work are held in the permanent collection of Bullseye Glass Co. and the Special Collections Museum at Manchester School of Art. Joshua currently works from a studio in rural Wiltshire and holds the position of glass lecturer at University of the Creative Arts, Farnham.
Revived by a group of French glass makers in the late 19th and early 20th century, pâte de verre is a kiln-forming technique that uses a glass paste made from sugar-like fine frit, a binding agent and water, to produce delicately thin glass vessels and objects.
Joshua has been working with kiln-glass, on and off, for over ten years. For the last three years, Joshua has been working more extensively with pâte de verre, with a particular focus on colour mixing and blending. In this demo Joshua will be illustrating, step-by-step, how he approaches this process by making a small pâte de verre vessel. This will include hand-building a refractory mould, applying the glass paste, filling the powdered core and kiln packing. Joshua will also share tips, tricks and insights into this rather specialist sub-sector of kiln-glass.
7.30pm: Pippa Stacey – "Glasswork in a Spin"
The topic of Pippa's CGS talk is her recent discovery of projecting her glass in a Victorian magic lantern. In 2019 she won an Art Award for her glass slide work from the Magic Lantern Society. The Society has been a great support to her and a YouTube video was recently made of her spinning slides 'Glasswork in a Spin' and has been called a mesmerising and hypnotic 'brain break'
Wanting to learn how to repair a leaded window in the new house she had moved into in 1998 Pippa signed up for a glass course at Adult Learning Lewisham and hence started her complete change of career from fashion to glass. The window took a back seat and remained broken for 13 years.
Pippa went on to do two PG Cert courses at Central Saint Martins where she achieved a Commendation for the Stevens Competition in 2005 and in 2006 won the Lankelly Chase Prize. She also began teaching glasswork for Adult Learning Lewisham.
During her time at CSM Pippa met and made new friends and became part of a new collective 'Teepee Glass.' Showing as a group every two or three years Teepee Glass has exhibited at a wide range of galleries and hope to show at The Grange Gallery at Rottingdean in October 2021.
Pippa's kiln-formed glass demonstrates a variety of techniques ranging from glass books and whimsical pieces to natural forms, textural jewellery and notably gilding - some developed from experimental kiln work and others created from her original drawings
If you are enjoying our talks and would like to show your support for CGS please make a small donation through Just Giving we appreciate any amount.
Thank you to everyone who has already made a donation, it really helps.
SEE YOU THIS SATURDAY & SUNDAY, 20th & 21st MARCH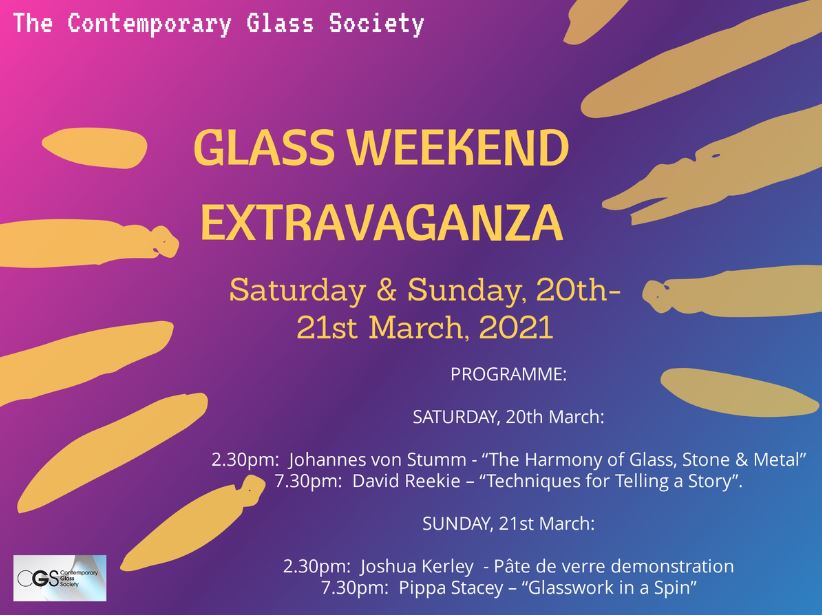 Author:nickycgs
Post date:20-03-2021
Category:Symposiums/Lectures/Conferences
From Date:20/03/2021
To Date:21/03/2021