When Japanese glass artist Yukiko Sugano won the Kogei World Art Competition in 2019, it propelled her into new opportunities to show and develop her work. We find out more about this exciting mixed media artist, whose pieces range from wistful figures to fantasy creatures.
Yukiko Sugano originally chose to work in glass because she was inspired by both its visual qualities, such as light, cracks and turbidity, and its physical qualities, such as thermal flexibility. "In addition to the reflection of glass by light, glass can also be enhanced with stone, metal, or pottery. I feel infinite possibilities in using glass for expression," she explains.
Initially she tried various techniques, including lampwork, blown glass and kiln work. She had an experimental approach and was keen to combine methods and introduce other materials.
Larger-scale glass work
In the early days, she made small, palm-sized pieces, but quickly advanced to work at larger scale. She did this by making supports out of metal and through combining parts. She was also interested in creating textures and trying to hone her techniques.
Now she mainly uses a technique of welding glass to a copper wire mesh with a burner and coating with acrylic resin to create her mixed media pieces. "I like the fact that by using a wire mesh as a support, it is possible to freely design the size and shape, and to create it sensuously," she says.
She works with a Smith Little Torch, and her materials of choice are mainly borosilicate glass and copper wire mesh.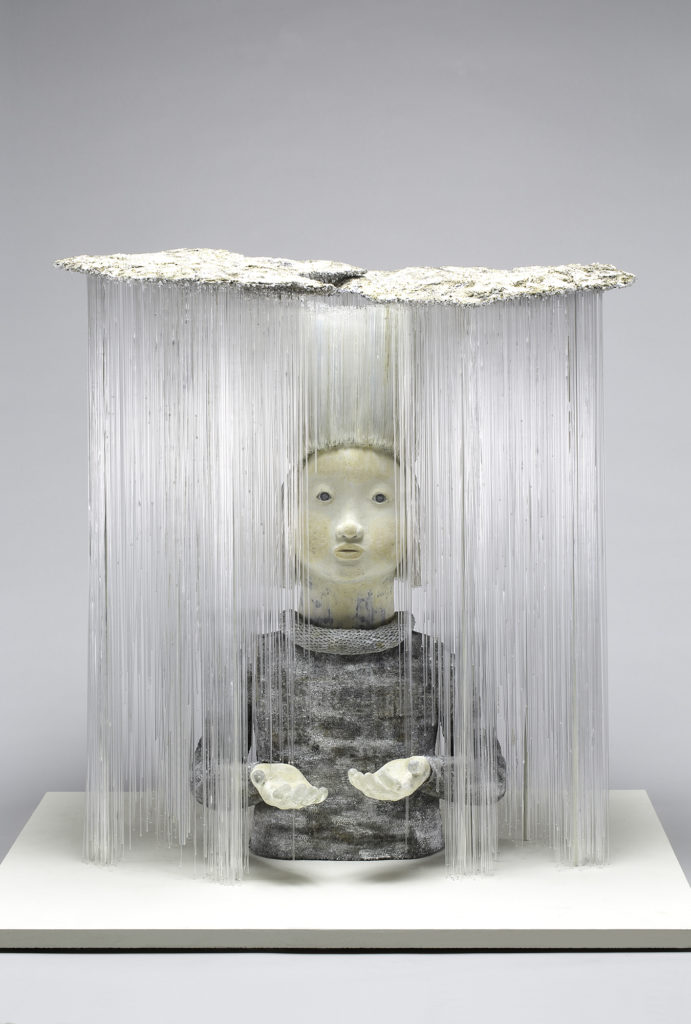 Through her striking pieces, she hopes to physically express the memories and nostalgic feelings of the past that unconsciously influence the present. These feelings cannot be controlled by reason: "The feelings touching and grasping my heart are a constant thing in me, even if I cannot remember the past events clearly. I think they are common in all human beings."
Yukiko takes inspiration from the creations of Ikuko Miyazaki, a Japanese doll artist whose motif is the paintings of Egon Schiele. She states, "Since I started painting on cloth, I get a strange feeling as if the canvas has become three-dimensional."
Contemporary glass in Japan
Talking about the contemporary glass environment in Japan, she notes that, although the number of students at educational institutions is declining each year, efforts are being made to reinvigorate modern glass. Japan currently holds three triennale glass contests, which artists have the opportunity to participate in every year. These are open to applications from overseas artists, too.
There is also Kanazawa Utatsuyama Kogei Kobo, where Yukiko trained, which was built in 1989 to commemorate the municipality's 100th anniversary. The facility educates young craftsmen and women in the fields of ceramics, lacquerware, fabric dying, metalwork or glasswork. It is also open to applications from foreigners.
She says her course there was "very good because I was able to concentrate on research and production for three years".
In Japan, tableware and other useful pieces tend to sell more than sculpture. However, this cultural preference for the practical did not affect the judges' decision when her sculptural piece, Deep River (pictured), won the Kogei World Art Competition in 2019. Before she won the contest, she points out, she was not well known for her art. The Grand Prize win brought her valuable publicity.
"I had few opportunities to present my works before that," she says, "I was at the starting line as a practitioner, but the win meant I was able to hold my first solo exhibition." Now she has a higher profile as an artist she hopes to sell more through exhibitions at galleries and art fairs.
How would she like to develop her work in the future?
"Until now, I have focused on technological research, but I feel that it is important to express my view of the world more. I mainly make works with people and creatures as motifs, but I want to make work that talks to others and deeply immerses me," she enthuses.
Also, as more opportunities open up to her, she says she would like to do more presentations and lectures, not only in Japan, but also overseas. The international glass community, and the wider art market, will certainly be watching to see how her practice develops.
Feature image: 'Take an insect'. The term 'insect' is used to mean something that is insignificant. What is trivial to someone else is the most important and interesting thing of the moment to him. Such momentary urges and whimsical feelings were expressed by the action of taking insects. (w150×d140×h95cm). Photo: Kichirou Okamura
About the artist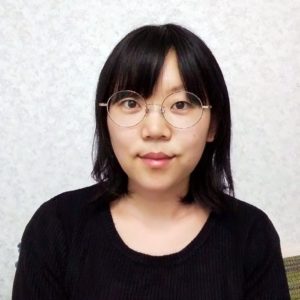 Yukiko Sugano comes from the Hyōgo Prefecture in Japan. She graduated from the Notojima Glass Studio in 2012 and worked in several Japanese glass studios before joining the Kanazawa Utatsuyama Kogei Kobo.
In July 2019, she won the Kogei World Art Competition in Kanazawa, Japan. She is due to take up a residency at the Corning Museum of Glass in November 2020, during which time she will experiment with fusing glass stringers and copper wire to create two-dimensional work.
Follow her on Instagram at @yukiko_sugano