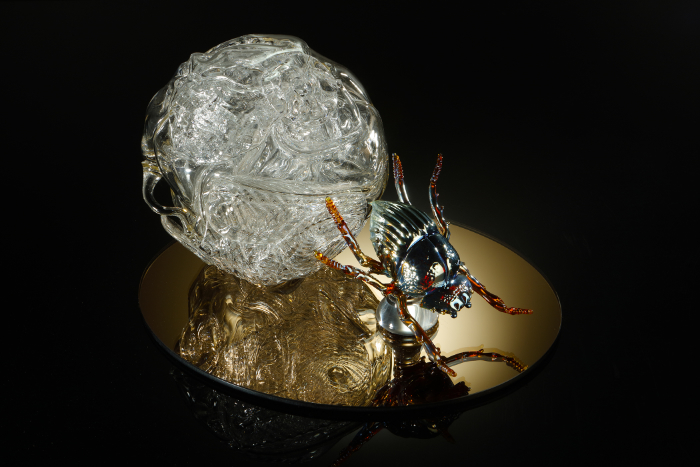 Wolverhampton Uni glass courses under threat
Wolverhampton University, of which Wolverhampton School of Art (WSoA) is part, has announced that it is suspending recruitment to 138 undergraduate and taught postgraduate courses for September 2022, including its glass and ceramics courses.
This action affects the oldest glass course in the country, which began in the 1850s in the heart of the glassmaking district of Stourbridge, before relocating a few miles up the road to Wolverhampton.
The university's website states that it has 'one of the largest, best equipped glass-making facilities in Europe, giving students the opportunity to experience a broad range of techniques to realise their creative aspirations'.
However, while focus is on the many uses and benefits of glass during this, the UN designated International Year of Glass, and just weeks after the opening of the state-of-the-art Stourbridge Museum of Glass nearby, the furnaces at WSoA could soon be left cold.
The university's move impacts courses across the university portfolio and sees most of the BA courses facing a suspension of intake for September 2022, including the Glass and Ceramics BA. "In effect, this means the closure of the MA Design and Applied Arts course, as there will be no BA courses to feed through students," explained Dr Max Stewart, the MA Design and Applied Arts course leader.
Students who have applied for the threatened courses have been offered places on alternative courses that are still running, such as the BA Fine Art.
The university's Interim Vice-Chancellor, Ian Campbell, cited rising costs and falling student applications and enrolments for the decision. However, WSoA staff and members of the wider glass community saw it as part of a broader attack on the Arts as the university and Government place more emphasis on STEM (science, technology, engineering, and mathematics) subjects.
Ian Campbell said, "The higher education sector as a whole faces a number of significant challenges. The COVID-19 pandemic has significantly increased costs to the University while at the same time, like many similar universities, our enrolments have been falling, with associated loss of income. This has been compounded by difficulties around overseas travel impacting international students during the pandemic.
"The reduction in student income, combined with increases in pay and non-pay costs including pension costs, alongside the impact of the pandemic, means the University is facing a very challenging financial landscape and a significant deficit in the current financial year.
"We are embarking on a robust recovery action plan which has included an internal cost-saving exercise across the institution and an external benchmarking exercise.
"As part of the recovery plan, we have been assessing subject areas using information such as enrolment and application data, the National Student Survey, Graduate Outcomes Survey, continuation and progression of students and student experience to ensure that our course offering continues to meet the needs of future students.
"This evidence-based review means we are looking to consolidate some areas and are suspending recruitment of new students on some courses… Current students on these courses will continue to be taught as normal."
The university stated that it remains committed to the Arts and 'a sustainable Arts offer' and pointed to its opening of a new £5m Screen School in Wolverhampton earlier in 2022, to support subjects such as Animation, Computer Games Design, Film and Television Production and Multimedia Journalism.
WSoA staff are looking at all options and formulating recovery plans to put to managers within the coming weeks.
Therefore, there may be hope that the glass facilities at WSoA can be maintained and can continue to support the exceptional talents of up-and-coming makers, like 'Blown Away' Netflix TV series winner, Elliot Walker, who is a former Wolverhampton University MA Design and Applied Arts student.
Image: Work by Wolverhampton University graduate, Elliot Walker. Photo: Simon Bruntnell.
Glass Network digital brings you all the latest news and features about contemporary glass
Send your news, feature ideas or advertising requests to the Editor Linda Banks