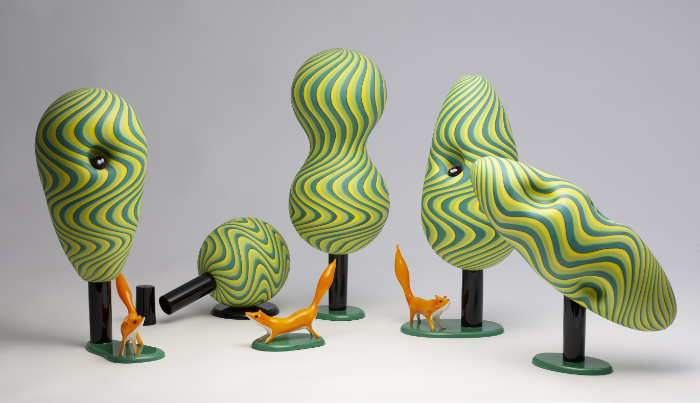 Whimsical wonderlands
Claire Kelly has a mastery of glass cane and murrine techniques, with which she creates magical, safe worlds that highlight the fragility of nature. CGS Glass Network digital's editor, Linda Banks, finds out more.
What led you to start working with glass?
The art school I attended, Alfred University (1992-96), has a glass programme. Once I was able to start taking studio classes in glass I was a goner. It was just so exciting and rare. After I graduated, I continued my glass journey as an intern at the brand new Studio of the Corning Museum of Glass. I was still such a newbie, but I knew that this was the path for me and I have continued finding ways to be in the glass studio ever since.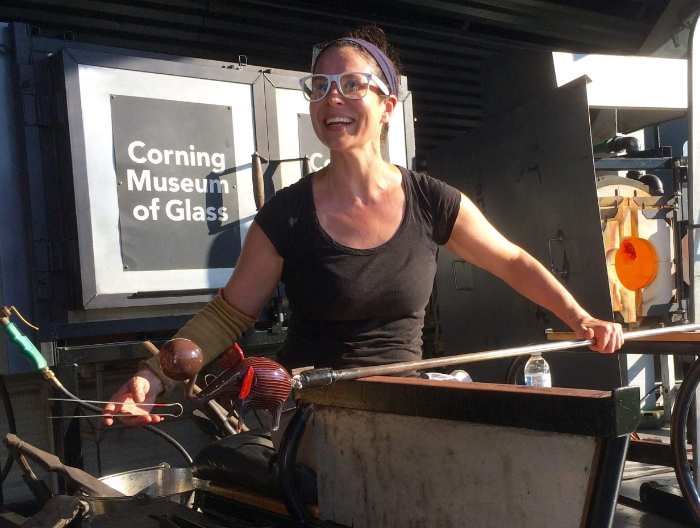 What glass techniques have you used in your career and why do you have a preference for the methods you use today?
Bold patterns are the signature of my work. I integrate cane and cold working into a mosaic-like process that maximises the effects of densely coloured components to create my patterns and colour combinations. Early on, I had seen cane work in shows and museums by notables like Dick Marquis and Dante Marioni. I was just so struck by the kinds of patterns they were making and how juicy the colour looked when applied this way.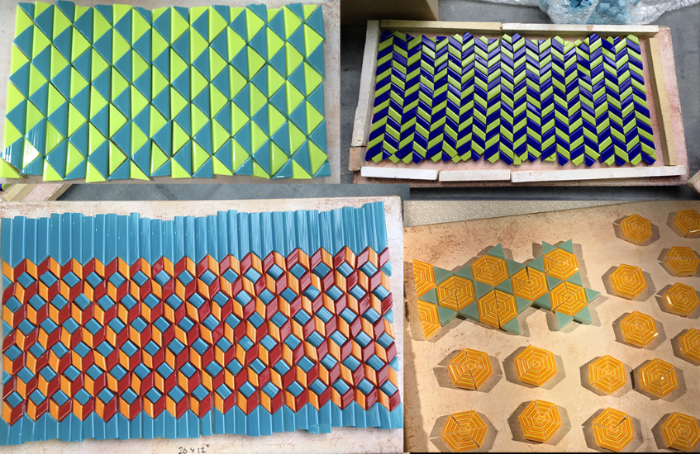 It was later that I began to understand the origins of glassmaking and that cane and murrine are so ancient. As my work progresses, I never seem to tire of using cane as a starting point. I love everything about the process and possibilities. Even some of my animals, that don't look like cane-work (the foxes), actually are.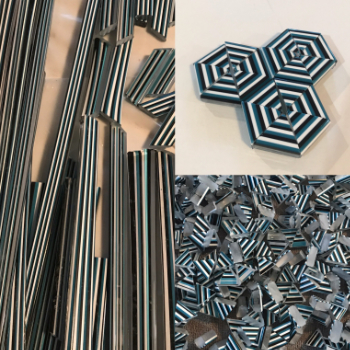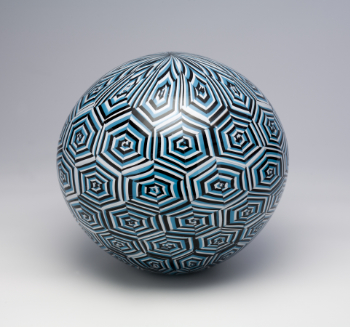 Can you tell us something about how you developed your glass working methods? Do you draw your designs out or dive straight in with the materials?
I give a ton of credit to my first real assisting job for a glass blower in Vermont, Robin Mix. He worked in cane and murrine in a way that was unique among small studio glassblowers. It was while working for him that I really began to develop the skills and techniques that I employ now in my work. I can't overstate how valuable it is to work for another artist. Even if it's not similar to the work you want to make yourself, it establishes artistic practices that will carry you forward when making your work.
I only began drawing regularly when I began my body of work with patterned glass animals in 2014. I wasn't able to access hot glass very often, so drawing was my outlet and focus. It gave me a place to get my ideas on paper and then also a to-do list once I was in the hot shop. I discovered what a stress release drawing is, and now I employ drawing as a matter of course for my artistic practice. Plus – it's free! Everyone should draw, all the time. The sillier the better, in my book.
What is your favourite tool or piece of equipment and why?
I have two. One hot, one cold.
My new favourite tool in the glass studio is the hot torch. When I began blowing glass it wasn't so common to have a torch on hand, except perhaps to fire-polish punties. So it wasn't a tool I was used to. Then, when I began designing my animals, I struggled to realise them the way I wanted. I decided to get some help and took a class with Raven Skyriver and Kelly O'Dell. There I was able to really learn what the torch was capable of. It would have taken me ages to make those breakthroughs on my own. So, I was thrilled when the elephants began to actually look like my drawings.
My other, and true favourite, tool, is my diamond saw. I use it for everything, but it gets the bulk of its use cutting up cane for my mosaic patterns. I pop on my headphones, listen to a book on tape, or podcasts, and slice glass for hours. I bought the saw in 2001 and it's travelled up and down the east coast of the United States a few times.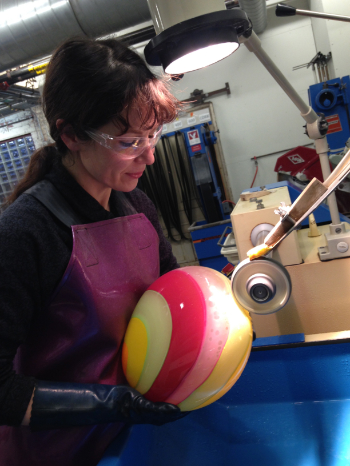 What message do you want to covey to your audience through your brightly coloured glass work?
I often say that my work is a reminder to care. I make sculptures that tell a story about the fragility of these creatures illuminated by innocence and play. I have provided them a universe where they are free of constraint and thrive with beauty and design. Where my work stands out for its technical acuity, it also has an aesthetic that is whimsical, fun and approachable. This pairing is attractive to audiences from varying perspectives and is a factor in my work's impact. My glass landscapes and animals are advocates for the precious worlds they represent.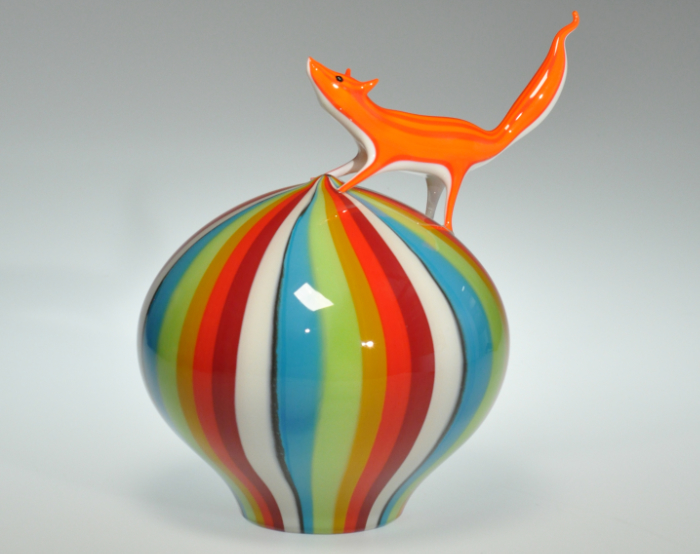 Where do you show and sell your work?
I work with select galleries to exhibit my work in the US and Canada. I'm very fortunate to have a relationship with wonderful representatives that work very hard to promote glass art and to find an audience for their artists' work. Once or twice a year, I participate in retail venues such as the Philadelphia Museum of Art Craft Show, that give me the opportunity to meet and talk with collectors and art enthusiasts in person. I also sell one-of-a-kind work on my website that is not available through my galleries.
Do you have a career highlight?
I was selected to be an Artist in Residence at the Studio of the Corning Museum of Glass in 2017, which I used to create a new body of work using glass from Effetre, a glass company based in Murano, Italy specialising in coloured glasses. As a direct result of that residency I was selected to be a demonstrating artist at the Glass Art Society Conference in Venice, Italy in 2018. The demonstration was at the Effetre factory on Murano and, while I don't speak Italian, I was able to ask for all the colours I wanted to use by their Italian names. Being chosen for such a seminal conference was really special and it connected me to the history of glass making in a way that I felt in my bones.
[Watch 'Domine' being created in a livestream demonstration at the Corning Museum of Glass on YouTube here]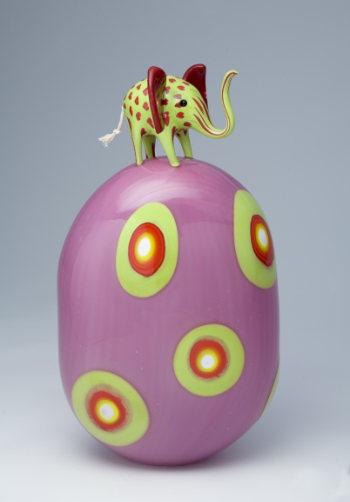 Who or what inspires you?
Inspiration can come from an uncomfortable place. For me, that was my anxiety and fear caused by the uncertain future of our planet. I found inspiration in my art practice and used it to pull myself out of that dismal state of mind.
The result was my first blown glass elephant, situated on a fantastic landscape. This refocused energy creates a cycle for me to process my mental and emotional health and I view it very much as a form of therapy. Many of my recent works are about perception and, in particular, the need to move away from a human-centric view of the world. I have been inspired by fables and added to my menagerie of animal figures to illustrate my tableaux.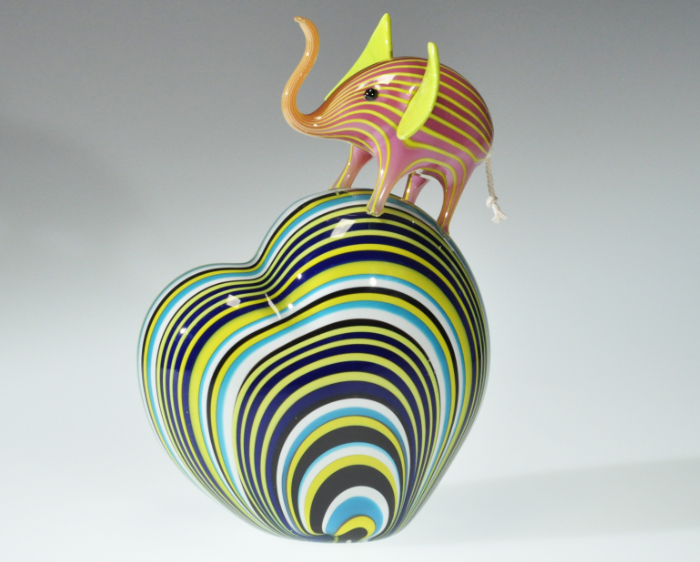 How has the coronavirus impacted your practice?
I just got my first shot of vaccine as of this writing – The next will be coming soon! During the depths of the pandemic, I finally invested the time and materials to pursue a facet of glass making that I had wanted to try for a while, namely beading. I learned how to make woven bead tapestries and I am slowing learning to turn those into three-dimensional objects. It's still very new and I don't know where it will end up, but I love doing it and find it as soothing as drawing. I went down a fun rabbit hole online trying to find out how seed beads are made. Turns out they're quite secretive about it…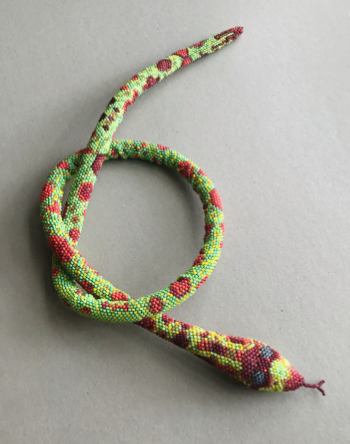 If you're interested in keeping up with news from her studio, Claire Kelly invites you to visit clairekellyglass.com and you can join her mailing list here.  You can also follow her on Instagram and Facebook at Claire Kelly Glass.
About the artist
Claire Kelly graduated with a Bachelor of Fine Arts from Alfred University in 1996. In 2004 she was granted the EnergyXchange fellowship in Burnsville, North Carolina. In 2008 Claire moved to Providence, RI to work with acclaimed glass artist Toots Zynsky. She has been an instructor at Penland School of Crafts, Pilchuck Glass School, the Pittsburgh Glass Center, The Studio at the Corning Museum of Glass, Haystack Mountain School of Crafts, and the Centro Fundacion del Vidrio in Spain. She has been a resident artist at the Pittsburgh Glass Center and received the Rosenberg Residency at Salem State University in MA.
Her work is on show at major institutions and galleries in the United States and worldwide, including a collaborative sculpture commemorating the 30-year anniversary of the conclusion of the liberation of Kuwait.
She relocated to Corning in late 2020, where she creates her work using the glass blowing facilities of the Studio at the Corning Museum of Glass.
Main feature image: Claire Kelly's 'Parallax: Busy Forest' (2019), created from blown, sculpted and assembled glass.
Glass Network digital brings you all the latest news and features about contemporary glass
Send your news, feature ideas or advertising requests to the Editor Linda Banks