The new editor of the Glass Network print magazine, Kirsteen Aubrey, provides a sneak peek into some of the highlights coming up in her first edition, which will be posted out to CGS members shortly. If you are not a member yet, why not sign up now to ensure you receive future issues?
This year we have experienced many changes, not least those of Covid and the lockdown. We are constantly adapting to new situations and encountering unfamiliar scenarios that have encouraged us to pause, think and reflect.
It has been a transitional time for many, not least the makers, artists and practitioners working in glass. As a community, we continue to adapt and the CGS has used this period well. The CGS has provided a virtual, creative hub through its Wednesday talks, where we celebrate and gain insight into glass practice and share current experiences.
The CGS has also created this new online magazine section, Glass Network digital, led by Linda Banks, and the bi-annual Glass Network print publication that I edit. Both are new, exciting ventures for 2020. Neither could have happened without the guidance of Milly Francis, who ably edited Glass Network for many years. Linda and I are grateful for her support as we embark on our new roles.
Linda's digital platform draws together her experience in stained glass alongside that as journalist and editor. She explains, "We decided to introduce the online magazine, Glass Network digital, to provide a vibrant and up-to-date means of quickly communicating exciting developments in the glass world to our members, the wider art community and the general public around the globe. The aim is the share a love of contemporary glass with readers, through regular interview pieces with established and up-and-coming glass artists, articles to help creatives do business better, tips on tools and techniques, as well as the latest news and opportunities."
Each month, CGS members receive an email roundup with links to the most recent digital magazine content, reinforcing the sense of community that is so important to us all in these changing times. Do get in touch via linda@wordbanks.uk if you have news or article ideas (please supply a landscape photo in high resolution too), or if you want information about advertising.
Backed by my glass experience from working in studios and teaching, my objective is to create a thematic Glass Network that showcases and promotes glass widely. Each publication has a central theme, and this November edition focuses on 'Inspiration'. It is particularly poignant to reflect on what inspires glass artists at this time; many glass studios have had to temporarily pause their work, and artists have reflected on what motivates them to keep creating. This publication is a celebration of this inspiration. Using a central theme for each publication allows us to explore narratives that unite glass artists, enthusiasts, gallery owners, and collectors. We investigate the theme across stained glass, lamp work, kiln glass and glassblowing, using these to open dialogue, question the boundaries of material and process, and to extend the potential of glass as a creative medium.
This issue, number 77, offers insights into the inspiration of landscape, light, process, sound, illusion and conversation. Kate Jones, one half of Gillies Jones Glass, reveals the power of the North Yorkshire Moors. Her studies and exploration of landscape, line and light inform the carved, contemporary glass that is masterfully blown by her partner Stephen Gillies. Landscape also inspires Helen Slater-Stokes, and she uses it to create glasswork that questions illusion and perception. Meanwhile, Bruno Romanelli discusses the role of light to stimulate ideas, exploring this through the process of lost wax casting.
Harriet Shooter-Redfearn and Vanessa Cutler address the role of handwriting to inspire their glass in two contrasting ways. Harriet's archaeological investigations uncover hidden signatures and reveal personal narratives that inform her mixed media outcomes. Meanwhile, Vanessa shares how handwritten communications led to an exploration of analogue and digital processes, and the creation of interactive glasswork that captures thoughts, conversations and reflections.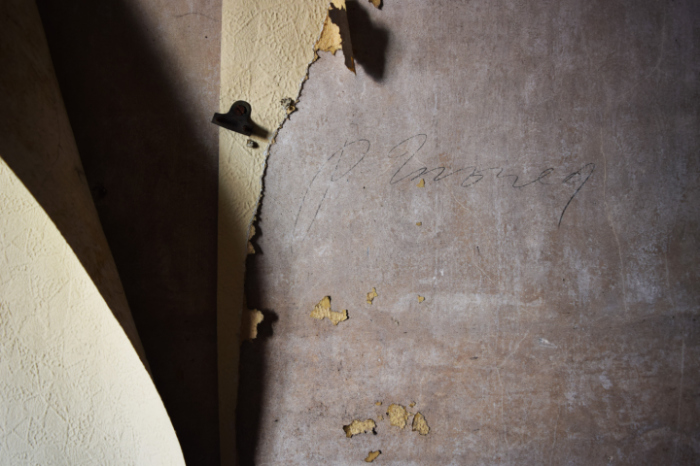 Also highlighted is the inspiration that enabled Jessamy Kelly and Jahday Ford to respond positively during the lockdown, especially when glass production was temporarily paused. Jessamy explores the opportunities presented by recycling and re-purposing glass, while Jahday explains how he re-evaluated a glass residency without access to a workshop. Engaging with new platforms, both have found new ways to engage with, and communicate, their practice. Their uplifting stories remind us to be adaptable and create daily.
Collectively, these features demonstrate the diverse inspiration that drives glass practice, and a determination and resilience to continue creating, despite current challenges.
The next print edition of Glass Network, number 78, will focus on 'Collaboration', exploring the nature of collaborative practice between makers and across skills, and the collaborations that exist between artists, galleries, museums and collectors. A call out will be made soon to invite people to share their collaborations and glass outcomes.
Main feature image: Chitter Chatter by Vanessa Cutler. Photo: Simon Bruntnell.
About the author