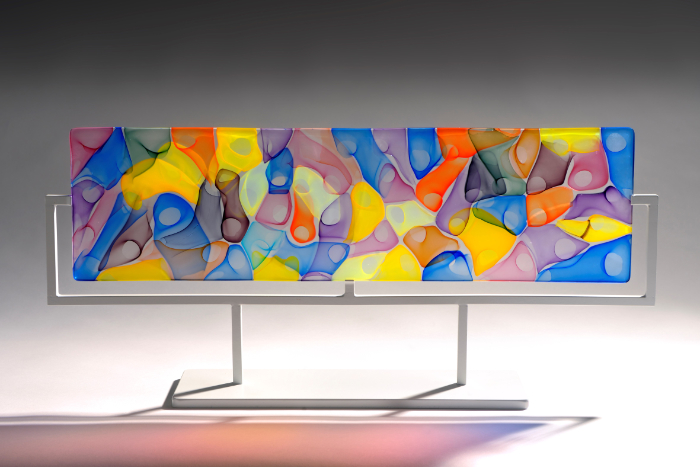 What's in the next CGS Glass Network print magazine?
Kirsteen Aubrey, editor of the Contemporary Glass Society's (CGS) print magazine, Glass Network, outlines some of the features members will see in the upcoming special 25th anniversary edition.
As is fitting in the CGS's 25th year, in this 80th issue of Glass Network, Susan Purser Hope, our Chair, provides a timeline and the rationale behind the birth of CGS, outlining its objectives and many achievements as we celebrate our silver anniversary in 2022.
Her article reminisces on the early days of studio glass in the UK, from the establishment of British Artists in Glass (BAG) – the first organisation in the country to support professional glass artists and students in the 1970s – through to the launch of the CGS in the 1990s and beyond. Numerous glass artists involved with CGS offer their reflections.
In addition, this edition features artists working with diverse approaches to glass and a variety of techniques. One thing they have in common is that all are inspired by the transparency, colour and wonder of glass.
David Traub introduces his colourful glass, produced in New Zealand, and Lisa Pettibone explains how her work is destined for outer space!
Dominic Fonde explores illustrations and reflections that motivate his latest glasswork, while Cherisse Appleby explains how she uses UV-sensitive glass to produce scientific creative tools that aid understanding of health and wellbeing.
There are many glass exhibitions taking place in celebration of this special year – too many to mention here – but we focus on Chris Bird-Jones as shares her recent work, exhibited earlier this year.
The Glass Network print magazine is sent to all members of CGS twice a year as part of the membership package. Why not join our over 1,100 members in the UK and overseas and secure your copy? Read about the benefits and join here.
Image: 'Unfurled', (2020), by David Traub. Photo: Leigh Mitchell-Anyon.
Glass Network digital brings you all the latest news and features about contemporary glass
Send your news, feature ideas or advertising requests to the Editor Linda Banks