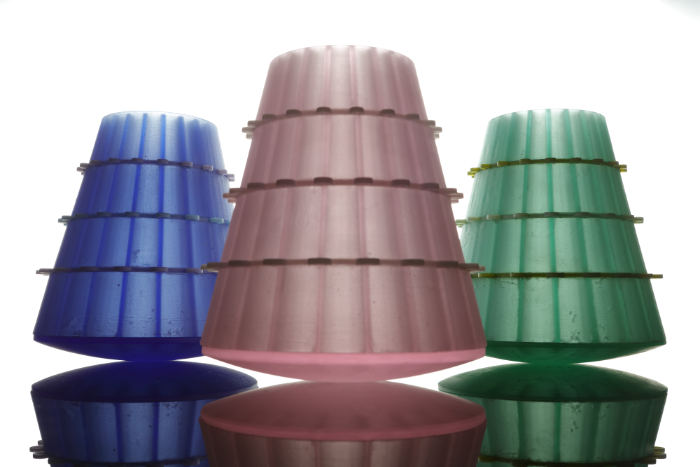 Vanessa Cutler first artist at new Stourbridge Glass Museum
Internationally renowned glass artist and scholar, Vanessa Cutler, will be the first visiting exhibitor to showcase their glass at the Stourbridge Glass Museum, when it opens on 9 April 2022.
Inspired by her daily coastal walks during lockdown, her 'Journeys and Horizons' exhibition depicts the process of arriving at new beginnings in a thought-provoking display.
Vanessa uses the latest digital and water-jet technology alongside traditional casting processes to produce her pieces, which, when presented alongside resident artefacts spanning four centuries, will give visitors to the Museum an insight into the evolution of glass making.
Commenting on the exhibition, Museum Director Ollie Buckley said: "Vanessa Cutler is a hugely respected UK artist and her creativity and expertise are celebrated internationally. We're delighted that she has chosen to support Stourbridge Glass Museum as our inaugural artist, setting the tone and quality of displays for years to come.
"Indeed, whether you're a long-time fan of glass art or are simply a member of the public interested in this new local visitor attraction, I'm absolutely confident that you will really enjoy our displays and learning about the incredible story of glass making in the Stourbridge and Midlands area."
Vanessa Cutler said: "I'm delighted to share this special moment in Stourbridge's glass making history and I'm very much looking forward to engaging visitors to this fantastic new museum with Journeys and Horizons."
Vanessa was awarded her second professorship in 2021 by Chichester University, where she runs the Product Design/Design Engineering courses. Prior to this she was Professor of Glass at UWTSD, Swansea where she taught for eight years.
Stourbridge Glass Museum charts Stourbridge Glass Quarter's 400-year history through engaging interactive displays and cutting-edge digital technology, in addition to a working glass hot shop. Find out more in our previous story here and at stourbridgeglassmuseum.org.uk.
Read more from Vanessa Cutler about waterjet technology and see her work in this previous feature in CGS Glass Network digital.
Image: 'Buoys' by Vanessa Cutler. Photo: Simon Bruntnell.
Glass Network digital brings you all the latest news and features about contemporary glass
Send your news, feature ideas or advertising requests to the Editor Linda Banks