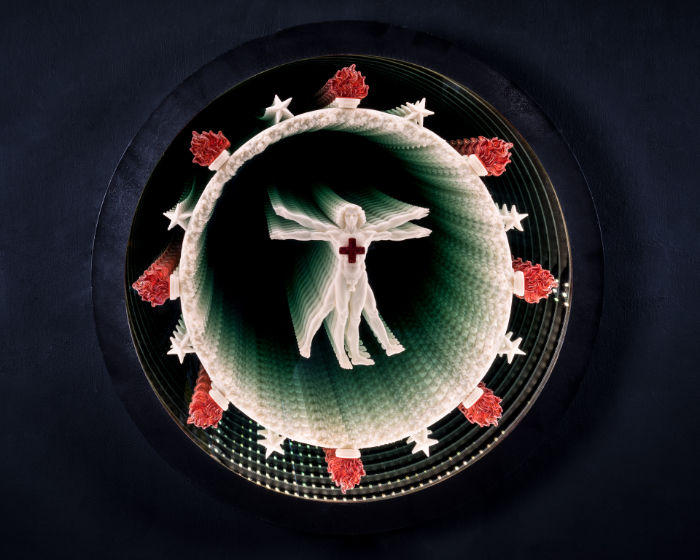 Tim Tate: Time Traveller
The US artist Tim Tate says he is as at home in Greek and Roman times as he is in the present day, taking inspiration for his work from across the centuries. From a foundation in studio glass, he has expanded his artistic repertoire over the years, incorporating new technology and different media to achieve his vision. Linda Banks finds out more.  
You describe yourself as a mixed media sculptor, but a lot of your work incorporates glass. What led you to start working with glass and why is it important to you?
Glass is what first attracted me into art, and the medium I'm most proficient in using. Over the years I have found that its transparency, reflection and fragility made it the perfect medium to discuss loss, history and memory. I use many glass techniques, including one with an incredibly low carbon footprint. While I have also found a love for video, steel, polyurethane and electronics, my true heart will always be in glass.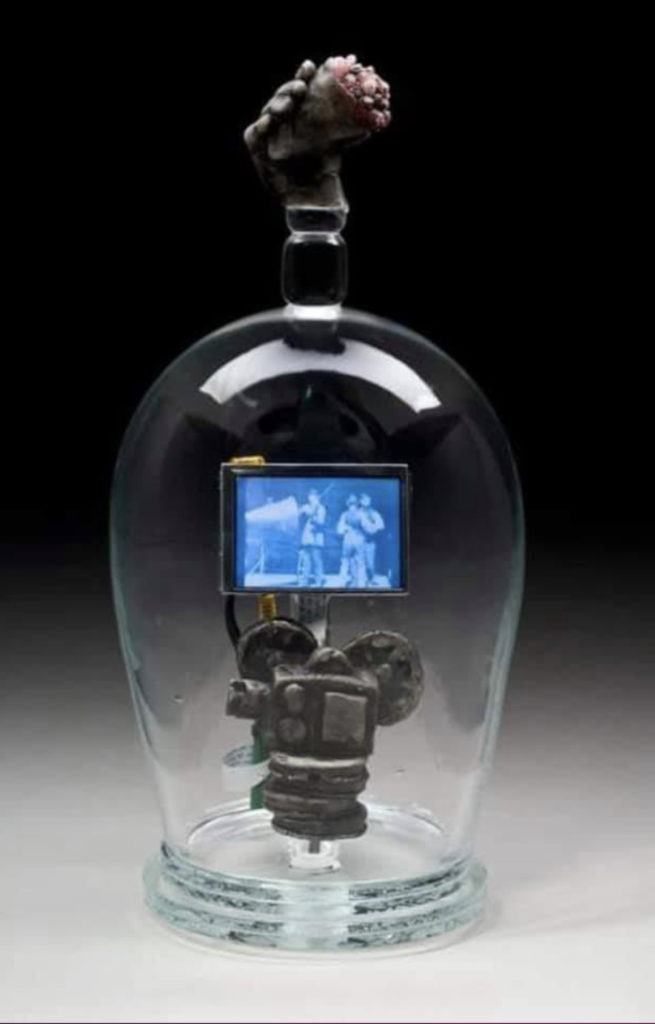 You often mix traditional craft with new media, such as video. What is your creative approach? Do you draw your ideas out or dive straight in with the materials?
Here's an interesting fact; something happened when I first started using video. The intellectual property of the work switched from the materiality and form of glass to the actual video. I don't know why this surprised me, but it truly did. It taught me to carefully analyse each piece I made with mixed media to make sure there was a balance. A picture can tell a thousand words, a video 10,000.
I don't draw the designs out first. I have a large studio, where it's easy to dive directly into the piece using materials at hand, using different ones for best effect. All my concepts come to me at 4am.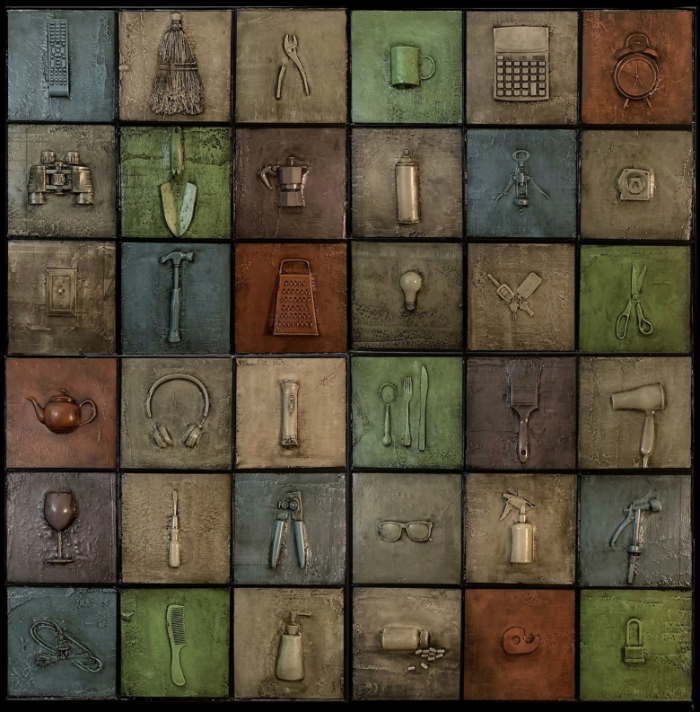 What are the main message(s) you want to convey to your audience through your work?
My work falls into two categories. First, there is work that has a huge social message. The discourse towards equality and peace has always been challenging. I try to make sense of these conflicts through my own eyes.
The second type falls under my early influences as a small boy, reading Jules Verne novels under my bedcovers with a flashlight. I love Victorian Techno-Fetishism and ornamentation with all my heart. If my piece looks like it was originally taken from Captain Nemo's submarine, the Nautilus, then I have succeeded!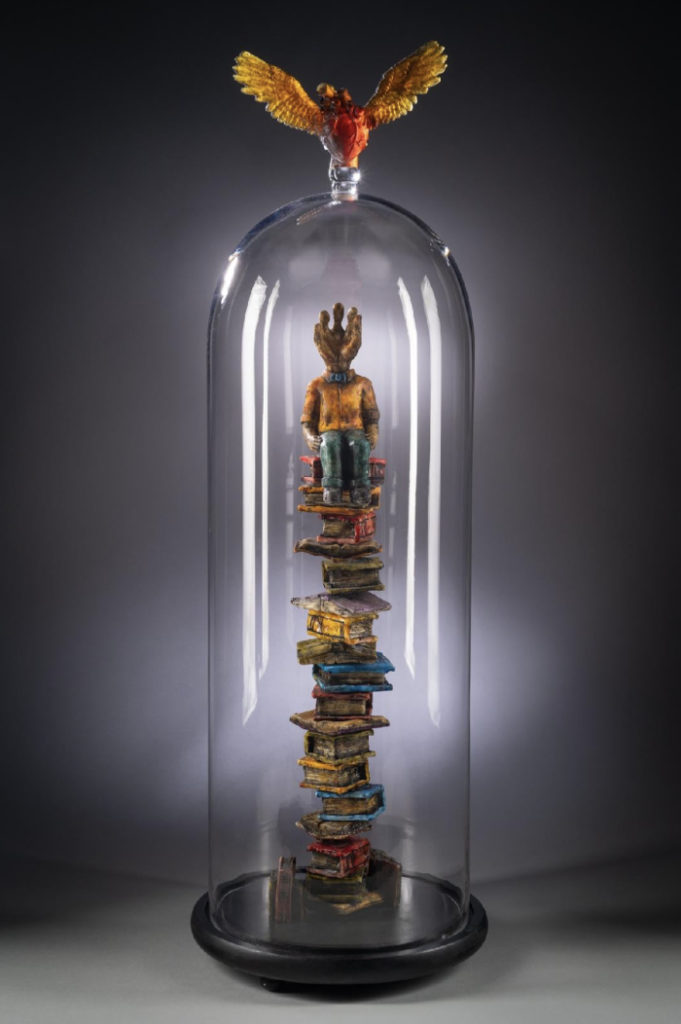 Do you have a favourite piece you have made? Why is it your favourite?
I tend to work in series, and in each series I have a favourite. In my video domes, I love my 'Ophelia' piece best. In my endless mirrors, I love the one I just finished, which is dealing with the war in Ukraine. For my walls, I love 'the Poetry of Everyday Objects' best. For fully cast pieces, I like 'Justinian's Oculus' best.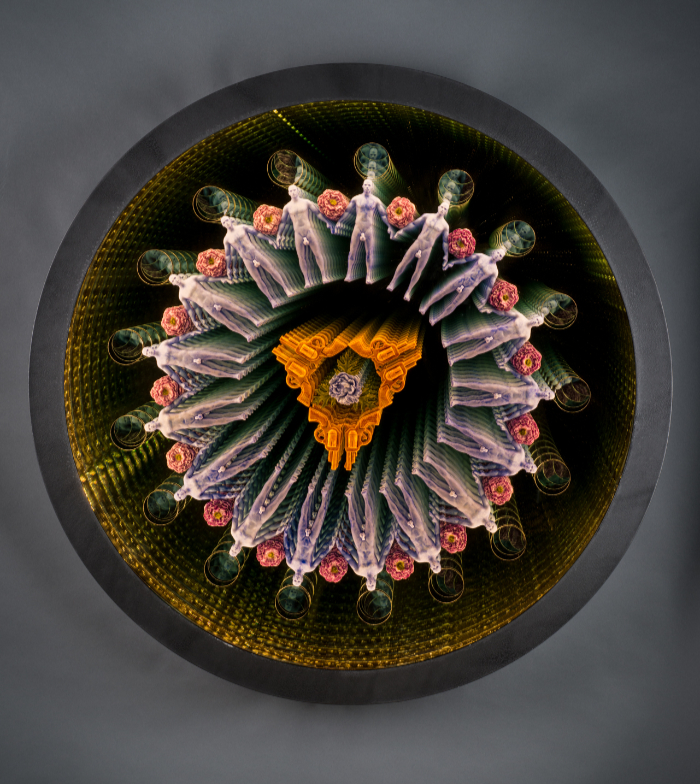 You have collaborated with other artists. How do you find this experience?
I LOVE collaborating with other artists, and this is something I do frequently. The collaborations with Michael Janis have resulted in some of my favourite work. Collaborating stretches my aesthetic and allows me to discover new voices within me.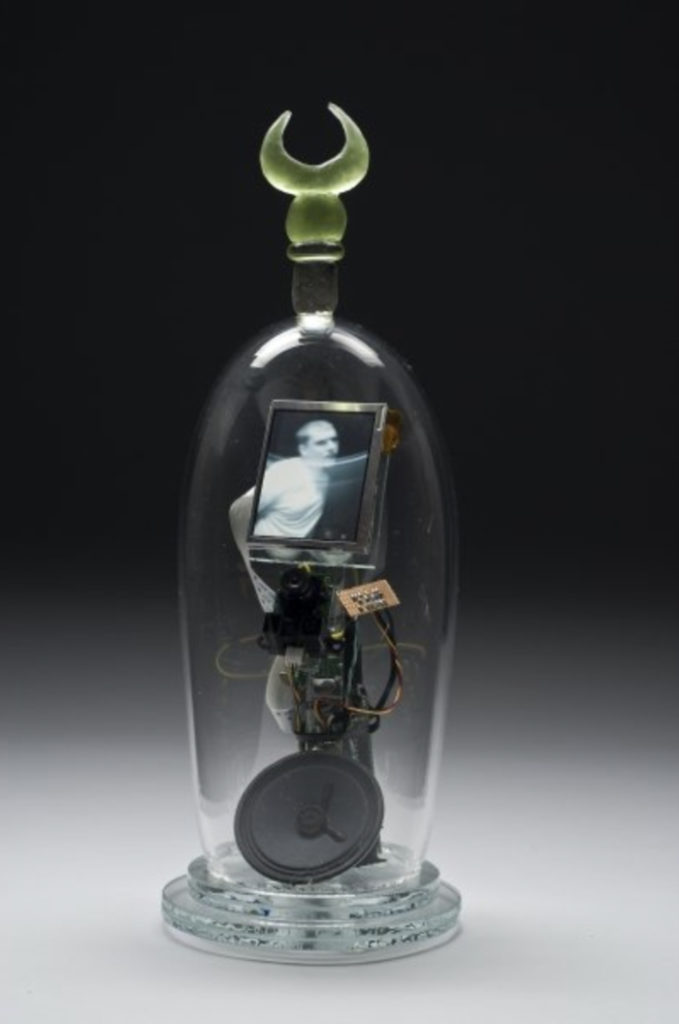 What is next for your practice?
I've been working heavily with manipulated lenticulars of my work. It was fascinating to see my own work in different forms. I also just created 50 NFTs [non-fungible tokens], so I'm examining this medium too. There is no artform that I will not try. I love them all!
Where do you show and sell your work?
I work with many galleries, such as Habatat Gallery in Detroit, Momentum Gallery in Asheville and Sandra Ainsley in Toronto. I also do many of the international art fairs, such as Art Miami, Volta and Context.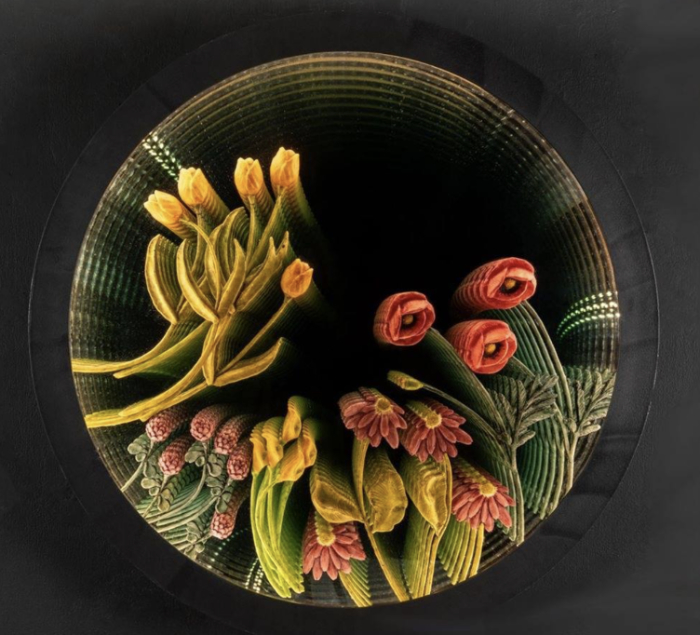 Do you have a career highlight?
Being on the cover of the museum catalogue for the Glasstress show at the State Hermitage Museum in Russia in 2021 blew me away. There are such great artists and works in that show, and I unexpectedly landed the cover. I was ecstatic when it came. To show next to such amazing artists as Ai Weiwei, the Chapman Brothers, Tony Cragg, Tony Oursler, and so on, humbles even the best artists. Coming up, I'll be in the Glasstress show at the Murano Glass Museum during summer's Venice Biennale, which should be great.
Who or what inspires you?
Current events can be very unsettling to me. My way of responding, as an artist, is to create art about those triggering events. They usually embrace the theme of loss and history. Between times, I can also heal myself by making achingly beautiful work that could fall under the category of Victorian Formalism. I love both for different reasons. Books, movies and my imagination fill in the rest.
Has the coronavirus impacted your practice?
Almost from the beginning of COVID-19 I embraced the internet as a means of keeping in contact with my collector base. I hosted almost 50 Zoom meetings over that time. These were not just about my work, but about that of many other artists as well. Because of that, I thrived during that dark period. But I am so looking forward to a time of enlightenment coming soon, and for in-person shows to return. I love working at, and going to, the fairs! They are my favourite hobby.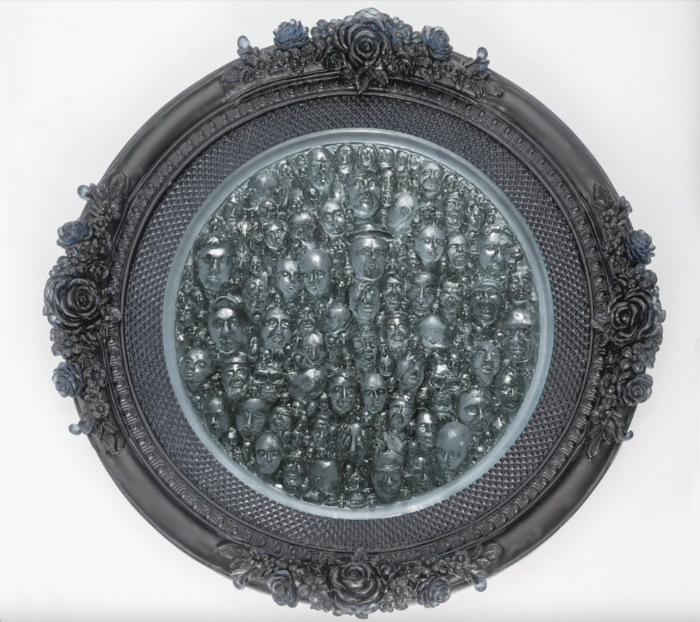 In conclusion
This is the most exciting time to be an artist who works in glass. No longer is it represented by 40 studio glass artists from the US, but by 400 amazing artists from around the globe who work with glass in such amazing ways. We are in such a transitional phase in the art world, and with transition come opportunities. Just keep your eyes and mind open to see them.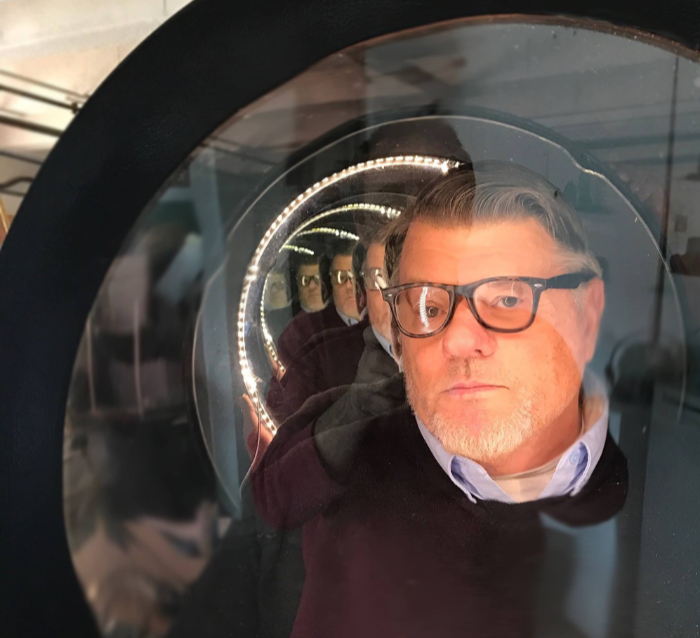 About the artist
Tim Tate is co-founder of the Washington Glass Studio in Washington, DC, USA. Tim's work is in the permanent collections of several museums, including the Smithsonian's American Art Museum.
He was the 2010 recipient of the Virginia Groot Foundation award for sculpture, took second place in the 2017 London Contemporary Art Prize, and is a 2018 James Renwick Alliance Distinguished Artist.
He taught in Istanbul in August 2007 and at Penland School of Crafts on several occasions.
He was the Development Chair for the Penland Board of Trustees from 2014 to 2018 and is the Programme Chair for the James Renwick Alliance.
He received his Fulbright Award from Sunderland University in England in 2012.
In 2018 he was asked to speak at Yale University on Craft and Conflict, to represent the Queer community and its history of art activism.
Find out more on his website: https://www.TimTateGlass.com
Main feature image: 'We Rose Up' (Cast objects, aluminium, LEDs). "This piece was made for the first LGBTQ glass show in history at the National Liberty museum in Philadelphia. The show is called "Transparency" and all work in the show is made by openly LGBTQ artists. This piece, because it is an endless mirror, creates a space that has never existed before and is not a real space in this dimension. That means I can claim this space as my own, with its own set of physics and logic. Only the viewer creates this space. I hope anyone who views this, with its countless images of positive souls, will see those they lost peering out at them, finally visible again in this imagined space. Seen and not forgotten… alive again, for this brief moment."
Photos: Pete Duvall.
Glass Network digital brings you all the latest news and features about contemporary glass
Send your news, feature ideas or advertising requests to the Editor Linda Banks