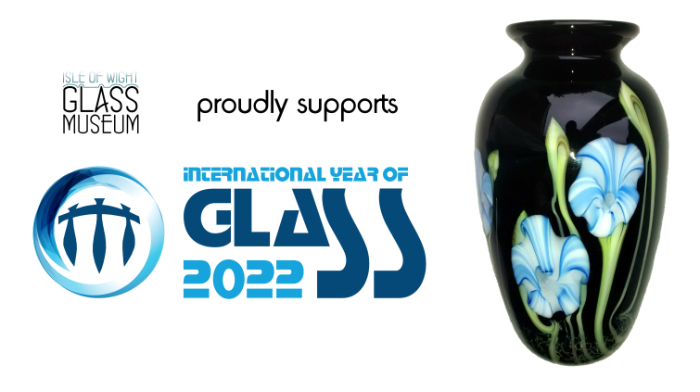 The Story of Okra and Station Glass at Isle of Wight Glass Museum
The Isle of Wight Glass Museum is hosting a glassmaking demonstration, followed by a talk from master glassmaker Richard Golding, one of the leading exponents of surface-decorated studio glass, about his life working with glass. The event takes place on 28 May 2022, in person and online.
The demonstration will be hosted at the studio of Timothy Harris, of Isle of Wight Studio Glass, based next door to the museum. This will be followed by Richard Golding's audiovisual presentation on the glass studios he founded, entitled 'A Lifetime in Glass: The Story of Okra and Station Glass'.
This is one of a series of special events held by the museum to celebrate the art of glassmaking on the Isle of Wight.
The talk will take place in the museum's Art Deco gallery, followed by a private viewing of selected artworks, a guided tour by the Director, and the opportunity to engage directly with the experts. In addition, guests will have the opportunity to invest in a unique piece of glass art from the artists' current collections.
Richard and Timothy met in 1979 when they enrolled for a new course at the International Glass Centre in Brierley Hill. The programme was designed, in part, by Timothy's father, Michael Harris. Over the years the two craftsmen have occasionally worked in each other's studios to collaborate on a special piece.
"Richard's work is avidly collected worldwide, and Timothy is one of the Island's renowned glass artists," Museum Director Anton Doroszenko commented. "Lifelong friends, they are looking forward to joining forces once again to celebrate their art."
Tickets are £15.00 and are on sale in the museum office, or online at www.isleofwightglassmuseum.org.uk/events . For ticket holders who can't attend in person, the events will be live streamed via Zoom.
Coffee and pastries will be served from 10.30am, and the event will start at 11.00am on Saturday 28 May 2022.
Location: Isle of Wight Glass Museum, Arreton Barns, Main Road, Arreton, Isle of Wight PO30 3AA.
The Isle of Wight Glass Museum celebrates the design and craftsmanship of glassmakers based on the island, as well as those in some way connected to the island, past and present. There are over 1,200 pieces on show in two galleries. The museum is also celebrating the International Year of Glass with additional special exhibits throughout 2022.
More information: www.isleofwightglassmuseum.org.uk
Image: A piece from the Museum's collection made by Richard Golding, called 'Morning Glory'.
Glass Network digital brings you all the latest news and features about contemporary glass
Send your news, feature ideas or advertising requests to the Editor Linda Banks