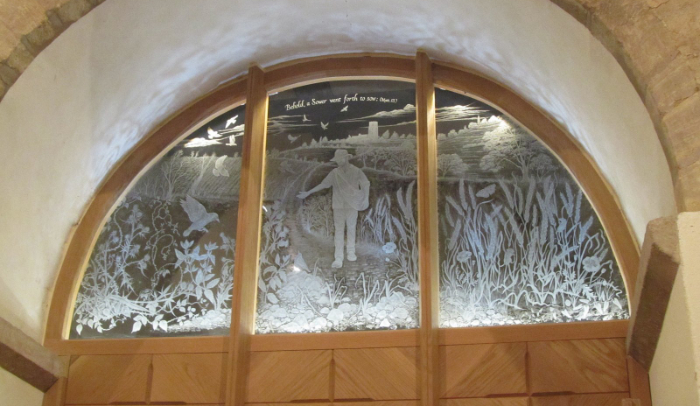 Glass engraving
| 07-07-2021
The story of a glass engraver: Sue Burne
Talented artist Sue Burne began her journey in glass engraving 20 years ago, with a simple kit. Here she explains how her talent has evolved and why she is still hooked on this technique today.  
Unexpected things can change your life! In 2001 my husband gave me a basic Proxxon glass engraving kit for my birthday and almost immediately I realised I had found 'my thing'. I've always been involved in a variety of arts and crafts, but glass engraving really caught my imagination.
I began scratching on cheap bits of glass, but realised I wasn't getting the effects I wanted. In fact, I was amused a while ago to spot a tiny engraving at a large second-hand emporium near Dorchester in Dorset. It looked very amateurish but quite pretty. Turning it upside down, I recognised my own signature and realised it must have been one of my very first pieces. It was only 50p, so I bought it to remind me of just how far my journey in glass engraving has taken me!
That early piece would have been done when I first started engraving, and definitely before I joined the Guild of Glass Engravers (GGE). In the early days I became frustrated because my work looked scratchy and was nothing like the beautiful pieces I saw online. I knew I needed to learn how to engrave properly and, by joining the Guild as a Lay Member, I was immediately in a community of like-minded people. The members of the South West Branch were welcoming and rapidly became good friends.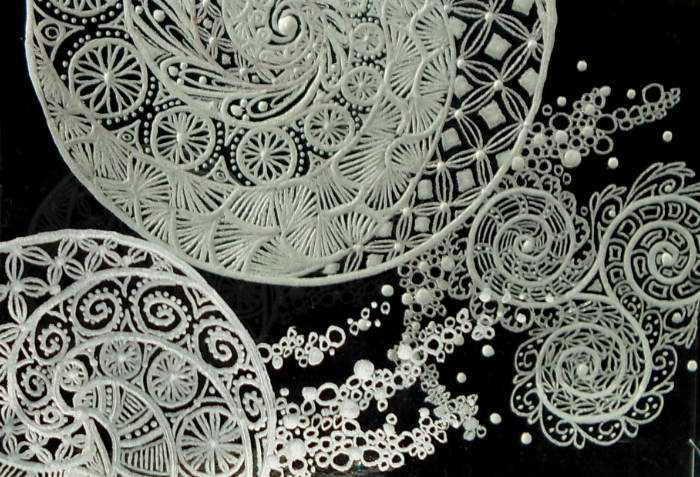 It was the 3D illusions of intaglio engraving that really intrigued me. I desperately wanted to learn how that was done. Through the GGE's mentoring scheme, plus the constructive criticism and encouragement of others, I began to find my own style. Within a few years I had achieved Craft Membership of the Guild and later I was awarded an Associate Fellowship. For nearly 10 years I was on the GGE Council, and took my turn as the Chair for three years. I have also been a long-term Craft Member of the Somerset Guild of Craftsmen.
I joined the Contemporary Glass Society a few years ago to gain a broader insight into glass and to get to know more people who love glass in all its forms. Before lockdown, I enjoyed meeting up with other members.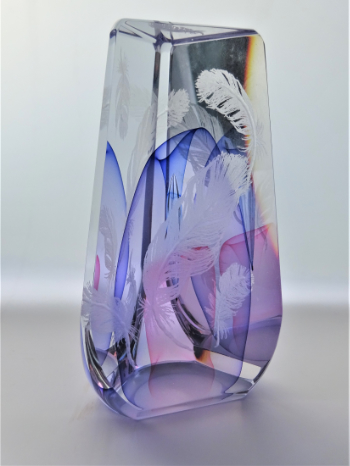 When members of the public ask me what I do, they often look a bit blank when I say I'm a glass engraver. I am asked if I make the glass, too, but this wouldn't be practical for me. I tried a little bit of glass blowing once and the poor little bubble I created was a sorry thing! I'd need another lifetime to get good enough to make my own glass blanks. I really appreciate the skills of the glassblowers I commission to create pieces for me, especially when I need very specific coloured layered glass to fit my ideas. When I do engravings on unique pieces of glass, I always considerate it a collaboration.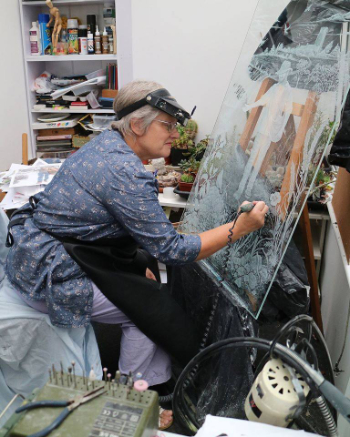 The public often thinks engraving only means doing inscriptions on presentation awards. This can be a part of what some of us do, and I get asked to do lettering commissions because I can do calligraphy, but it is only a small fraction of what I produce.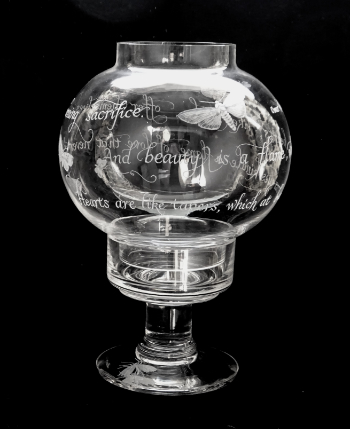 When I am stewarding at engraving exhibitions, it's gratifying to see the look of wonder as visitors suddenly realise how dramatic or beautiful engraving can be.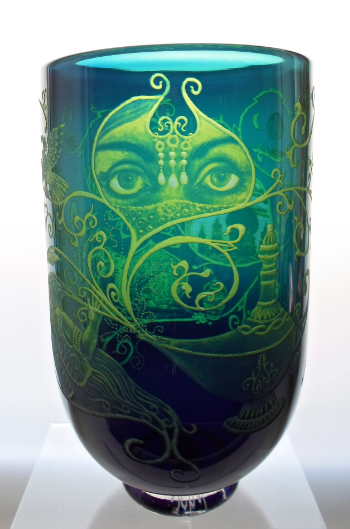 I would not normally buy a piece of studio glass to engrave, because that is complete as its maker designed it. Any engraving on a piece of glass should look as if it belongs there. The best pieces of engraved glass appear as if the engraving was always meant to be. However, I have rescued some damaged or scratched second-hand pieces and given them a new life.
I am fortunate to live in Somerset, where I have a lot of family history. I feel as if I belong here, both at home on the Somerset Levels (an area of fascinating wetlands) and by the sea on the west Somerset coast, where I have a holiday home. I spent my teens in Lyme Regis ,in Dorset, which I also loved, and which was quite a contrast to Portsmouth, where I was born, and London, where I was a student. I am a country girl at heart.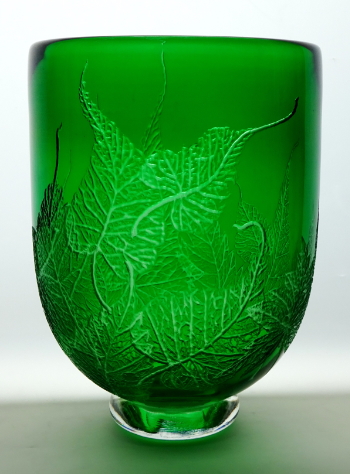 Imagery on my work frequently reflects the natural world. I prefer to use fresh plant material as a reference, if possible, though this is not always available. I also use myths and legends in my work; Somerset is full of those. Glastonbury is not far away, and the famous Tor rises out of the autumnal mist in sight of my village. Visits to other countries have inspired some pieces I have engraved, too.
My work is usually very intricate, and I love doing complicated-looking patterns on my pieces. I weave imagery from stories around the glass or I create designs like mandalas and snowflakes that create intriguing reflections within pieces of optical crystal.
When using multiple images or motifs on a piece, they must form a cohesive whole. I aim to find ways to link them all. This is especially important when using photographic references. A finished piece should reflect me and my style and not be simply a copy of something. A lot of research can go into one of my legend pieces. I do a large storyboard full of imagery I find in books and on the Internet, and I also collect patterns and abstract design motifs. I do some life drawing if necessary and then use all I have collected to inspire my own finished piece. Thinking about, and planning, a piece can take a lot longer than engraving it.
Some of what I do is for commissions, and they can be fun when trying to blend the client's ideas with my own thoughts. My favourite thing, though, is selling in galleries and exhibitions. It is very gratifying if someone likes a piece enough to buy it just as I have made it.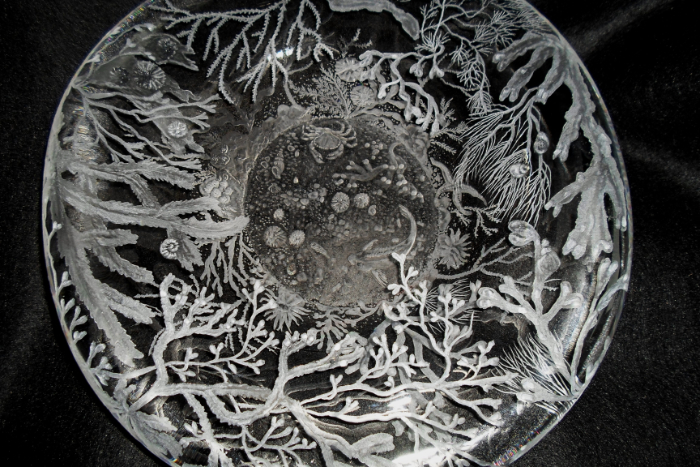 My work is normally on display in Somerset at the Somerset Guild of Craftsmen Gallery in Wells, and the gallery at Yandles in Martock. From time to time, I am a guest exhibitor in various other galleries around the UK and have also exhibited at Johansfors in Sweden. My work is in private collections around the world, as well as the UK, plus there are larger installation pieces in some churches and public and domestic buildings.
See my work this month at the Fine Foundation Gallery at Durlston Country Park and Nature Reserve, Swanage, Dorset, where I am exhibiting with the GGE. The event is on from Monday 12 July to Sunday 25 July 2021, from 10.30am to 5pm daily.
Find out more about my work on my website: www.sueburne.com.
Main feature image: Sower window, Clapham Church, Bedford, by Sue Burne.
Glass Network digital brings you all the latest news and features about contemporary glass
Send your news, feature ideas or advertising requests to the Editor Linda Banks