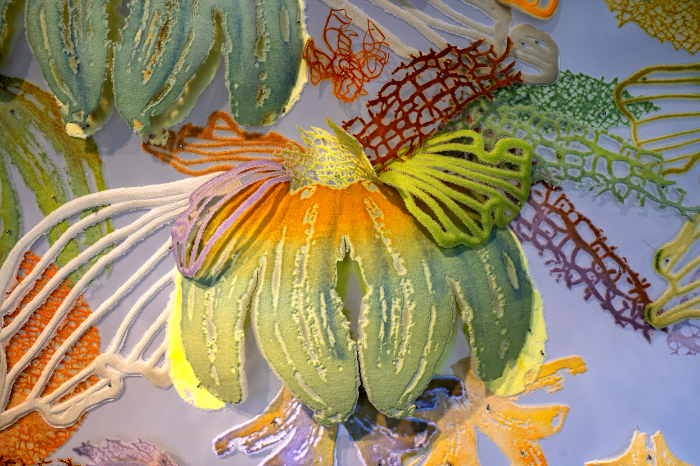 Pate de verre
| 09-03-2021
The Fruits of her Labours
Glass artist Sivan Pais combines pate de verre and printmaking skills to create her delicate artworks. Glass Network digital's editor, Linda Banks, discovers more about her and her practice.
What led you to start working with glass?
It is actually all thanks to my Aunt Maya. I had been taking pottery classes in the north of Israel for a year, but when I moved closer to her I started helping in her jewelry studio. I began experimenting with flame work, making beads, and kiln work, fusing and slumping Judaica and bowls. I heard that Bezalel Academy of Arts and Design taught a course that combined ceramics and glass, so I decided to apply and develop my art more seriously.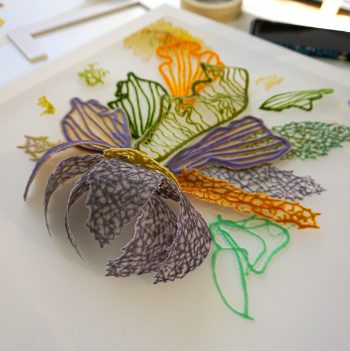 What glass techniques have you used in your career and why do you have a preference for pate de verre work today?
While I was a student, I explored almost every glass technique, including glassblowing, flame work (soft and borosilicate glasses), kiln casting, fusing, slumping, coldwork, engraving and sandblasting, as well as pottery and ceramic sculpting. I thought I should embrace the opportunity to learn new skills and acquire a large skill set. Then, later on, I could decide what I wanted to do. 
I also added a printmaking course each year. To me, adding imagery gives more depth. I fell in love with printmaking and used it to introduce another layer of interest to my final piece.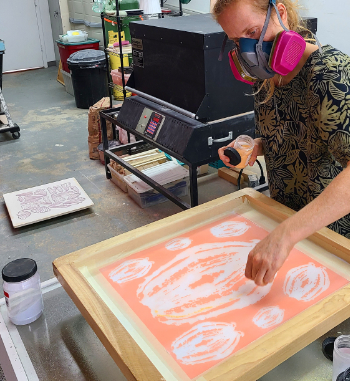 When I saw a demonstration on how to transfer powdered frit through a silk screen, I knew I wanted to explore more and to stretch the boundaries of this technique. It allows me to work fast and multiply with great accuracy. There is something wonderful about working with glass in its most basic form, returning the raw material to the same place that it began, sculpting with sand. It's amazing to me that, within the tiniest grain of sand, there is the entire potential of glass, like DNA in cells. I love how it moves, plays, and takes a different form each time. And the colours are amazing!
How did you develop your unique style of working with delicate glass and printmaking?
It took a lot of experimenting and testing to see what images were best to print. I also had to work out the precise temperature needed, because the pieces are so delicate. Sometimes the different colours can be over-fused or under-fused. I needed to make them strong enough to be able to play with them when arranging them after heating. I make twice as many as I need, because they break a lot!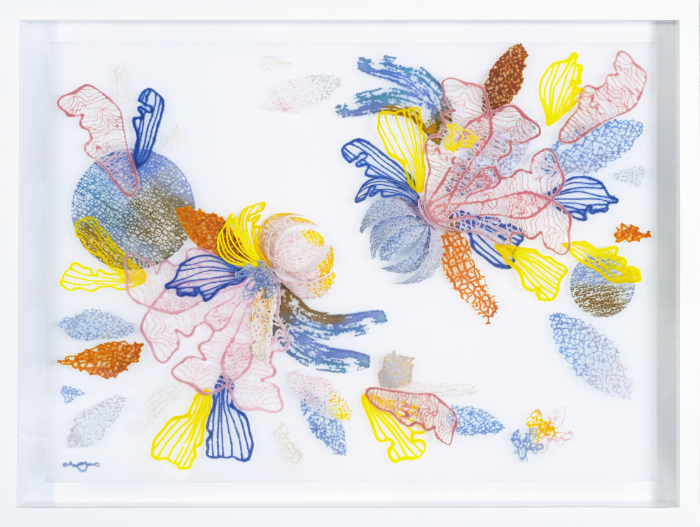 I wasn't sure how my final-year piece would turn out. At that time, I was going through two years of recovery from an autoimmune disease. I was taking myself on a journey of healing, and expressing that journey through art. I used art as therapy to express my feelings and let the process show me the way to heal. Each step revealed only one next step, so, while I had a vision of what emotions I wanted portray, and what I was trying to evoke in the viewer, it was not until the final step, when everything was assembled on the large silk screen, that I knew how it was going to look. So, the final artwork was a surprise, even to me.
What is your favourite tool or piece of equipment and why?
It is hard to choose just one tool, because the process has many different steps. Every step has its own tool and way of working. But I guess the most helpful one in printmaking and in the final assembly is duct tape. It is versatile and I use it a lot for many things. I also have long tweezers, which I use a lot to handle the hot pate de verre pieces when the kiln is still hot. I make rapid exchanges to save time, electricity and heat. I also use the tweezers for the assembly.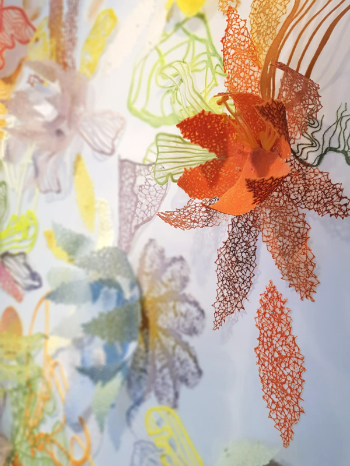 What is the thinking behind the 'Ripeness' series? What message do you want to covey?
The works that comprise 'Ripeness' are an expression of the healing process that occurred inside me. Their creation was driven by gratitude, and a desire to pay tribute to the fruits which had given me back control over my body. As my health improved and prospered, I discovered paradise in simple eating, and delight in consuming nourishment in exactly the form that nature gives it to us. 'Ripeness' invites the viewer to be present in the face of this simple abundance and happiness, which we all deserve to experience.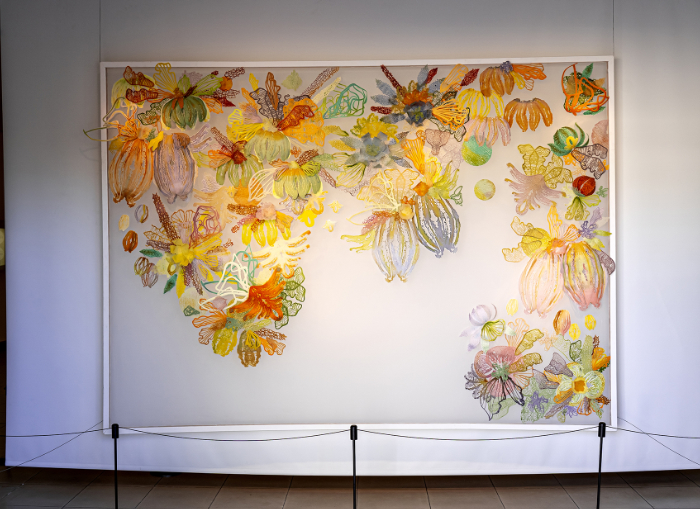 The project is an allegory on a rule of nature, an observation between two situations that are opposite but yet contain one another: the decay versus the ripening.
The works in 'Ripeness' are created from fragile elements of glass. The fragility of the glass symbolises the delicate balance of health, and how easily health can be broken. The glass pieces are placed into rich assemblages of movement and colour, representing the gateway to the heaven of the inner kingdom, an imaginary wilderness full of desires to taste fruits I have not yet known.
The issue of health is worthy of public and cultural discourse. No one is immune to disease, and the prevalence of sickness is on the rise. Through my art, I aim to demonstrate that illness is not a decree humanity should accept; health and wellness are possible and achievable through natural, simple methods.
Do you have a favourite piece of work? Why is it your favourite?
When I see a piece of art where I can tell that the artist worked on it for ages, meticulously putting all of his or her crazy mind into the piece, it immediately captures me.
I love the artist Kathleen Ryan's work – her 'Bad Fruit' series. Her work is so beautiful and I feel that she deals with the same topics as me, the beauty of decaying. All my life I have been interested in mould or rotten things; it is like a microcosm of a new life. Her grapes and lemons are phenomenal!
Where do you show and sell your art?
Currently my largest piece from 'Ripeness' is on show at the Eretz Israel Museum in Tel Aviv, as part of the Biennale of Crafts & Design exhibition in the glass pavilion. I also sell smaller pieces in the museum gift shop and in a few home interior design shops around Israel. Additionally, I'm excited that, as of 2021, my work is displayed at the Blue Gallery in Delray Beach, Florida, in the USA.
Who or what inspires you?
I love nature. What I love most in nature is seeing it's process – how it's always changing, and striving for balance. I love to see that everything in nature has a purpose, and nothing goes to waste. It makes me feel very optimistic knowing that, no matter what humans do, nature continues to change and heal.
I am, of course, also inspired by my close circle of family and friends. Each one has struggles in their life and I learn so much from them, their point of view, and the different ways of overcoming everything.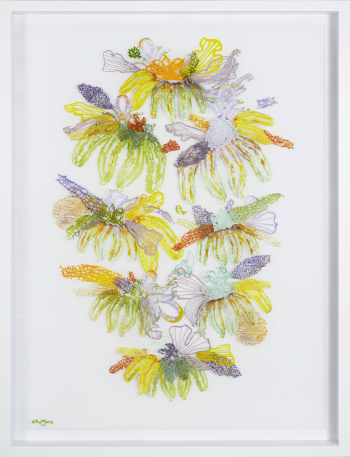 How has the coronavirus pandemic impacted your practice?
At first it didn't seem like such a bad thing to be close to home at my studio and using all of that time to create. I was keeping safe, keeping my mind clear and quiet, thinking healthy thoughts and not letting all the panic and stress of the media get to me.
In September 2020, I moved to Florida and have continued to create at the Blue Gallery studio so, in some ways, the virus hasn't stopped me achieving my goals. However, now it's been a year since the pandemic started, and I think we are all feeling the impact of a world that has significantly slowed down. Many museums, galleries, and exhibitions are completely closed.
I'm praying that we all are able to continue to create art, and life will go back normal so we can socialise again, and that better days will come.
I'm very happy to share my art with this community of glass lovers. For more visuals of my work please look at my Instagram: Sivanpais.glass.art or my website: https://www.sivanpais.com 
About the artist
Sivan Pais is an Israeli artist, born in 1990. She graduated with a BFA from Bezalel Academy of Art and Design, Jerusalem, in 2019.
She received a full scholarship to Pilchuck Glass School, Washington, USA, in 2017 and undertook a course in vitreography and engraving with Professor Andrea Dezso. 
In 2018 she took part in the ERASMUS exchange programme at Eugeniusz Geppert academy of Art and Design in Wroclaw Poland, studying in the printmaking and ceramic departments.
She received 'the Andy' – the Andrea M. Bronfman Prize for the Arts, in the field of glass, for her graduation project in 2019.
Main feature image: Detail of 'Ripeness'.
Glass Network digital brings you all the latest news and features about contemporary glass
Send your news, feature ideas or advertising requests to the Editor Linda Banks