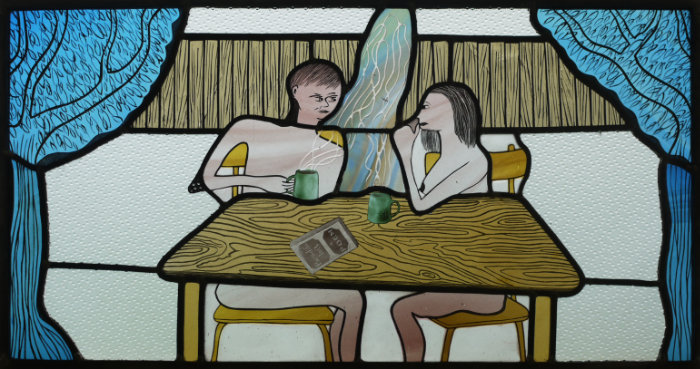 The Cloud of Unknowing collaborative exhibition at Norwich Cathedral
Norwich Cathedral's Hostry is showcasing a collaborative exhibition of work by two artists, featuring stained glass panels made during lockdown by Sasha Ward, based on drawings by Ray Ward.
Called 'The Cloud of Unknowing', the two-month exhibition runs from 12 October until 12 December.
Alongside the series of stained glass panels, the exhibition features a guide to making stained glass and draws a link between the couple's contemporary art and the stained glass windows in the cathedral and churches around the county.
Although they worked alongside each other since meeting at art school more than 30 years ago, this is the first time Sasha and Ray have collaborated on an exhibition together.
Ray's art is full of droll, everyday imagery describing passing thoughts or small incidents. He finds his subject matter not only from observing real life, but also from newspapers, leaflets, billboards, television, radio and his imagination.
Ray said: "The pictures are written from scratch. I have no idea what they are going to be when I start. I have displayed them in groups on the wall forming clouds which you can see as a whole. But if you look harder you can always see something else in the cloud, whether it is a camel, a weasel or a whale."
Sasha is an architectural glass artist who works to commission making windows and other features for mostly modern public buildings. Her distinctive glass panels are highly decorative, with pattern and strong colour applied to the glass using her own enamelling and sandblasting techniques.
At the start of lockdown, Sasha took a step away from commissioned work and returned to traditional stained glass techniques and figurative imagery, with a series of glass portraits and interpretations of Ray's drawings.
Sasha said: "The people in Ray's pictures have always intrigued me in the same way that the figures in church windows do. For me, the new collaborative panels make a link between my own practice and the work of the favourite stained glass artists that have inspired my career."
'The Cloud of Unknowing' is open Monday to Friday 10am-4pm, Saturday 10am–3pm and Sunday 1pm-2.30pm.
Admission is free.
For more information about the artists' work visit www.sashaward.co.uk and www.artward.co.uk
Feature image: Grain of Sand, by Sasha Ward.
Glass Network digital brings you all the latest news and features about contemporary glass
Send your news, feature ideas or advertising requests to the Editor Linda Banks