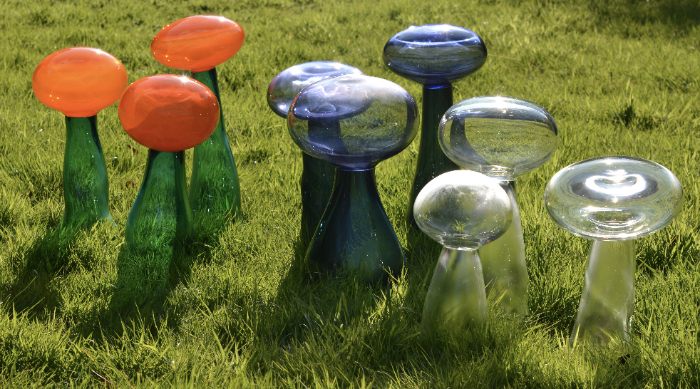 Tenth 'The Enchanted Garden' sculpture exhibition opens
International art exhibition, 'The Enchanted Garden' celebrates its 10th show in beautiful grounds in Belgium this June.
Predominantly featuring outdoor sculptures in a variety of media, the event will exhibit the works of artists from the Czech Republic, Ecuador, Estonia, Iran, Ireland, Israel, UK and US.
Between opening on 9 June and closing on 15 October 2023, the displays will change four times. The Enchanted Garden is open on Wednesdays, Fridays, Saturdays, Sundays and public holidays from 1pm to 8pm.
New alongside this year's exhibition will be '(E)motion – Poems communicate with Sculptures', presenting poems inspired by the sculptures.
Five British and Irish-based Glass artists are exhibiting for the first time at the Enchanted Garden in 2023.
Helen Twigge-Molecey is an award-winning artist and designer who enjoys working in different media and especially glass. She is interested in how you can effect change through a positive experience. Underpinning her work is a desire to make it beautiful, simple accessible and fun.
Emma Butler-Cole Aiken has discovered that traditional stained glass window skills also are ideally suited to creating robust garden sculptural artwork. Every aspect of material and construction – from the protective lead to the fired-on painted details – lasts for over 100 years in a cathedral window, so why not in a garden?
Amber Hiscott works internationally as an innovative architectural stained glass artist from her studio in Wales. She specialises in large-scale commissioned work in glass in the public domain.
Julie Coakley designs and makes complex patterns that are inspired by her love of travel. She is exhibiting a range of daisy-inspired fused glass pieces.
Ireland's Helen Hancock combines her experience in making glass and educating women in breastfeeding by creating a unique concept – the breastfeeding milk glass for mothers, as a reminder of feeding her baby. She is exhibiting 'hanging plants' sculptures.
Find out more about the artists and artworks in the show via the website www.the-enchanted-garden.info
The Enchanted Garden is situated at Rue du Tilleul 22, 1370 Jodoigne, Belgium.
Image: Helen Twigge-Molecey's 'Fungi'.
Glass Network digital brings you all the latest news and features about contemporary glass
Send your news, feature ideas or advertising requests to the Editor Linda Banks