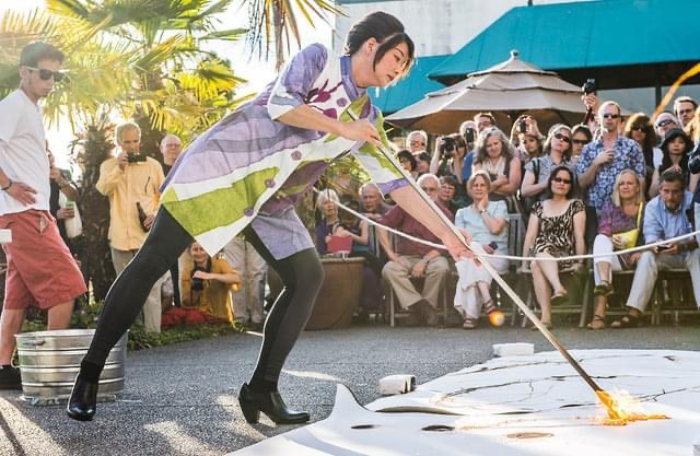 Ten exhibitions at the International Festival of Glass 2022
The 2022 International Festival of Glass promises an exciting programme of events, demonstrations, masterclasses and exhibitions this August. This year's event will incorporate an East Asian theme, sitting alongside work by the UK's best established and emerging glass talent.
There will be the largest offering of exhibitions, with 10 diverse shows planned.
As always, the much-anticipated British Glass Biennale will be the flagship exhibition, showcasing the best of the UK glass art scene and the full spectrum of techniques. Anonymously juried, the Biennale gives emerging artists an equal opportunity to be selected alongside the top names in British glass, making it a highlight of the glass calendar. Read about this year's successful entrants here.
This year the Biennale will be joined by the inaugural International Bead Biennale, giving miniature works of art a place to shine.
'Expanding Horizons' will be shown for the first time in the UK, curating exceptional glass work from Korea, Japan, China and Taiwan.
The Contemporary Glass Society is always a key part of the Festival and this year celebrates its 25th anniversary with exhibitions at both the newly opened Stourbridge Glass Museum and Ruskin Glass Centre.
Alongside the exhibitions, there will be an inspiring schedule of lectures and discussions. Professor Clare Corkhill from Sheffield University will discuss encapsulating nuclear waste from Fukushima into glass; Lulu Harrison, who has received a Worshipful Company of Glass Sellers' bursary for her project, will share her investigations into turning seashells into glass batch and Professor Roger Kneebone will share his insights into the similarities between artisan craftspeople's skills and the art of the surgeon.
Festival visitors can enjoy a host of glass-themed evening entertainment. From a Hot Hanbok and Cool Glass fashion show to a glass and circus skills finale, it can all be washed down with a pint of festival ale or a soju cocktail.
The Festival showcases the skill and innovation of the glass industry and makers, historic and contemporary, local and international. Since 2004, it has been drawing visitors from all over the world.
The International Festival of Glass takes place every two years in Stourbridge, West Midlands, UK. This year's Festival dates are from 26-29 August 2022 and the exhibitions will be in place from 26 August until 1 October.
For more information on the International Festival of Glass visit www.ifg.org.uk and for more about the British Glass Biennale visit www.glassbiennale.org .
Image: Etsuko Ichikawa is a masterclass leader and demonstrator at the 2022 International Festival of Glass.
Glass Network digital brings you all the latest news and features about contemporary glass
Send your news, feature ideas or advertising requests to the Editor Linda Banks