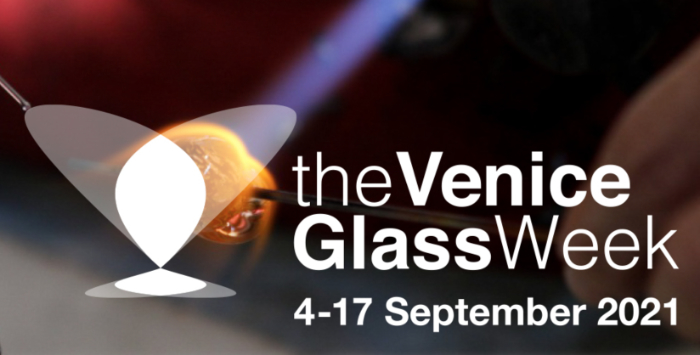 Take part in the next Venice Glass Week
The fifth Venice Glass Week is set to take place for an extended period between 4 and 17 September 2021.
The 2020 event featured over 180 initiatives related to glass, both online and in the city, around Venice, Murano and Mestre, in Italy.
Among many events scheduled for 2021, Venice Glass Week will collaborate with the annual event, Homo Faber: Crafting a more human future, which will be held on the island of San Giorgio Maggiore from 9-26 September.
If you wish to submit a proposal for an independent event, or to be considered for inclusion in the Venice Glass Week HUB, you need to submit your application by 9 April 2021 via this link: https://www.theveniceglassweek.com/en/applications/ . The organisers welcome applications from any Italian or international organisation or individual wishing to propose an event or project relating to artistic glass, such as exhibitions, conferences, performances, workshops, themed dinners, guided tours, or activities for children.
The Venice Glass Week HUB, held at the Istituto Veneto di Scienze, Lettere ed Arti in Palazzo Loredan, will not only host a selection of glass installations by national and international artists, but will also have a dedicated space on the ground floor featuring glass artworks and projects by Italian and international artists and designers aged 18-35. Exhibitors in this HUB Under35 category will be automatically considered for the second Autonoma Residency Prize, promoted by LagunaB through the Autonoma project, in association with Pilchuck Glass School. The winner will receive a two-month Artist Residency at Pilchuck Glass School, Seattle, in 2022.
All applications will be reviewed and selected by a Curatorial Committee, chaired by the Venetian glass historian Rosa Barovier Mentasti, and composed of international glass sector experts, including new members Rainald Franz, Head of the Glass and Ceramics Collection at MAK-Austrian Museum of Applied Arts/Contemporary Art, and Susanne Jøker Johnsen, Head of Exhibitions at The Royal Danish Academy – Architecture, Design, Conservation and Director of European Glass and Ceramic Context on the island of Bornholm in Denmark. They will be joined by curator and critic Jean Blanchaert plus artist and creative director Marcantonio Brandolini d'Adda.
Further information: info@theveniceglassweek.com
www.theveniceglassweek.com
Glass Network digital brings you all the latest news and features about contemporary glass
Send your news, feature ideas or advertising requests to the Editor Linda Banks