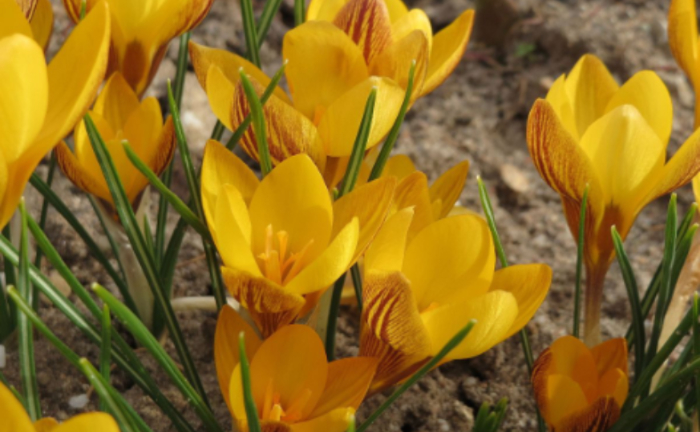 Submit entries for new CGS members' selling show: Flora
Many CGS members took part in our recent successful online selling show, so we asked renowned glass artist Cathryn Shilling if she would provide the theme for our next inspiring opportunity for members to show and sell their work.
Cathryn says: "I have spent a significant amount of time this winter gazing out of my kitchen window into my garden and reflecting on the year that was (or wasn't as the case may be). Let's face it, 2021 has not started in the way any of us had hoped for…
"Of course, winter is transient, like any season, but I have to admit that staring into the thickening snow in the midst of another national lockdown, it does feel a little like we are all living in the eternal winter of Narnia… However, even in Narnia, winter came to an end and, as I looked out over my frozen flower beds this week, I noticed the first signs of life returning to my garden in the form of snowdrops and the shoots of 'soon to be' daffodils. Surely this is the herald of Spring and a promise of better days to come?
"The remarkable diversity of flora has been a major source of inspiration among glass artists throughout the centuries – from the simplistic interpretations in medieval stained glass, through the cast crystal of Daum and the cameo glass of Gallé, to the cutting edge and contemporary interpretations demonstrated by many of our talented and endlessly resourceful CGS members.
"It is this endless circle of resourcefulness which brings me back to Nature, and how even in the bleakest and coldest of places, nature is able to adapt, spreading colour over barren landscapes, transforming them into a majesty of pattern and colour.
"So, I would like to challenge CGS members to participate in a new online selling exhibition inspired by the incredible diversity of 'Flora'. This brief is extremely broad. How you choose to interpret it is entirely up to you. My greatest wish is to see as many unique examples on the subject, as there are species of flowers!"
This is an exclusive online selling show for CGS members only. If you are not a member yet, you can join today to benefit from this opportunity.
CGS members please log in to your account and load an image of your piece for sale on the theme of Flora by the deadline of 29 March 2021. This online selling show will take place from 3 April to 5 May 2021.
Glass Network digital brings you all the latest news and features about contemporary glass
Send your news, feature ideas or advertising requests to the Editor Linda Banks