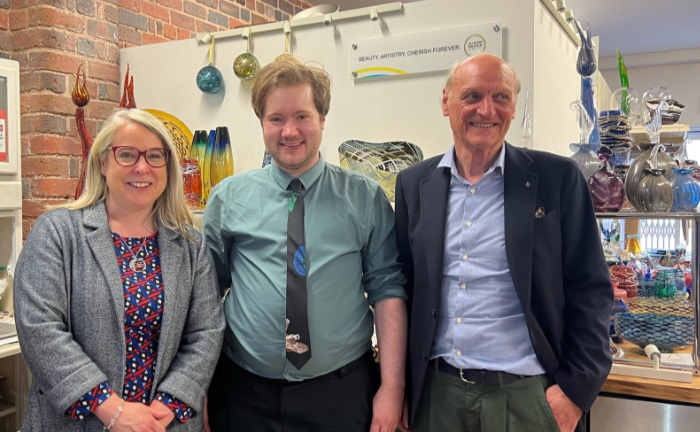 Appointments
| 27-06-2022
Stourbridge Glass Museum appoints new curator
The newly opened Stourbridge Glass Museum is set to strengthen its work with the community and expand its exhibitions following the appointment of a curator and projects officer.
Passionate about Black Country heritage, new appointee Harrison Davies will oversee the development of a programme of outreach activities aimed at engaging local people in the history of Stourbridge glass making. He will also be responsible for ensuring that the Museum's globally significant collection and temporary exhibitions continue to evolve.
Harrison holds a BA (hons) in Archaeology and Ancient History and is currently completing an MA Conservation of the Historic Environment. He previously worked as collections inventory assistant for Birmingham Museums Trust, specialising in Birmingham Museum and Art Gallery's historical collections and artworks, including glass.
Harrison will also play a key role in developing the Museum's contribution to the upcoming British Glass Biennale and the 2022 International Year of Glass.
Harrison commented: "Stourbridge Glass Museum is undoubtedly a jewel in the crown of the area's glassmaking heritage and I'm very excited about building a calendar of attractions that will keep the public interested and entertained for years to come. I'm also really delighted to be working with the trustees to create innovative ways of presenting the permanent and temporary exhibitions to keep things exciting and fresh for both regular and new visitors."
Welcoming Harrison, Graham Knowles, chair of the trustees, said: "Stourbridge Glass Museum has got off to a fantastic start, with huge public interest from across the region. So it's great to have Harrison on board and I'm looking forward to working together to build on our opening success and generate even more interest in glassmaking among people of all age groups and backgrounds."
Dr Audrey Whitty, who is a trustee and head of collections and learning at National Museum of Ireland, added: "Harrison's experience, passion and talent are second to none and I know these traits will benefit Stourbridge Glass Museum and its visitors for years to come."
Harrison will also develop partnerships with other glassmaking attractions in the area, including the neighbouring Red House Glass Cone and Ruskin Mill Glass Centre.
Find out more about Stourbridge Glass Museum here: https://stourbridgeglassmuseum.org.uk
Image: (left to right) Dr Audrey Whitty, Harrison Davies and Graham Knowles. 
Glass Network digital brings you all the latest news and features about contemporary glass
Send your news, feature ideas or advertising requests to the Editor Linda Banks