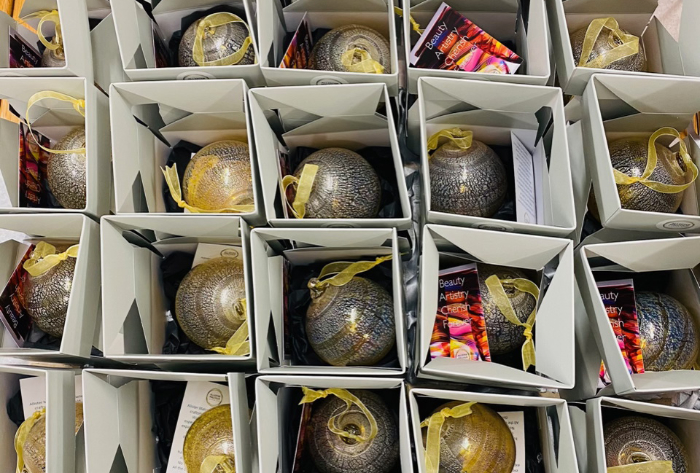 Commissioning
| 24-12-2020
Sparkling glass winners of concert presentation piece commission
There were two winners chosen to create glass thank you gifts for participants in a charity carol concert in December 2020 – Allister Malcolm, who designed a festive bauble, and Nancy Sutcliffe, who made shooting star paperweights.
The virtual carol service idea came about when glass collector and CGS Member, Mark Holford, heard that his City of London livery company, the Information Technologists, had decided to cancel its annual carol service. Mark's wife Sarah is a trustee of City-based VOCES8 which is one of the world's leading a cappella groups, so they decided to hold a virtual concert instead.
Things got out of hand when the Lord Mayor of the City of London decided to merge his carol service to create Carols for the City. Mark and Sarah had less than two months to organise it. Seven readers had to be found and recorded, as well as some of the music, plus a 30-minute introduction had to be filmed and edited by VOCES8. The ultimate networking exercise produced a distinguished list of participants, all figures with City of London connections, including the Lord Mayor, HRH Prince Edward, the Bishop of London, the Lord Lieutenant of Greater London and the Governor of the Bank of England. In addition, television personality Dame Mary Berry agreed to read one of the lessons; even she has a City of London connection, being an honorary Freeman of the Bakers' Company!
On the night of 8 December, 3,000 people watched and the event exceeded its fundraising target of £50,000.
Mark wanted to thank all those who had taken part and decided that a fitting way to do this was to commission a piece of glass. Fifteen people responded, all of whom had great ideas. The two winners were Allister Malcolm and Nancy Sutcliffe. Alistair was commissioned to make 40 Christmas baubles, each one numbered and signed, that were given to the participants.
Commenting on the choice of Allister to make the baubles, Mark said: "Both Allister and Nancy had excellent but very different ideas. I chose Allister for the baubles because he is an honorary Freeman of the Glass Sellers' livery company (of which I am also a Liveryman). It emphasised the City of London nature of the event. Generally, this was an excellent opportunity to promote studio glass to some very distinguished people. All of them were delighted."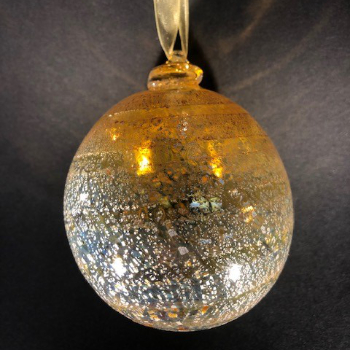 Allister commented: "It was an unexpected privilege to be part of such an amazing event and a lovely festive commission to finish the year. I wanted to create a piece which encapsulated my style and celebrated the skills within our team. Applying precious metal leaf to the surface of molten glass at over 1000 degrees gives beautiful, unique results whilst challenging our skills to control the process. The limited-edition run was a joy to create and hopefully the recipients will cherish them for years to come." You can see the making of the bauble in this short video.
However, Mark had also wanted to commission someone to make general thank you presents and Nancy's idea perfectly met that brief. He explained: "A piece of glass of this beauty is much more interesting and certainly longer lasting than a bottle of champagne!"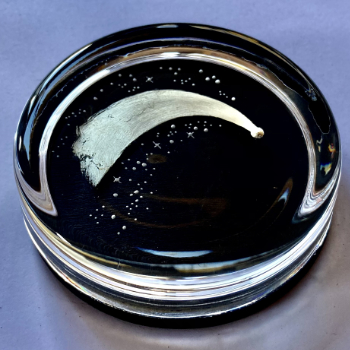 Speaking about her design, Nancy said: "This was my response to the challenge! An engraved optical glass paperweight gilded with a white gold leaf shooting star and sitting on a wooden base. I was delighted to be commissioned to make these pieces."
Mark reported that he had received nothing but wonderful emails about the service, many of which contain the word 'brilliant'. If you want to watch it, tickets are £5, all of which goes to four charities benefitting people throughout the UK. Go to www.carolsforthecity.org. The recording is available until 15 January 2021.
Glass Network digital brings you all the latest news and features about contemporary glass
Send your news, feature ideas or advertising requests to the Editor Linda Banks