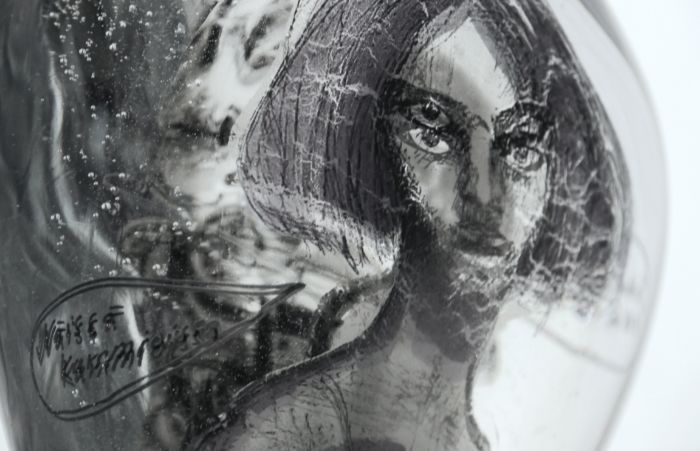 Sini Majuri's Finnish 'Home' exhibition
Glass artist Sini Majuri is exhibiting her work at The Museum of Fine Arts Eemil in Finland.
The work on display explores the theme of 'Home' (or 'Koti' in Finnish) via poetic blown glass. Sini explains, "Home is something that defines us: who we are and who we want to be. Home can mean chaos or a serene, safe haven. It can be dangerous, or loving. During the pandemic, particularly, the idea of home has evolved into new dimensions."
To mark the UN's International Year of Glass, she wanted to highlight the diversity, co-operation and vitality of Finnish contemporary glass through this exhibition. The aim is not only to shape the material of glass, but also the whole creative field and its future.
"Studio-made glass is an expressive medium that can give shape to a feeling, the visible and invisible levels of existence," Sini continues. The theme of home is mirrored by her use of multi-layered interpretations of the classic Graal glass blowing technique. "Glass's story follows the logic of a dream and home is also a metaphor representing a person's psyche. An important part of the narrative is how our own viewpoint affects the ways we see each other."
The exhibition is on now and runs until 17 April 2022 at the Museum of Fine Arts Eemil, Suistamontie 3, 73100 Lapinlahti, Finland. Opening hours: Thursday and Friday 11am-4pm, Saturday-Sunday 11am-3pm. Find out more: https://www.eemil.fi/english/
Image: Glass art by Sini Majuri on show at the Museum of Fine Arts Eemil.
Glass Network digital brings you all the latest news and features about contemporary glass
Send your news, feature ideas or advertising requests to the Editor Linda Banks