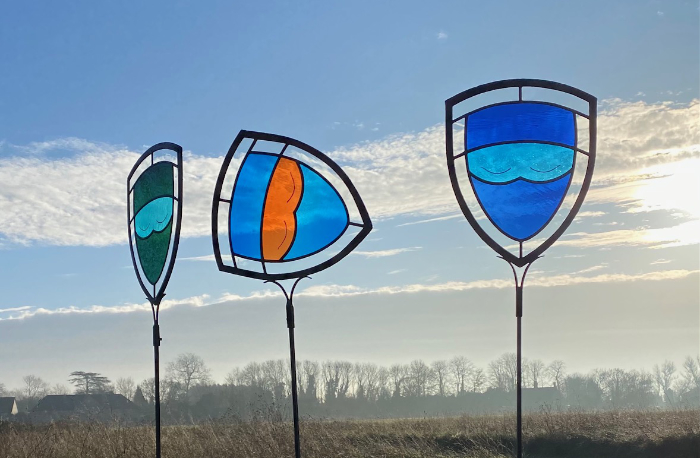 Shields of Light are a potent symbol at Cambridge hospital
These three bright stained glass 'Shields of Light', created by CGS member Surinder Warboys during lockdown in 2020, have been donated to the Cambridge University Hospitals, Addenbrooke's and The Rosie. They are now on display in a peaceful corner of the public Rosie Garden. 
Surinder explains: "Our most familiar world became strange and dangerous as a result of the colourless, unseen presence of Coronavirus in March of 2020, necessitating a nationwide lockdown. During this time, images of NHS staff wearing personal protective equipment (PPE) became iconic symbols, and yet many were having to manage with inadequate, or no, PPE.
"The glass shields were forged with a great sense of urgency, during April and May 2020, using only the materials available to me during lockdown. They were a gesture of thanks and a metaphor for the life-risking work being done by others – in particular in our National Health Service.
"The irony of using fragile glass for a shield was pointed out to me at the time. But these shields are shields of light. The light interacting with them has travelled 93 million miles and is continually being renewed. 
"Due to certain properties in the 'antique' glass, known as metal oxides, only the colour we see is transmitted; all the other colours are absorbed by the shield, or that particular part of the shield. For example, in the orange section, all the colours of the spectrum are captured by that section, except for the orange, which is allowed to pass through, so we experience that section as orange.
"This is the first time my work has been displayed in the open air. When I had completed the glass shields, I photographed them on Mellis Common, against the open sky. I saw that the sky, clouds and landscape transformed, and integrated with, the work. So it is serendipitous that they are now being displayed outdoors at Addenbrooke's."
Glass Network digital brings you all the latest news and features about contemporary glass
Send your news, feature ideas or advertising requests to the Editor Linda Banks