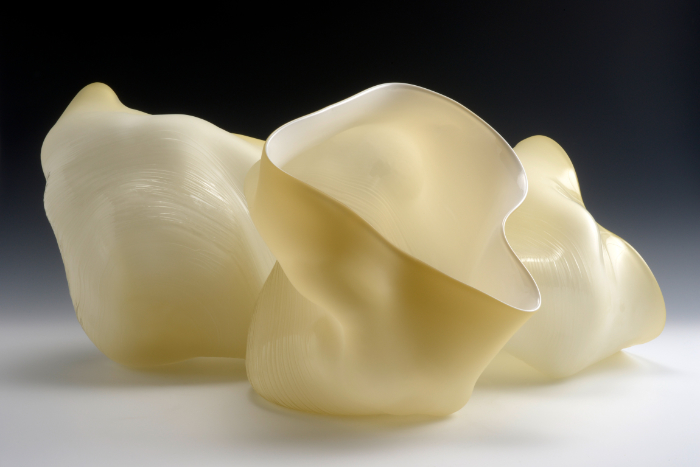 Seascapes in glass shown at Coburg Prize exhibition
Among the 90 glass artists chosen for the Coburg Prize for Contemporary Glass 2022 exhibition, Bibi Smit is showing her new work, 'Sands'. The exhibition takes place across two locations, Veste Coburg Art Collections and the European Museum of Modern Glass in Germany and runs from 10 April to 25 September 2022. 
Inspired by seascapes and natural forms, these glass-blown 'Sands' sculptures reflect textures shaped by the wind. 
As Bibi explains, "The 'Sands' are a natural outcome of moving further from cloud shapes and looking more at seascapes, shells and sea life. When you walk on the beach you see the way the water plays with the sand and makes patterns and, in the same way, the wind makes shapes in the desert. I am interested in how the water and the wind move the sand, not necessarily to do with the sea, as such, but more with movement. And that's why the forms are hugging into each other. It shows my feeling when I look at the ripples of sand and the shapes that are made in nature with erosion and movement."
The sculptures feature textured exteriors, with colour on the outside and the insides are white. The lines reflect the ripples seen in sand and water. The outsides are partly sandblasted to create depth and perspective. 
"The relationship between the objects and how they relate to each other is important. They form groups because they belong to each other; they are part of the same feeling," Bibi continues.
"I realised with the 'Clouds' series that it's nice to have them laying around for a long time and to handle them and move them in different groups. I am being challenged to look at them in different frames, away from the studio and the gallery. This shifting composition process is part of the journey of how I see them and how I want them to be seen." 
The Coburg Prize for Contemporary Glass is Europe's most important award for contemporary glass art. It is accompanied by an exhibition at the Veste Coburg and the European Museum for Modern Glas in Rödental. 
The artists selected for the 2022 exhibition are: Giampaolo Amoruso, Galia Amsel, Sahar Baharymoghaddam, Veronika Beckh, Æsa Björk, Juli Bolaños-Durman, Péter Borkovics, Heike Brachlow, Effie Burns, Ned Cantrell, Anna Carlgren, Mathilde Caylou, Keeryong Choi, Katharine Coleman, Vanessa Cutler, Lukas Derow, Maria Bang Espersen, Sally Fawkes, Lena Feldmann, Carrie Fertig, Dominic Fonde, Ulla Forsell, Shige Fujishiro, Giuliano Gaigher, Hannah Gibson, Hartmann Greb, Mathieu Grodet, Wilfried Grootens, Jens Gussek, Iris Haschek, Adam Hejduk, Masami Hirohata, Palo Macho & Jana Hojstričová, Jochen Holz, Petr Hora, Krista Israel, Angela Jarman, Dafna Kaffeman, Saman Kalantari, Micha Karlslund, Morten Klitgaard, Maria Koshenkova, Remigijus Kriukas, Marzena Krzeminska Baluch, Zuzana Kubelková, Juliette Leperlier, James Lethbridge, Susan Liebold, Kristína Ligačová, Alison Lowry, Joanna Manousis, Markus Marschmann, James Maskrey, Gayle Matthias, Melanie Möglich, Sadhbh Mowlds, Jan Mytny, Tracy Nicholls, Fredrik Nielsen, Jagoda Nowak-Bieganowska, Stig Persson, Anne Petters, Vendulka Prchalová, Cornelius Réer, Colin Reid, Gerhard Ribka, Sebastian Richter, Anne-Lise Riond Sibony, Judith Röder, Susanne Roewer, Torsten Rötzsch, Tiina Sarapu, Cathryn Shilling, Wilken Skurk, Bibi Smit, Petr Stanický, Nancy Sutcliffe, Veronika Suter, Karlyn Sutherland, Ayako Tani, Aline Thibault, Michaela Tkadleček, Kristiina Uslar, Sylvie Vandenhoucke, Aleš Vašíček, Sofia Villamarin, Zac Weinberg, Jinya Zhao, and Jeff Zimmer.
Exhibition locations: Veste Coburg Art Collections, Veste Coburg, 96450 Coburg, Germany and the European Museum of Modern Glass, Rosenau 10, 96472 Rödental, Germany.
Read about the Coburg prize winners in this linked news story.
More information: https://www.coburger-glaspreis.de/en/home/
Image: 'Sands' by Bibi Smit uses glassblowing and sandblasting techniques. 
Glass Network digital brings you all the latest news and features about contemporary glass
Send your news, feature ideas or advertising requests to the Editor Linda Banks