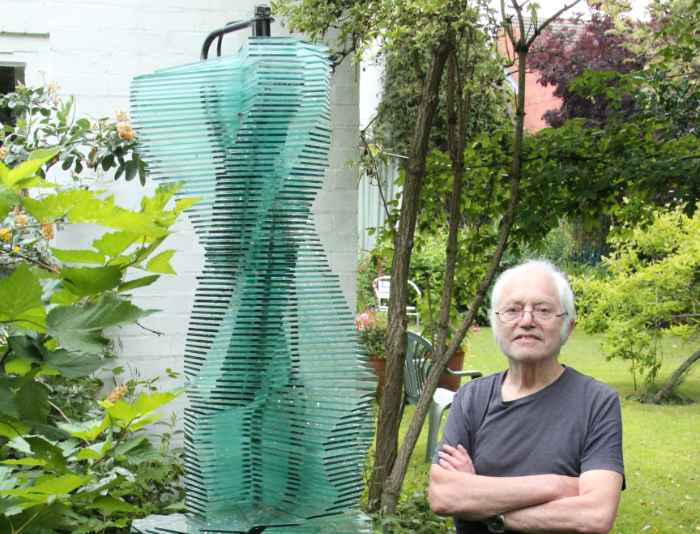 Remembering Harry Seager (1931-2021)
A tribute to the life and work of this influential architectural glass sculptor, by Keith Cummings.
The sad news of the death of the sculptor and teacher Harry Seager represents a great loss to all who knew him. He was an original, influential sculptor, teacher and mentor and, over an active working life of over 50 years, he touched many lives.
Although he used glass as a sculptural material in his glass and steel constructions some time before the studio glass movement was established, he provided an enduring example and benchmark for the generations of students who graduated from the glass courses which proliferated in his wake.
His pieces managed to be both monumental and playful at the same time. The sinuous, linear steel structures supported and shaped the precisely-cut glass sheets into rhythmic forms that belied their enormous weight and the great engineering expertise that went into them.
Born in Birmingham in 1931, Harry was initially drawn to science, but settled on art, and attended Birmingham School of Art to study sculpture. After college, and two years' National Service, he began producing site-specific works for buildings in a variety of materials.
He became a lecturer at Stourbridge College of Art in 1961, teaching the new Fine Art course, and offering the new Diploma in Art and Design in 1967.
Harry started experimenting with sheet glass as a material in the early 1960s, drawing on the examples set by the Russian constructivists. Initially he used resins to bond sheets together, but graduated to complex steel armatures, which enabled works to be re-assembled and repaired.
He was represented by the Gimpel Fils gallery between the 1960s and the 1980s, which brought his work to an international audience, and much acclaim. He is also represented in many public and private collections, including the Victoria and Albert museum.
In his later years, he used glass more sparingly, working in a wide variety of materials and scales. He never lost his enthusiasm and love of life and people, which made him a delightful person to know.
He was busy in his studio to the end, leaving ambitious pieces unfinished when he was cut down by this cruel virus.
He loved his home and family and was married to his wife Marie for 58 years. He leaves her, their daughter Rebecca, and two grandchildren, Misty and Alice. Their beloved son Rueben pre-deceased him. He will be sorely missed by all who knew him.
By Keith Cummings
Photo: Harry Seager with one of his iconic layered glass sculptures, photographed by Lily Olley.
Glass Network digital brings you all the latest news and features about contemporary glass
Send your news, feature ideas or advertising requests to the Editor Linda Banks