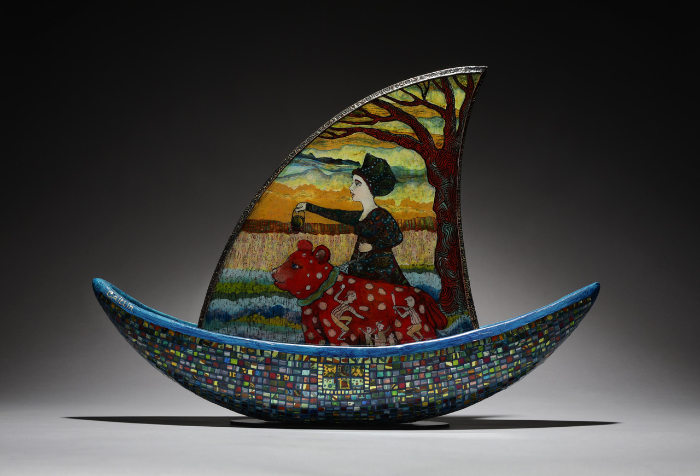 Putting on the Glitz
Highly accomplished glass artist KeKe Cribbs uses a broad range of glass and sculptural techniques to create exquisite, sparkly treasures that captivate her audience. Here she speaks to CGS Glass Network digital's editor, Linda Banks, about her processes and inspirations.
What led you to start working with glass?
I was living in Santa Fe, New Mexico and working in a gallery when I discovered a book on the prehistoric Mimbres peoples. They painted black and white imagery on pottery. I fell in love with the simple, narrative style and, riffing off of it, I began making pen and ink drawings of contemporary life in Santa Fe. The drawings were full of humour and the gallery where I worked offered to show the work in a two-person show.
During the opening of that show, an architect and his wife offered me a commission; if I could figure out how to get my drawings onto glass, they wanted me to put imagery on all the glass cabinet doors in their kitchen. After some research, I discovered acid paste and took on the commission. I had never thought about glass as a creative material, but the discovery led me to learn about sandblasting and engraving. Eventually, it took me on to glass blowers and the whole big world of glass, just when it was really taking off in the 1980s. I landed up at Pilchuck Glass School in 1984.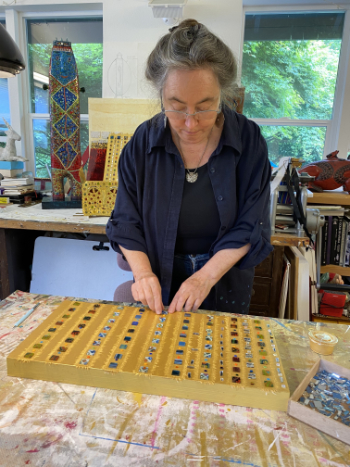 What glass techniques have you used in your career and why do you prefer reverse fired enamels today?
I spent many years perfecting my sand carving and engraving skills. I started out working on forms that were gaffed for me in blown glass, but eventually moved on to working more with flat glass, which I incorporated into sculptural work. This allowed me to work much larger. It also required me to learn many other skills so that I could work in sculptural materials, such as wood, metal and concrete.
I loved the pieces that I made, but I was frustrated with the work being so light dependent. Ultimately, I wanted more colour. I explored reverse painting on the glass with oils and sign painting enamels, which are semi stable. The vitreous enamels offered more stability and also the advantage of truly transparent colours. Although my reverse paintings on glass appear opaque, they are comprised of many layers, which are built up with transparent colours to create greater depth. There are no colours in art that are as rich as a reverse-painted piece of glass! And I can cut up my paintings to use for mosaics … It's perfect!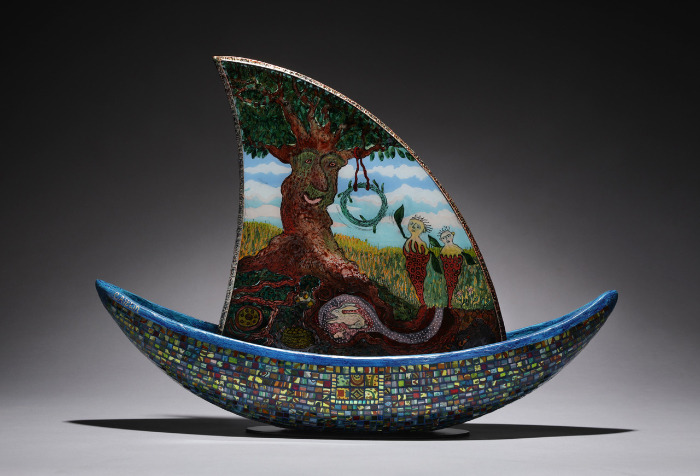 Can you tell us something about how you developed your working methods? Do you draw your designs out or dive in with the materials?
I have the dual personality of wanting to be loose and intuitive and, at the same time, I am precise and attracted to pattern. I think all of my work displays a bit of both. I used to be more precise when drawing on the glass; I would make drawings on paper which would sit under the glass as a guide. I don't do that now.
My tendency is to blacken the glass with enamel, building up texture using a brush, palette knife, etc, and then rubbing off most of the enamel. This leaves traces and patterns where the enamel was thicker. Then I may see an image in the marks that remain and start to build it out from there, using quill pens and brushes. I also do a lot of sgraffito to refine my drawing lines and create hash marks and shadows. It's a more intuitive way of drawing and working.
Of course, if I am making a boat or something like that, I need to be an engineer and a craftsman to build that part out from scratch, and that is a more exacting part of the work. Everything I do takes a very long time.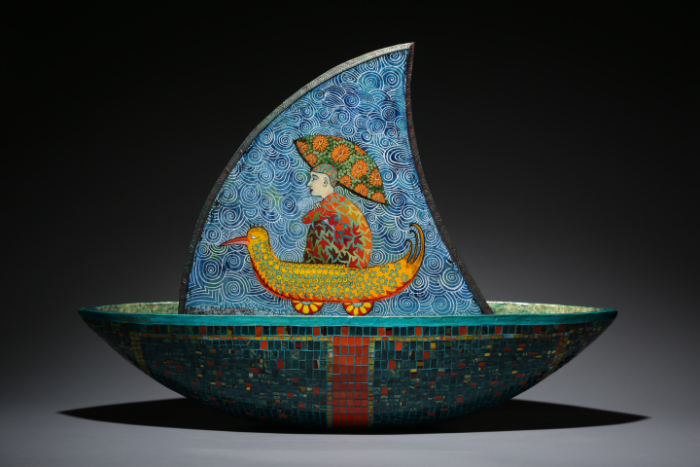 Who or what inspires you?
Oddly, textiles would be at the top of my list: all things ancient, all things primitive, all things finely crafted. I am enamoured of ancient gold works from Rome, Greece, South America, Africa and around the world. Much of that work has both pattern and texture, just as an exquisitely embroidered medieval garment might, so that is part of it. The Surrealist and Dada painters, Nick Cave, and quite a bit of electronic music … I guess I take influences from all over the place.
What is your favourite tool or piece of equipment and why?
Well, I have to have a kiln if I am firing enamels on glass. Next to that, it would be my Toyo glass cutters and mini glass mosaic nippers, my quill pens and liner brushes and awl for sgraffito. It would be hard to manage without all those things.
A lot of your work has a dreamlike quality. What message(s) do you want to convey to your audience through your artwork?
As a person who works intuitively, I don't really start out with an exact concept. Rather, I have an emotion, which seems to be realised through imagery that becomes symbolic. In that sense, it is like sharing a dream. As with a film, or a great novel, imagery can convey mystery and emotion that the viewer personalises and turns into their own story. That is what interests me.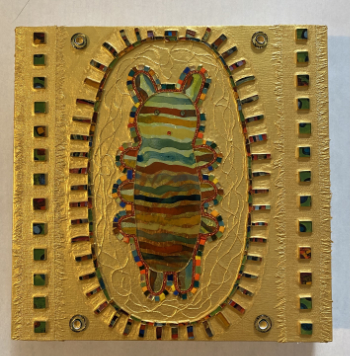 You opened the Treasure Trove Art space in 2017. What led you to this decision and how has it impacted artists?
My main sources of income had been The Scott Jacobson Gallery in New York (originally Leo Kaplan Modern), and the big Sculpture Objects Functional Art and Design (SOFA) fair. So, when Scott closed the gallery and the American elections happened and brought chaos, I decided to try and do something different.
I found a tiny space for rent in a non-profit building that was designed to help small businesses get a head start. The model I created gave the artist 70% of sales. I combined all kinds of treasures in one 11 x 12-foot space. I mixed my own, more expensive, works with small originals by teenagers and newcomers and a big price range. I wanted to give creativity a chance and to encourage 'making'. I also had books and freely gave technical advice to the curious.
As an adjunct, I also managed a larger rental gallery, where people could have their own shows of work that they might not be able to show in a normal gallery setting. The glass artist Dick Marquis rented the space and put on a terrific exhibition of his framed Collections of Stuff; it was fabulous!
In my heart, I just wanted to encourage freedom of expression and give people a place to do that. Sadly, it only lasted one year, as I could not afford to keep it going.
Do you have a favourite piece you have made? Why is it your favourite?
That is a tough question! Every so often, I make a piece I just want to keep, because I have made some breakthrough on it, which really means I have bypassed what the galleries are expecting or wanting.
For years, I wanted to make more wall pieces and do more painting on glass, only to be discouraged by their insistence on more large pedestal pieces. With the amount of work that goes into my pieces, I cannot possibly compete with blown work, which is the king of pedestal pieces in a glass gallery; one of my Boat pieces can take two-to-three months to make!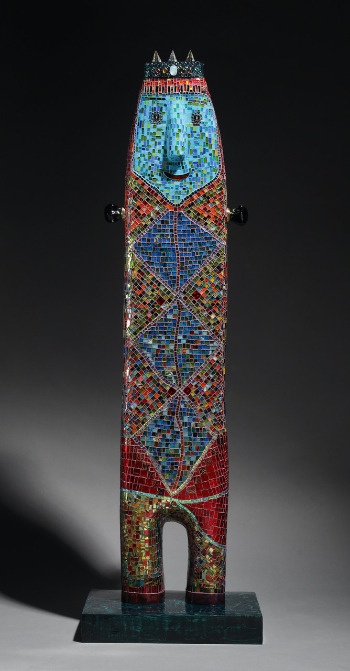 So, when I can let go of the little voice inside that tries to lead me in ONE direction, I can celebrate. I am in the middle of just such a moment with my new glass and linen wall pieces. They are all attached to one wall piece from 2010 that I keep in my bedroom, titled 'Raggedy Man DownUnder'; that is how long it has taken me to finally return to what I might call collaging with glass on a flat surface. I also call it 'Painting with Glass Inclusions', partly because I feel that gives me the most freedom to use my materials however I want.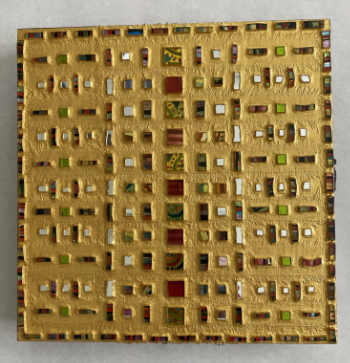 Where do you show and sell your work?
I guess I am in a transition moment. As I said, some of the galleries have closed or changed too much for me to feel at home there. I have had galleries contacting me since 1980 but, in the last five or six years, everything has changed as economies struggle.
Currently, I have a show scheduled for August 2021 at BAC [Bainbridge Arts and Crafts] on Bainbridge Island in Washington State. BAC is a non-profit gallery that invites artists from all over the Northwest to put on interesting exhibitions. Debora Ruzinsky, the new Executive Director, has given me free rein to make whatever I want. So I am!
I have spent the last eight months exploring my desire to make 'Paintings with Glass Inclusions' and I am really excited about seeing all the work hanging together in one space. It should be quite luminescent and sparkly. Then, perhaps I will look for a more permanent relationship with a gallery that loves my work.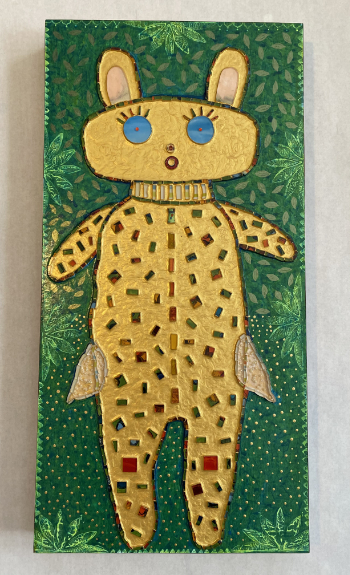 Do you have a career highlight?
That would be my first show of Mimbres drawings, which got me started… and every one-person show after that. And also some grand commission works, such as a full-sized door for a New York apartment.
How has the coronavirus impacted your practice?
Interestingly, it has caused issues with me getting supplies, which has pushed me to use only what I have at hand. That, in turn, has spurred me into my current work of using linen and glass as materials for paintings. The same aspects that made it confining are the ones that gave me freedom; no small irony there! Certainly, there is a lack of outside distractions, which also helps to keep one in the studio.
Now I can see my daughter Alicia Lomne again, I feel centred; that was the hardest part. I am just looking forward and I am glad to use my time as well as possible. I make art, garden, pet my cats and hold my family dear and close. What else is there?
About the artist
KeKe Cribbs was born in Colorado in 1951. She lived in Ireland, France, Corsica and New Mexico before making her home on Whidbey Island after attending Pilchuck Glass School in 1984.
She has taught at Pilchuck Glass School and the Penland School of Crafts and, in 1986, she started a Glass teaching programme at the Swain School of Design, which later became Southeastern Massachusetts University (SMU) in South Dartmouth.
She has also taught workshops at the Toyama Institute of Glass Art (TIGA), in Japan, and participated in the Stourbridge Glass Festival in the UK in 2019.
Her work had been collected internationally, by the Corning Glass Museum, NY, the L.A. County Museum, CA, the Racine Art Museum, WI, Tacoma Art Museum and Tacoma Glass Museum, WA, and the Hokkaido Museum of Modern Art, Japan.
Find out more about KeKe and her work on her website: https://kekecribbs.com
Glass Network digital brings you all the latest news and features about contemporary glass
Send your news, feature ideas or advertising requests to the Editor Linda Banks