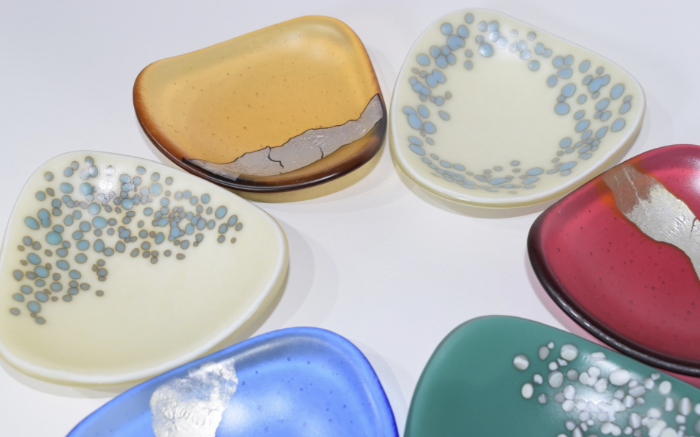 Present Makers glass exhibition in Devon
Make a note to visit the Thelma Hulbert Gallery (THG) this November and December 2023 to see an exhibition of quality contemporary craft and buy your Christmas gifts. 'Present Makers' features hand-crafted gift ideas showcasing the talent and innovation of contemporary craftspeople and designer-makers from the South West region of the UK.
This year's event shines a spotlight on glass through the gallery's collaboration with the Contemporary Glass Society.
Selected glass artists taking part include: Roberta Ayles, Madeline Bunyan, Catherine Dunstan, Rachael Durkan, Oriel Hicks, Susan Kinley, Ian Palfrey, Steve Robinson, Susan Sinclair, Wendy Wood, Robyn Coetzee, Claire Hall, Maggie Hamlyn Williams, Jane Hester, Susan Purser Hope and Amy Whittingham.
Other crafts represented include jewellery, ceramics, textiles, prints and wood, as well as a range of unique Christmas cards and decorations.
The exhibition and sale of work are on from 11 November until 23 December 2023. The gallery is open from Tuesday to Saturday 10am-5pm and admission is free.
THG is an award-winning public art gallery hosting an acclaimed programme of contemporary art and craft exhibitions, alongside a permanent collection of artist Thelma Hulbert's work.
Thelma Hulbert Gallery is at Elmfield House, Dowell Street, Honiton, Devon EX14 1LX, UK. Website: https://www.thelmahulbert.com
Glass Network digital brings you all the latest news and features about contemporary glass
Send your news, feature ideas or advertising requests to the Editor Linda Banks