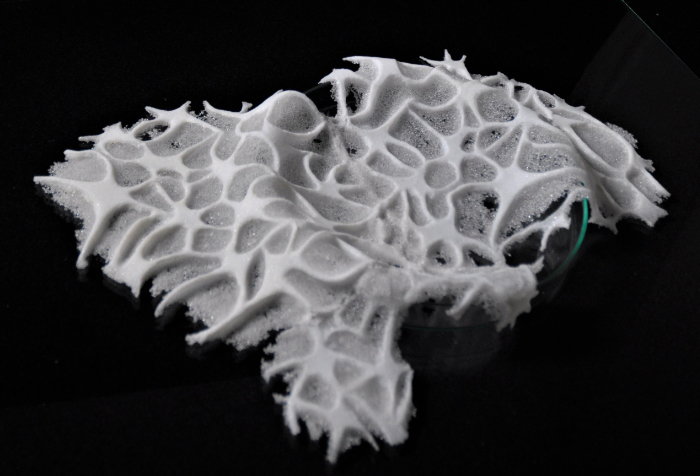 Pratibha Mistry wins Amanda Moriarty Prize 2022
This year's winner of the Amanda Moriarty Prize, awarded by the Contemporary Glass Society (CGS), has been announced as Pratibha Mistry.
The annual prize is awarded in memory of Amanda Moriarty, a long-serving board member and Honorary Treasurer of the CGS who sadly passed away in 2017. The award celebrates her passion and encouragement of glass making.
The Prize enables one glass artist to fulfil a creative ambition or add to a technical skill set and enables a dream that would not be possible otherwise.
Pratibha Mistry beat off competition from 30 other applicants to win this year's award. She recently graduated from UCA (Farnham) with an MA in Glass. For her MA she explored the reactive properties of glass for science-inspired installations. She has expertise in kiln-formed glass and coldworking.
This year, the Prize is provided by Wiltshire-based The Glass Hub, which is offering a five-day residency in the studio. The Glass Hub is an educational centre with extensive glass-working facilities and a highly qualified and experienced team of tutors to support creative development.
"I am thrilled and truly honoured to be awarded the Amanda Moriarty 2022 prize," commented Pratibha Mistry. "The prospect of working alongside the fabulous experts at The Glass Hub will be an invaluable personal growth opportunity, but also a chance to bring to life some of my innovative ideas."
Pratibha's early scientific career involved studying the mechanisms of disease at a molecular and intracellular level. Revealing and probing these beautiful internal structures (mitochondria, golgi, nuclei etc) left a lasting impression on her. She is keen to create a body of work to celebrate these microscopic structures and relay the power of these organelles to transform life and contribute to human uniqueness.
"For this residency I would like to depict these incredible structures by combining both pâte de verre and hot glass approaches within one object, if it is feasible," she explains. "What I envisage is manipulating the delicate pâte de verre structures into organic forms and then encapsulating them into some sort of organ-like orb structure."
Being predominantly a kiln-based artist, Pratibha wants to use the skills of the Glass Hub's directors, combining Helga Watkins-Baker's kiln-based expertise with the 'hot' skills of K T Rothe to explore a new combination of techniques.
"We are very pleased that Pratibha Mistry will be joining us in the autumn to work on new directions for her glass work," commented Helga. "We were very impressed by her proposal."
Image: 'Invasion' by Pratibha Mistry.
Glass Network digital brings you all the latest news and features about contemporary glass
Send your news, feature ideas or advertising requests to the Editor Linda Banks