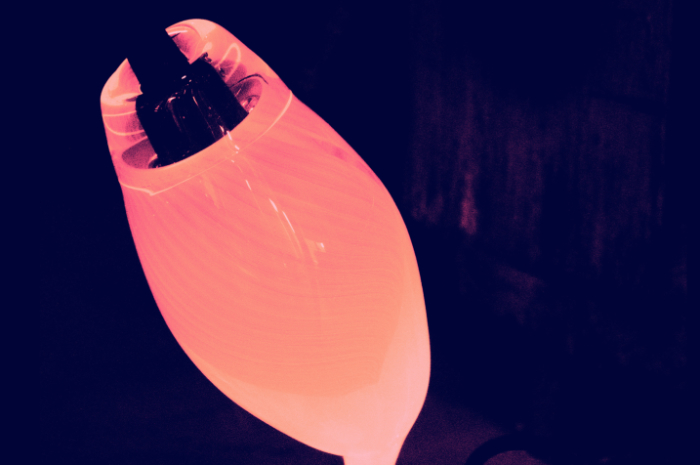 Glassblowing
| 22-02-2022
Plymouth College of Art to host international glass blowing symposium
Leading glass artists from around the world will be showcasing their glass blowing skills at the 'Melting Pot: Hot Glass Gathering' event, on Friday 18 and Saturday 19 March 2022.
The event, organised and hosted by Plymouth College of Art in the UK, will be an opportunity for beginners and professionals in glass, plus members of the public, to experience the drama and beauty of hot glass, blown in real time by internationally renowned glass artists.
'Melting Pot' brings together live-streamed hot-glass demonstrations and lectures, in person and remotely, with some of the most exciting artists working in glass today. Featured artists and studios include: Elliot Walker, winner of the second series of Netflix's glass blowing competition, 'Blown Away'; Wave Glass in Murano, Italy, and the Rietveld Academie in Amsterdam, The Netherlands.
The show is part of the UK's national celebrations for the United Nations-designated International Year of Glass in 2022.
Gayle Matthias, an artist and Plymouth College of Art's Subject Leader for BA (Hons) Craft & Material Practices, is the organiser and curator. She commented, "Plymouth College of Art is one of the few remaining Higher Education institutions in the UK where glassblowing techniques can be studied, which makes it vital that we join the international celebrations planned for the UN International Year of Glass.
"Melting Pot will join a global programme of activities that include congresses, industrial fairs, artistic exhibitions and books designed to highlight and celebrate glass technologies' significant contribution to advancements in the arts and sciences. This is a very exciting opportunity to open our doors and show off some of the drama and beauty of this mesmerising art form."
Plymouth College of Art's hot glass workshops and Plymouth Art Cinema (located at Plymouth College of Art, Tavistock Place, Plymouth, PL4 8AT), will be the hub for activities including hot-glass demonstrations by Elliott Walker, Bethany Wood and Andrew Collins, plus live-streamed demonstrations from Italy and The Netherlands.
Melting Pot will also feature regional collaborations in England with the Contemporary Glass Society, Rhizome (an artists' collective which includes Plymouth College of Art alumni), Cornwall Ceramics and Glass Group, and Teign Valley Glass in Devon.
Teign Valley Glass (located in the Old Pottery, Pottery Rd, Bovey Tracey TQ13 9DS), will open its studio doors to different glassblowers, who will demonstrate their skills in situ and via a live streaming link to Plymouth College of Art.
Some activities are open to walk in on the day, while others, such as the Elliot Walker and Bethany Wood demonstrations, must be booked on Eventbrite in advance. All tickets are free of charge. See the full event schedule on the Plymouth College of Art website here: https://www.plymouthart.ac.uk/melting-pot
Plymouth College of Art has a wide range of design studios and workshops that include specialist facilities for glass, ceramics, metal and wood, alongside rapid digital prototyping facilities in Fab Lab Plymouth. It offers courses that give students the opportunity to reinvent craft for the 21st century, including BA (Hons) Craft & Material Practices, MA Craft & Material Practices and MA Glass.
Glass Network digital brings you all the latest news and features about contemporary glass
Send your news, feature ideas or advertising requests to the Editor Linda Banks