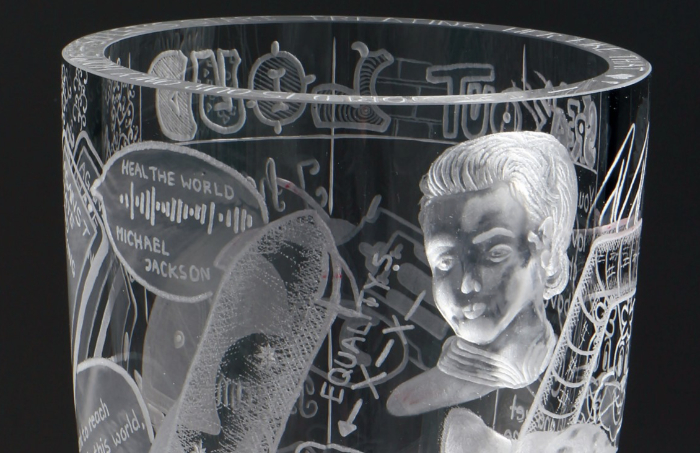 Opportunity for students to enter 'Making Your Mark' glass engraving competition
Students of any age enrolled on a course of at least 15 hours a week can submit their designs for the second 'Making Your Mark' online exhibition, run by the Guild of Glass Engravers.
Submitted work must include surface decoration on any piece of glass, using either diamond point or handscriber, drill, sandblast, acid etch or wheel engraving. Graal techniques are admissible.
Making Your Mark is an Instagram-based exhibition of works created by students based in the UK and overseas. It will go live at the end of September 2022.
In addition, The David Peace Prize will be awarded to the student whose submitted work, in the opinion of the judges, shows the greatest talent and originality in the use of engraving on glass. The decision of the judges will be made from the images submitted.
The David Peace Prize is endowed by a bequest from the estate of founding member of the Guild of Glass Engravers, the late Dr David Peace MBE and a bursary from his family. David Peace, past Chairman and President, was noted for his lettering on glass. He believed in encouraging young talent in glass – not only in the field of lettering, but also figurative and abstract artists.
The first prize will be £500 and the second prize will be £200. Both prizes include free student membership of The Guild of Glass Engravers for one year.
The deadline for applications is 9 September 2022.
Further information and an application pack are available HERE.
Image: 'Glass Graffiti', by Christian Straub (2021), the Winner of the David Peace Prize 2021.
Glass Network digital brings you all the latest news and features about contemporary glass
Send your news, feature ideas or advertising requests to the Editor Linda Banks