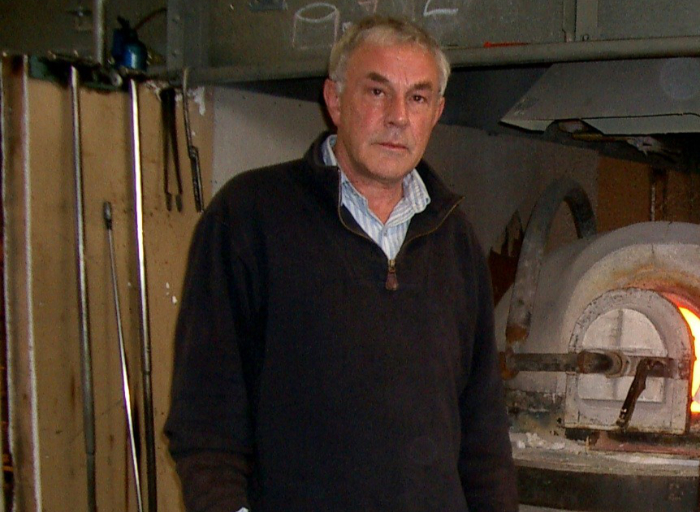 Obituary: glass alchemist John Croucher
Grace Cochrane AM reviews the contribution to New Zealand – and global – contemporary studio glass of "probably one of the best coloured-glass chemists that the world has ever seen".
The whole studio glass community is saddened to hear that glass artist and Gaffer Glass co-founder, John Croucher, passed away in his sleep on 18 September 2021.
A New Zealander, born in 1948, he established a world-wide reputation for making exceptional glass for studio glass-making.
The New Zealand Society for Artists in Glass (NZSAG) reports: 'John had one of the greatest minds the glass world has seen and was a true gentleman. He touched the lives of so many glass artists here in New Zealand and around the world. His legacy will not be forgotten.'[1]
Studio glass in New Zealand evolved from the 1970s, when a number of practitioners set up workshops and offered work experience and facilities to others.
At an Ausglass conference in Canberra in 1993, John Croucher talked about his interest in making glass in those early years: "A friend and I who were working together in flat glass and neon in the mid-seventies had the brainwave one day that it must be possible to make glass from scratch … Neither of us had heard of the studio glass movement… Surely all one needed was a decent sized crucible thrown by one of the local potters, a recipe from somewhere (the Encyclopedia Britannica proved convenient) and lots of propane fired into an adapted pottery kiln … neither of us had seen glass being fashioned hot before, let alone the tools used, the furnaces, annealing ovens, mysterious things called glory holes, marvers and all the rest of the paraphernalia."[2]
Writer, collector and historian Stuart Park confirms that "From this initial experimentation … John set up Sunbeam Glassworks in 1976. Formed as a loose co-op of several craft-workers, glass production included hot glass, flat glass and flameworking … Sunbeam was an important influence in NZ glass. It was also where John developed his interest in the chemistry of glass, the need for consistency in the composition of the raw material, and especially consistency of colour between different batches of glass … John's considerable knowledge of the science of glass was an invaluable resource he willingly shared."[3] Colleagues Garry Nash and Ann Robinson eventually left to develop successful art careers.
In 1990, John Croucher set up Giovanni Glass with John Leggott. He was becoming increasingly interested in glass manufacture and, in 1993, incorporated Gaffer Coloured Glass Ltd. in Auckland to make batch glass for others.
Gaffer Glass quickly became known for its wide range of colours in transparent and opal glasses for glass-blowing, provided as colour rods, chips and powders. By the early 2000s, the Gaffer Glass factory employed 12 people.
John Croucher's coloured glass recipes were melted in a crucible: glass colours for blowing were hand-gathered and rolled into rods. A robot delivered hot balls of glass into moulds for the billets of casting glass, to be cut off by automated shears.
Their willingness to work with artists was significant; artists were able to discuss what they needed and order directly. Because there was no acknowledged 'master glass' that colour bar makers could tune their glasses to, Gaffer Glass offered a free testing service to measure a glassblower's own clear glass against their standard. They then decided to formulate their own master glass in pelletised form. Australian glass artist Tom Rowney, commented, "At first Gaffer provided us with their basic batch recipe, and advised us as we prepared it, so that their colour rods would work with it. But now we can just buy the compatible master glass itself." [4]
Gaffer Glass also offered to make a coloured lead crystal glass for Ann Robinson, who had moved from glass blowing to casting glass. They worked for a year to get it right. By 2004 they offered a range of 38 colours in lead crystal glass, in frit and billet form, compatible with a base glass that would withstand the special demands of lost-wax and investment plaster casting.
Gaffer Glass expanded from Auckland and set up distribution hubs in Melbourne, Seattle, Portsmouth and Tokyo. Then in 2018 it closed the factory in Auckland and moved it to Portland, Oregon, USA, merging with the company Northstar Glass, while still branded as Gaffer.
In 2021 the manufacture of Gaffer Glass was transferred to long-established company, Reichenbach, in Germany, with distribution worldwide through Olympic Color Rods in Seattle, where the products are still identified as Gaffer.[5]
But John Croucher did not stop researching! He wrote to me in 2020, 'I'm amusing myself writing technical monographs on glass colour at home and in the course of which, while reading about the alchemists and the beginning of gold ruby, became interested in the paraphernalia of the alchemists. Luke, my son, and I, had a show of alembics, aludels and cucubitas at Masterworks last year.'[6]
Luke Jacomb followed his dad into the glass world and they both worked together at Luke's Crystal Research Institute in 2021. Luke is reported as saying: "He has got his own office there and all these fancy machines and ways of testing glass and that sort of stuff. So we're doing research on figuring out how to make different glasses that haven't been made before … Lots of other artists around the world would agree that he's probably one of the best coloured-glass chemists that the world has ever seen; he's extremely talented at coming up with formulas for making glass … he's like a conduit, to try to push these technologies into the art world."[7]
John is included in several publications, wrote in the NZSAG New Zealand Glass Art book in 2010 [8], and spoke at many conferences.
There is no doubt that everyone who knew John Croucher will remember him with great respect and affection, for his generous contribution to studio glass.
Written by Grace Cochrane AM
Curator, crafts historian, author; NZ-born, living in Australia.
Much of this summary is adapted from previous publications: Grace Cochrane, 'From Seat-of the pants to state-of-the-art', in Margot Osborne (ed), Australian Glass Today, Wakefield Press, Adelaide, 2005; and 'Gaffer Glass', in Grace Cochrane (ed) Smart Works: design and the handmade, Powerhouse Museum, Sydney 2007.
References:
[1] Emma Camden, NZSAG President, https://www.facebook.com/NZSAG/
[2] John Croucher, 'Necessity as the mother of invention', Ausglass conference report, 1993
[3] Stuart Park, correspondence, September 2021
[4] Tom Rowney, Ruth Allen, interviews with author, 2004
[5] Olympic Color, at Glasscolor.com
[6] For details of exhibition, see: http://www.masterworksgallery.co.nz/artists1/glass/john-croucher-and-luke-jacomb/
[7] https://www.mindfood.com/article/meet-the-kiwi-glass-artists-making-their-mark-on-aotearoas-art-scene/
[8] John Croucher, 'Understanding Glass: Technical perspectives', in New Zealand Glass Art, Bateman Press, 2010
Image: Glass innovator John Croucher in the studio. Photo: Gaffer Glass, 2007.
Glass Network digital brings you all the latest news and features about contemporary glass
Send your news, feature ideas or advertising requests to the Editor Linda Banks