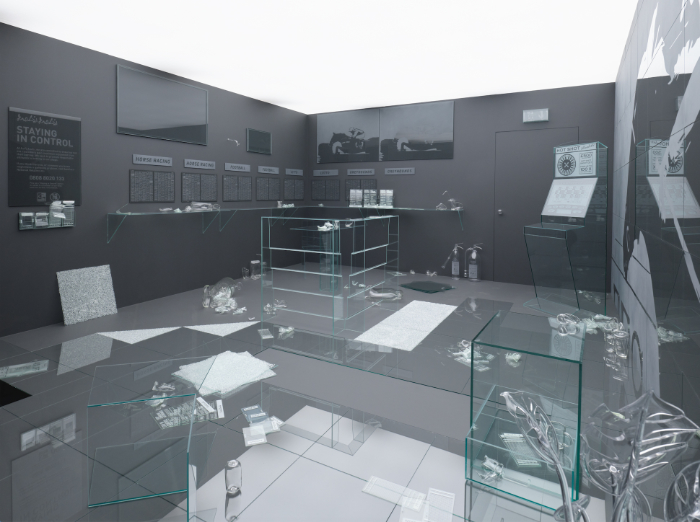 Collaborations
| 05-04-2022
NGC Glass Exchange initiative features life-sized glass betting shop
Four major glass commissions by leading contemporary artists are now open to the public at sites across the North East of England, including 'Ghost Shop', a betting shop made of glass.
The artist behind this piece, Ryan Gander, was one of four artists invited to create new glass work as part of the Glass Exchange project, organised by the National Glass Centre (NGC).
The four artists, Monster Chetwynd, Ryan Gander, Katie Paterson and Pascale Marthine Tayou, were chosen by a panel of artists and curators, convened by the NGC, to create new glass work. As none of them had a history of working in glass, each worked in collaboration with skilled glass workers from the NGC to create their vision.
The finished works can be seen in and around the cities of Sunderland and Durham, including a vacant shop in Sunderland city centre, Durham Cathedral, and the NGC, until 11 September 2022.
'Ghost Shop'
Ryan Gander's commission is a life-sized abandoned betting shop, created in glass, and sited in a vacated tanning salon on High Street West in Sunderland city centre. 'Ghost Shop' has all fixtures and fittings made in clear glass, including details such as an upturned bin spilling out discarded betting slips, and a pile of unopened post.
Ryan stated, "It's been a pleasure to work in Sunderland with the team at National Glass Centre – who are just insanely talented. No one else in the UK would have been capable of producing the work. National Glass Centre is a unique place, there's nowhere else with the knowledge, skills or network."
His commission, a comment on the state of the UK's High Streets, came about after a lunch with NGC's Head of Arts Julia Stephenson. "I wanted to aim high, and I'm used to curators saying 'it can't be done', but when I explained I wanted to create a life-sized, discarded betting shop, Julia said 'yes' straight away."
Ryan explained his thinking behind the installation: "Betting shops are beckoning doors of illicit sin, like somewhere in Soho, and the shop fronts are covered, so you never know what's going on inside. There's a certain mystery to them.
"People validate and quantify art by the number of people counted as seeing the art, but I'm more impressed with artwork that still bothers people when they're returning home on the bus, or still want to tell their friends about it two years later.
"I hope most people who engage with 'Ghost Shop' will be people who don't know they're engaging with art and I think that is the best art," he went on. "Most people don't want anything to do with contemporary art, don't understand it and certainly don't think it's for them."
Glass is the perfect material to express absence and Ryan used the material in a simple and ambitious manner to reflect the decline of the country's urban centres. The half-dismantled fixtures and fittings suggest what has been and the betting slips and food and drink wrappers create a more direct human connection.
Ryan Gander OBE RA was born in 1976 in Chester and now lives and works in Suffolk.
'Ghost Shop' can be seen at 61 High Street West, Sunderland, until 11 September 2022.
'The Life of St Bede'
Monster Chetwynd was born in London in 1973. She now lives and works in Zürich, Switzerland. Her commission, 'The Life of St Bede', is on display in the Galilee Chapel at Durham Cathedral. Her work features four colourful and imaginative dioramas capturing key scenes from the life of St Bede.
Monster said: "The dedicated hours that have gone into the art pieces feel enormous. There were site visits and many exchanges of 'problem solving' over two years. I made cardboard models to 1:1 scale and the same again in fired clay.
"The assembling of the hot glass and lamp work only finally came together very recently. We had to face so many questions: Do the colours complement? Does the lighting allow the glass to resonate and seduce the eye? Do the plinths work or detract?
"The team I worked with through the National Glass Centre – Julia Stephenson, James Maskrey, Ayako Tani, Kalki Mansel – have been brilliant, sincere and earnest in marrying and merging my ideas. I am impressed and feel 'high' from the collaboration."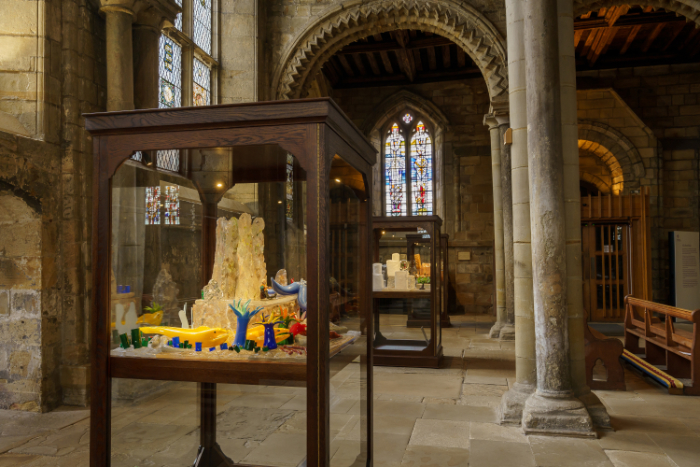 'Requiem' and 'The Moment'
Katie Paterson created two interrelated works for the Glass Exchange project. 'Requiem' is a glass urn filled with hundreds of samples of dust that spans billions of years, including the evolution of humankind over the last few millennia. She also created a series of hourglasses, called 'The Moment', that contain material from before the Sun existed, one of which will be shown in Durham Cathedral.
'Requiem' will be exhibited at Ingleby Gallery in Edinburgh from 9 April 9 to 11 June, before being shown at the NGC from 18 June to 11 September 2022.
Katie said: "It's been a joy to work with master glass blower James Maskrey, who has translated my scraps of ideas into beautifully crafted objects. I've never before had the opportunity to work in hot glass, so to be able to work with James at this level, in a world-class centre of glass making, has been a privilege.
"James has made more than 400 glass objects for 'Requiem' and has really pushed the limits of scale, whilst retaining a delicacy of the forms. I'm really happy with the results."
Katie Paterson was born in Glasgow in 1981 and is now based in Fife.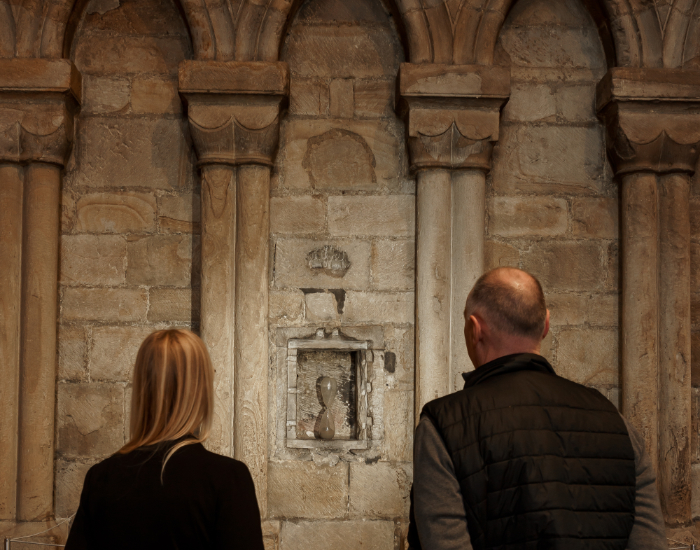 'Colonial Ghost'
Pascale Marthine Tayou presents 'Colonial Ghost', which invites the viewer to consider connections between colonisation and the growth of Christianity in African countries. The artwork consists of 32 Christian crosses, each made using five human figures. The nails adjacent to each figure are important to the work, echoing Christ's crucifixion.
Pascale was born in Nkongsamba, Cameroon, in 1966 and he now lives and works in Ghent, Belgium, and Yaoundé, Cameroon.
Following its display at Sunderland Minster, 'Colonial Ghost' is now on show at the NGC's Balcony Gallery until 11 September 2022.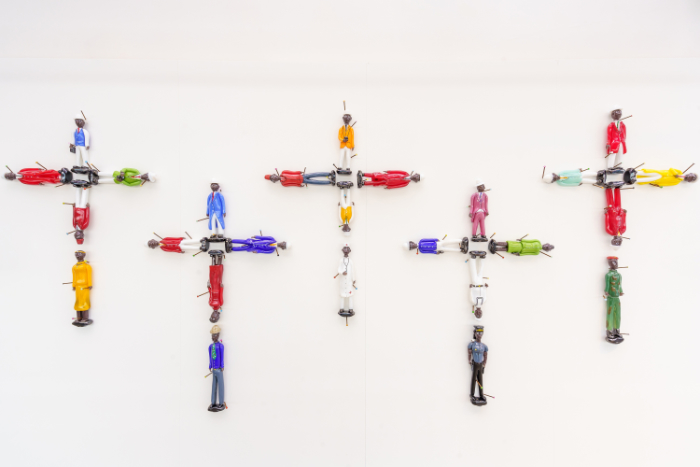 Rebecca Ball, chief executive at Sunderland Culture, which delivered the project, said: "We're thrilled and proud with the results of Glass Exchange. As the title of the project suggests, this was about an exchange of ideas, creativity and knowledge between four respected contemporary artists and our uniquely talented team of glass makers at National Glass Centre."
Glass Exchange is supported using public funding by the National Lottery through Arts Council England's Ambition for Excellence Fund, with additional funding from Art Fund, Henry Moore Foundation and the Coastal Communities Fund, and with thanks to the University of Sunderland and Durham Cathedral.
For further details, visit: https://sunderlandculture.org.uk/glass-exchange
Main image: Inside view of 'Ghost Shop' at High Street West, conceived by Ryan Gander. Photo: George Darrell.
Glass Network digital brings you all the latest news and features about contemporary glass
Send your news, feature ideas or advertising requests to the Editor Linda Banks