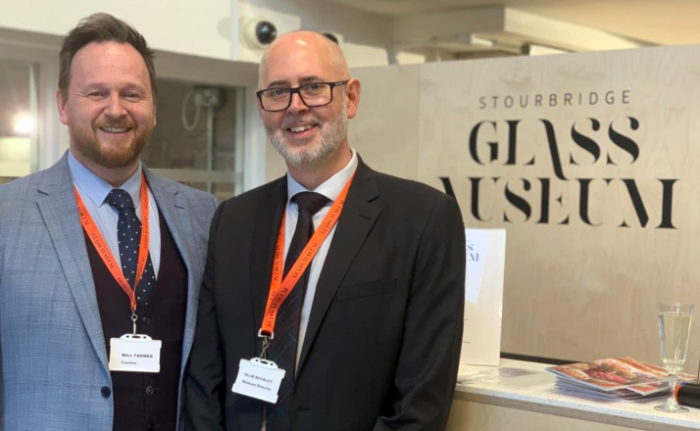 New Stourbridge Glass Museum opens
The new Stourbridge Glass Museum opened in early April 2022 with events over three days: a VIP launch on the evening of 7 April, exhibitor's preview on 8 April and the opening to the general public on 9 April.
The VIP evening welcomed around 150 guests and commenced with a glassmaking demonstration by resident glass artist Allister Malcolm in his Hot Studio. Visitors mixed among the glass cabinets and interactive displays.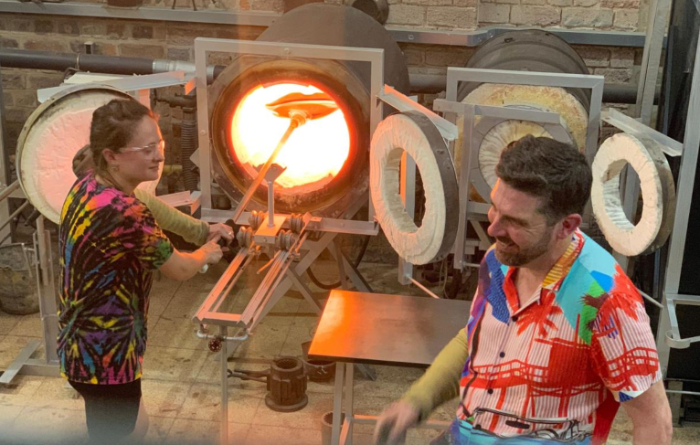 The formal greeting and speeches were hosted by Will Farmer, of the BBC's 'Antiques Roadshow' TV series, and a stalwart supporter and a Trustee of the British Glass Foundation (BFG), whose vision had brought the museum to life after 13 years of development. BGF Chairman Graham Knowles was praised for his dedication and, in turn, praised the hard work of the many people who had made the dream a reality. Then local MP Mike Wood (Dudley South) spoke of his delight to be associated with the museum.
The speeches concluded with a surprise presentation to Graham Knowles of a glass cameo piece that had been specially made by Helen Millard. As Will Farmer remarked, "We have on display here some of the oldest examples of glass, so it is only fitting that the man spearheading the new museum should be presented with one of its newest."
Speaking prior to the launch, Museum Director Ollie Buckley said: "It's hard to believe the moment of opening is upon us after so many years of work developing the museum. We're incredibly proud of what we've achieved at Stourbridge Glass Museum and I'm confident visitors both young and old will thoroughly enjoy learning about the history of glass making and admire the different pieces on display.
"For example, you'll be able to sit in a real glass maker's chair and watch cinematic footage of the process of making a piece of glass art. We also have immersive animations designed to take you back in time to when glass was produced inside a cone – those iconic buildings that once defined the Stourbridge skyline. On top of this, you'll have a chance to create your own glass designs using digital interactive screens before emailing your finished masterpiece to yourself or a friend."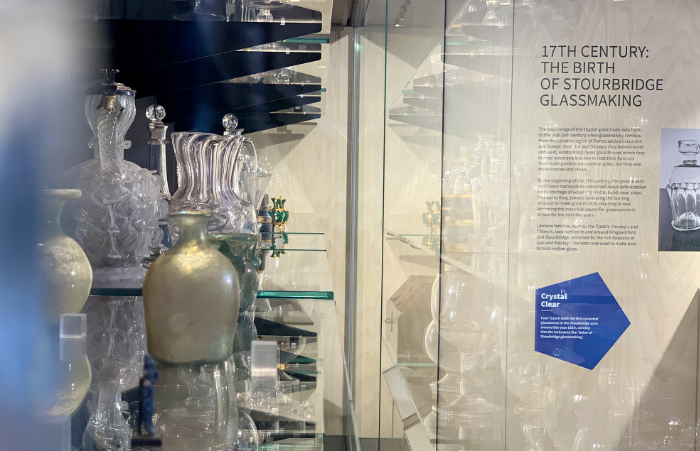 The preview exhibition evening on 8 April was held to thank the museum's team of volunteers. They were able to view the inaugural temporary exhibition of work by Vanessa Cutler, entitled 'Journeys and Horizons'. Read more about the exhibition here.
Over its first weekend, the Stourbridge Glass Museum took almost £1000 in sales and received over 160 visitors. There were two tours with 36 people and a total of 23 children and 13 adults undertook activities, including glass jar decorating.
Find out more about the museum and upcoming events at: www.stourbridgeglassmuseum.org.uk
Main image: Will Farmer (left) and Stourbridge Glass Museum Director, Ollie Buckley, at the opening event.
Glass Network digital brings you all the latest news and features about contemporary glass
Send your news, feature ideas or advertising requests to the Editor Linda Banks