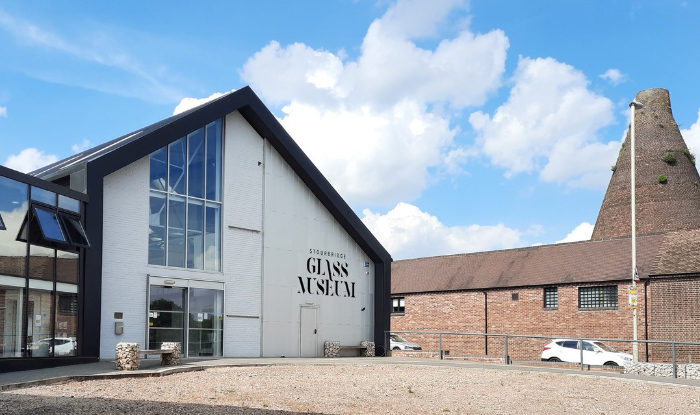 New Stourbridge Glass Museum opens on 9 April
The long-awaited new Stourbridge Glass Museum will be opening its doors on Saturday 9 April 2022.
The museum is housed in the former home of Stuart Crystal in Wordsley, West Midlands, which has been refurbished and updated to create a world-class venue with support from the European Regional Development Fund and the National Lottery Heritage Fund, among others. Find out more about its background here.
Visitors will be able to view over 500 items from the internationally renowned Stourbridge Glass Collection, celebrating the heritage of glassmaking in both the local area and internationally. The collection has pieces from the past 400 years, with a particular emphasis on cameo glass, which became a speciality of the Stourbridge Glass Quarter.
Traditional skills will come alive with glassmaking demonstrations by the resident glass artist Allister Malcolm. Incidentally, talented Allister made the glass slipper for the recent film 'Cinderella', which was filmed at Pinewood Studios. You can watch how he did it here.
You can also try your hand at creating or decorating your own piece of glass. There are different hot glass taster sessions where you can make a paperweight, jewellery or other glass items. More information and bookings here.
Throughout the museum are fun, interactive, touchscreen exhibits, including one where you can add decoration to a 3D vase or jug on screen using cameo glass, acid etching or cut crystal technique. You drag and drop your design onto the object and can see how it looks as a finished piece.
In addition to the Stourbridge Glass Collection display, the museum will highlight the best in contemporary glass design, too. The first artist to be represented will be Vanessa Cutler. She was featured in Glass Network digital in 2021 when she described how to design glass art using waterjet technology. Read that piece and see some of her beautiful glass work here.
The next exhibition at Stourbridge has been arranged in conjunction with the Contemporary Glass Society (CGS), to celebrate the organisation's 25-year anniversary. Called 'CGS at 25: Then, Now, the Future', it will feature glass luminaries such as Elliot Walker and Ayako Tani, among others, who have been invited to participate by the CGS. This exhibition will take place from 22 July until 31 October 2022.
The Stourbridge Glass Museum opens to the public at 10am on 9 April 2022.
More information, opening times and admission charges via the website: https://www.stourbridgeglassmuseum.org.uk
Stourbridge Glass Museum is located at High Street, Wordsley, West Midlands DY8 4FB, UK.
Glass Network digital brings you all the latest news and features about contemporary glass
Send your news, feature ideas or advertising requests to the Editor Linda Banks