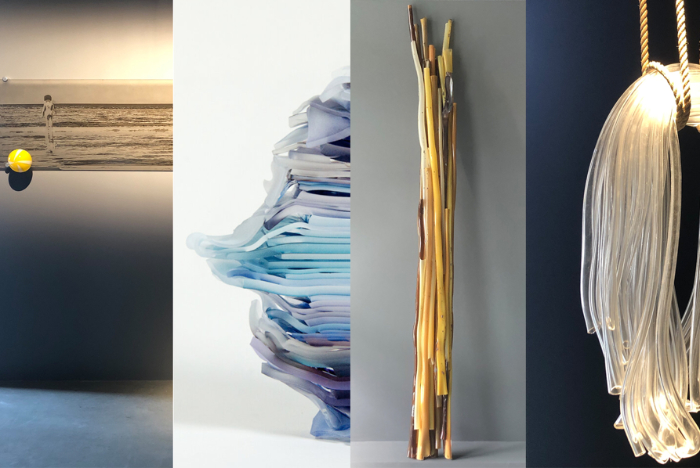 New exhibition opens at S12 in Bergen
The exhibition '1som/1het' (meaning 'lonely/unit') opens at the S12 Studio and Gallery in Bergen, Norway, on 30 April 2021, showcasing the work of six artists.
This project was previously known as 'Glass, gravity and growth'.
All of the artworks on show have been made in the S12 studio, and all of the artists have close links with S12, through artist-in-residence programmes, or as co-workers.
The main exhibitors in 1som/1het are Timothy Belliveau and Æsa Björk, both because they have more work in the gallery space and because of the close working relationship that they have developed at S12 during the Covid pandemic.
Even though there has been a great deal of frustration during this period, with many activities cancelled, the hardship has also provided a possibility to analyse the art produced and promoted.
All of the artists participating in this exhibition are unique and differ from each other in many ways, as their artworks demonstrate. However, all of them show a genuine interest in the human element, while at the same time exploring new techniques and new technology to transmit their ideas.
The exhibition displays objects and elements that are tied together literally and figuratively, while at the same time having their own identity and integrity. Geological layers, interwoven hoses, shrubbery and twigs in glass and rust, and children by the seaside with discarded rubber boots at the beach.
Æsa Björk depicts a visual analysis of a human whole, seen through a body scanned intersection, alongside sculpturally assembled, handcrafted elements of fused glass based on 3D-printed PLA (polylactic acid) moulds, in a subtle grid of carefully assembled, commercially produced glass canes.
Timothy Belliveau combines traditional glass blowing with 3D-printed visions of science fiction and hand cast geometrical polygons based on drawing and calculations made on his computer.
Ingrid Nord combines graphic and photographic art, reproduced in glass, while Ida Wieth's artwork features blown, pulled, fused and cracked glass tubes combined with iron dioxin.
Verena Schatz's art shows a bundle of hoses made out of crystal clear glass that looks like PVC, and not the other way around, floating in thin air, held up by rope.
Meanwhile, Emma Baker combines blown, cut and fused coloured glass in a contemporary object reminiscent of an old geological intersection from her local coastline.
The exhibition runs from 30 April until 6 June 2021, from 12pm to 4 pm, Fridays to Sundays.
S12 is an open access studio and gallery specialising in the use of glass in art and design. It has a workshop with qualified staff and specialist facilities, and welcomes artists and designers from all over the world.
Its artist-in-residence programme particularly welcomes those who like to experiment with glass in all its diversity, explore its boundaries and combine it with other materials.
S12 Studio and Gallery, Bontelabo 2, 5003 Bergen, Norway. Website: http://www.s12.no
Image: Some of the artworks in the exhibition.
Glass Network digital brings you all the latest news and features about contemporary glass
Send your news, feature ideas or advertising requests to the Editor Linda Banks