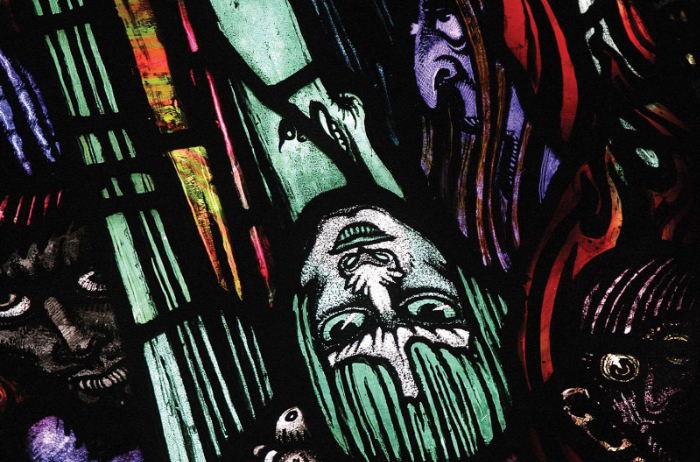 New books for lovers of Irish stained glass
If you are thinking of Christmas presents for yourself or someone who enjoys looking at, and learning about, stained glass, these two new books on Irish stained glass may fit the bill.
One book is a handy, illustrated guide to Ireland's most important stained glass, and the other takes an in-depth look at the details of stained glass panels by Harry Clarke.
The Gazetteer of Irish Stained Glass
The Gazetteer of Irish Stained Glass is a new, updated and extensively Illustrated guide, listing all of Ireland's significant stained glass works, county by county. It also includes the most noteworthy pieces abroad by Irish artists.
Some 30 years since its first publication, David Caron returns with an updated, redesigned, and greatly expanded edition of this practical guide. It covers Irish stained glass from 1900 to the present day. Caron edited the original version with Nicola Gordon Bowe and Michael Wynne.
This guide is for anyone with an interest in stained glass, including those new to the art form. It is illustrated throughout with specially commissioned photography, supporting information about Ireland's glass artists. These include the most famous stained glass artists, such as Harry Clarke and Wilhelmina Geddes, those who deserve to be better known, and the best contemporary artists working in the medium today.
With over 2,500 entries, two essays, and biographical notes on major artists, this is the key reference book for art lovers, curators, academics and all those who wish to learn more about Ireland's celebrated stained glass, and where it can be found.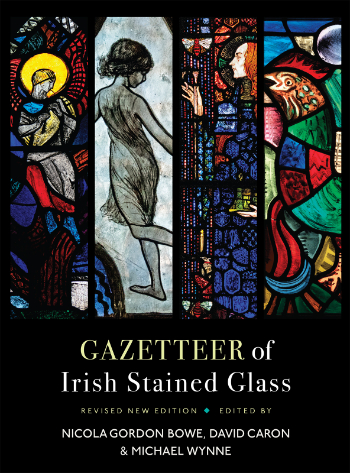 The Gazetteer of Irish Stained Glass is published in hardback, has 290 pages, and costs €35/£29.99 (ISBN: 9781788551298). It is available from bookshops or via Amazon.
Dark Beauty
Meanwhile, the book Dark Beauty – Hidden Detail in Harry Clarke's Stained Glass, is a sumptuously illustrated follow-up to the award-winning book about master glass artist Harry Clarke: Strangest Genius.
Dark Beauty features previously unpublished images of Harry Clarke's work, coinciding with the 130th anniversary of the artist's birth.
It focuses on the minute details in Harry Clarke's stained glass windows, particularly those in the borders and lower panels of his work. These areas are often overlooked, yet are full of surprise and artistry. Clarke's brilliance as a graphic artist is clearly visible in his book illustrations, which are imbued with precise attention to intricate designs. He applied the same focus to every facet of his stained glass.
The book's title, 'Dark Beauty', refers to the duality of Clarke's work, which sees delicate angels juxtaposed with macabre, grotesque figures. It investigates the partially-hidden details that dwell in the backgrounds of his windows – motifs, accessories, flora, fauna and diminutive characters – which may be missed in proximity to the dominant central subjects.
Between 2008 and 2010, the authors of Dark Beauty, Lucy Costigan and Michael Cullen, photographed Clarke's windows in Ireland, England, America and Australia. When they viewed the resulting 60,000 images, many of Clarke's minute details and accessories came into sharp focus – from the swish and swagger of a huntsman's plume, to the gold-rimmed glasses worn by a parishioner, to the swollen face of a thief stung by a saint's drone of bees.
Dark Beauty features 500 of these images, which aim to shine new light on Clarke's stained glass.
This hardback volume allows readers to view previously obscured or unnoticed details in all their unique splendour, and will inspire them to visit Clarke's work for themselves.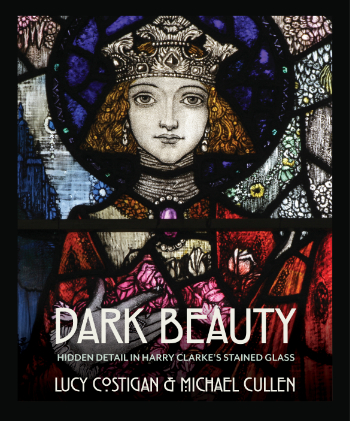 Dark Beauty is available in hardback and paperback. It has 228 pages, and is illustrated in full colour. It costs €35.00/£29.99 for the hardback edition. Order it via the publisher, Irish Academic Press, here, or through bookshops or Amazon.
Main image: Self portrait of Harry Clarke (green figure upside down) in the lower panels of the third light of The Last Judgement (1930), at St Patrick's church, Newport, Co. Mayo, Ireland. Photo: Michael Cullen.
Glass Network digital brings you all the latest news and features about contemporary glass
Send your news, feature ideas or advertising requests to the Editor Linda Banks