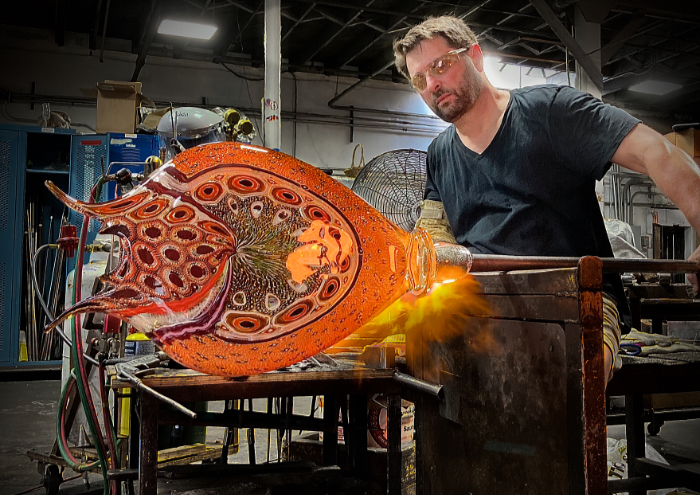 Master of murrine
Glass artist David Patchen uses cane and murrine to create his distinctive patterned glass work. CGS Glass Network digital's editor, Linda Banks, finds out more about him and his distinctive artwork.
What led you to start working with glass?
I was always curious about glassblowing and how glass was manipulated while molten. In my mid-30s I was working in technology in Silicon Valley. I attended a demonstration at a non-profit glass centre in San Francisco at the end of 2000 and was captivated. I signed up for a beginning class that day. I loved blowing glass so much that, over the next 10 years, I evolved it into my profession, going full-time with glass in 2012.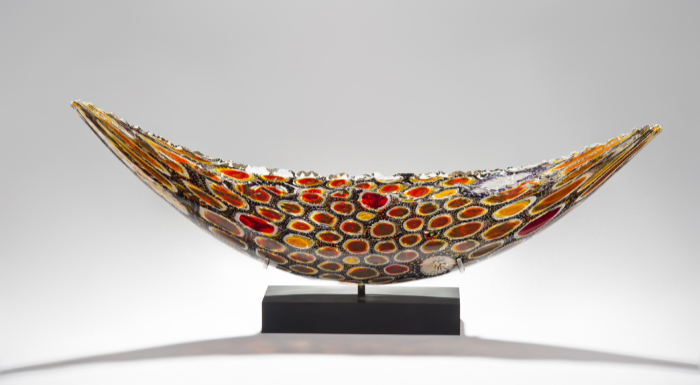 What glass techniques have you used in your career and why do you have a preference for multi-layered cane and murrine?
I've tried just about all hot glass techniques. Some are great for abstract imaging, representational work or uniform colour.  But I was most attracted to the precision, detail and intentionality of design that murrine and cane offer.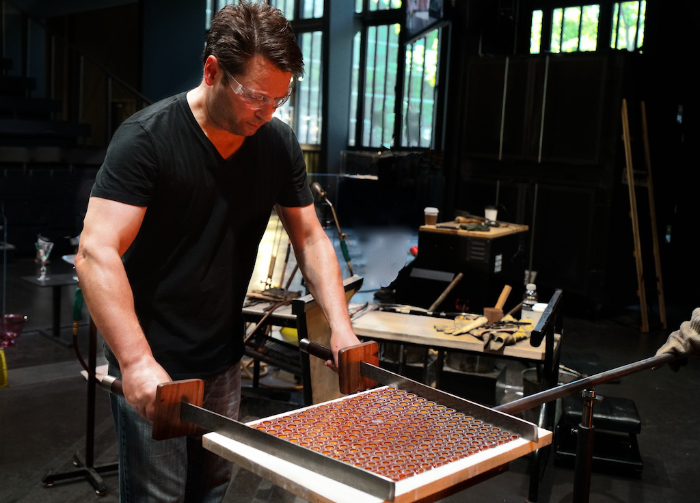 What is your creative approach? Do you draw your designs out or dive straight in with the materials?
It all starts as patterns for me. Early on, I would sketch pattern ideas; both to consider colour and design, and to record ideas I liked for future use. But I haven't done this in ages.
Now, the morning that I make murrine, I already have a vision of what to make, or a colour combination I want to explore.
Another approach is thinking about something I've done in the past but riffing on it by changing colours or patterns. I create in 10-or-so 'series' or forms, and sometimes I will make murrine patterns with these forms in mind. Other times, I figure out what form I want to create after the murrine are made and cut and I'm arranging them into a mosaic for blowing. I keep my forms clean and simple because they are really just three-dimensional canvases for the composition. I don't want the form to distract from, or fight with, the murrine.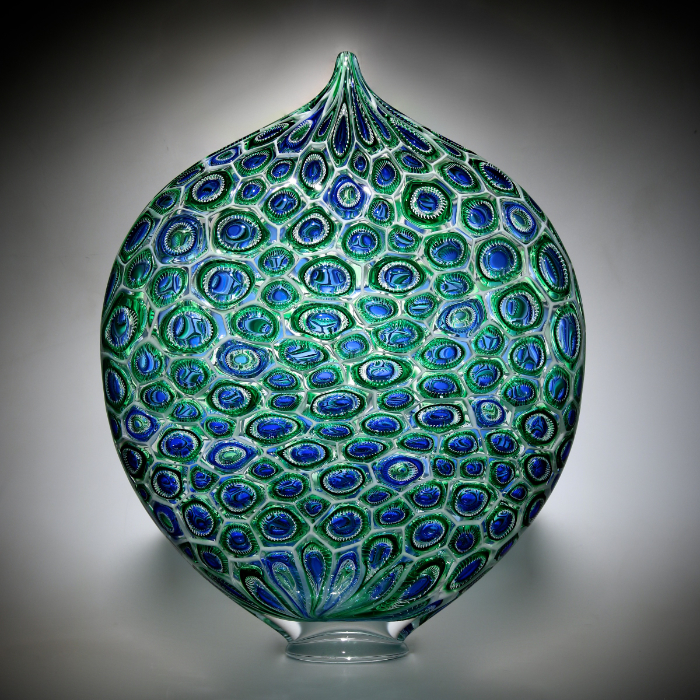 What is your favourite tool or piece of equipment and why?
I love tools, so this is hard for me to answer. I love jacks, because they are truly handmade, and I appreciate the care and skill that goes into making them. When well done, they glide smoothly across hot glass, shaping creases, curves or straight sides. I have many, from master toolmakers in Italy, the UK and Japan.
I also love the newspaper pad. It's virtually free and the simplest, yet most flexible, tool to shape hot glass. Eight pages of newspaper are folded to a desired thickness, soaked in water and the excess is squeezed out. This flexible pad is held in your bare hand against a turning molten glass bubble, allowing the glassblower to shape it as it inflates. The hot glass rides on a layer of steam generated by the paper. A newspaper pad brings you the closest to actually being able to touch the glass.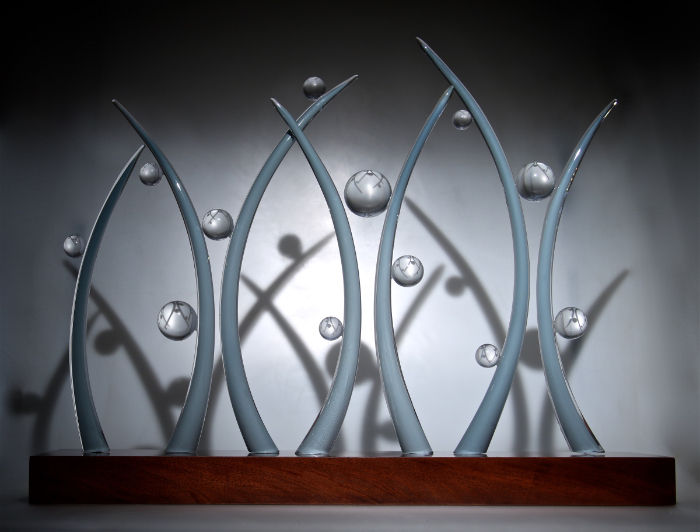 What message(s) do you want to covey to your audience through your intricate work?
It varies somewhat by piece and series, so this is difficult to answer generally, but some themes are:
– Colour relationships and the unexpected
– Movement and the sense of freezing it in time
– A sense of wonder through exploration into unknown realms
– Architectural structures on a micro level and how they relate
– A sense of mystery, both hidden and revealed (specifically in the 'Bloom' series).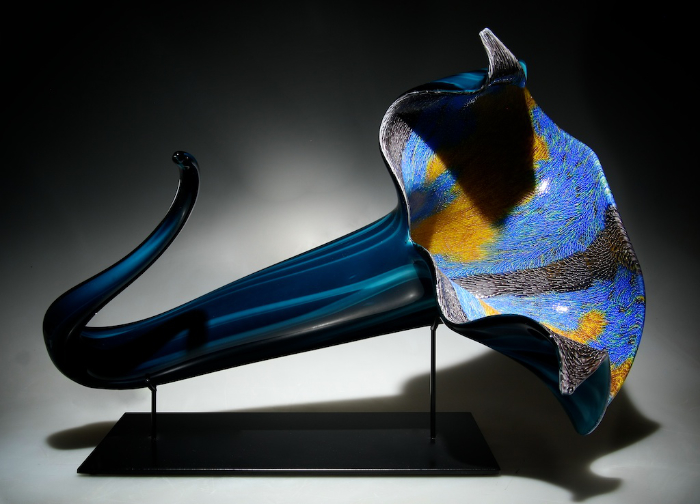 Do you have a favourite piece you have made? Why is it your favourite?
This is always a tricky question. Each work is a unique creation and feels a bit like offspring.  Because my work is intentional in design, I always have a good sense of what it will look like completed, but occasionally one is even better than I anticipated. That might be my favourite for a time, until it's off to a gallery or collector and I make another that surprises me with how it was better than I imagined. And the cycle repeats.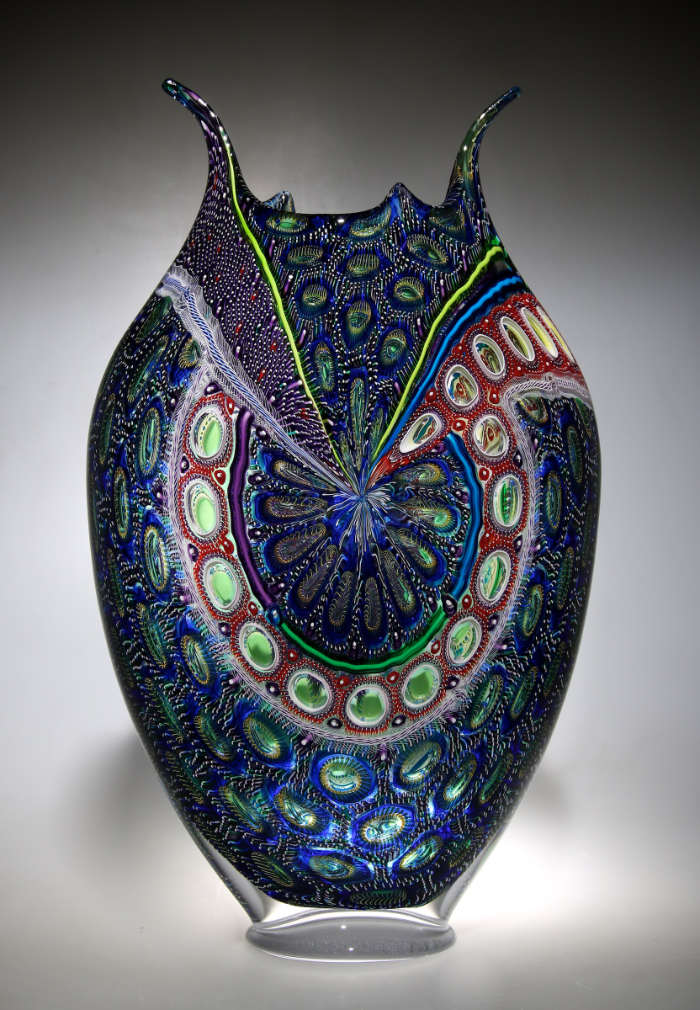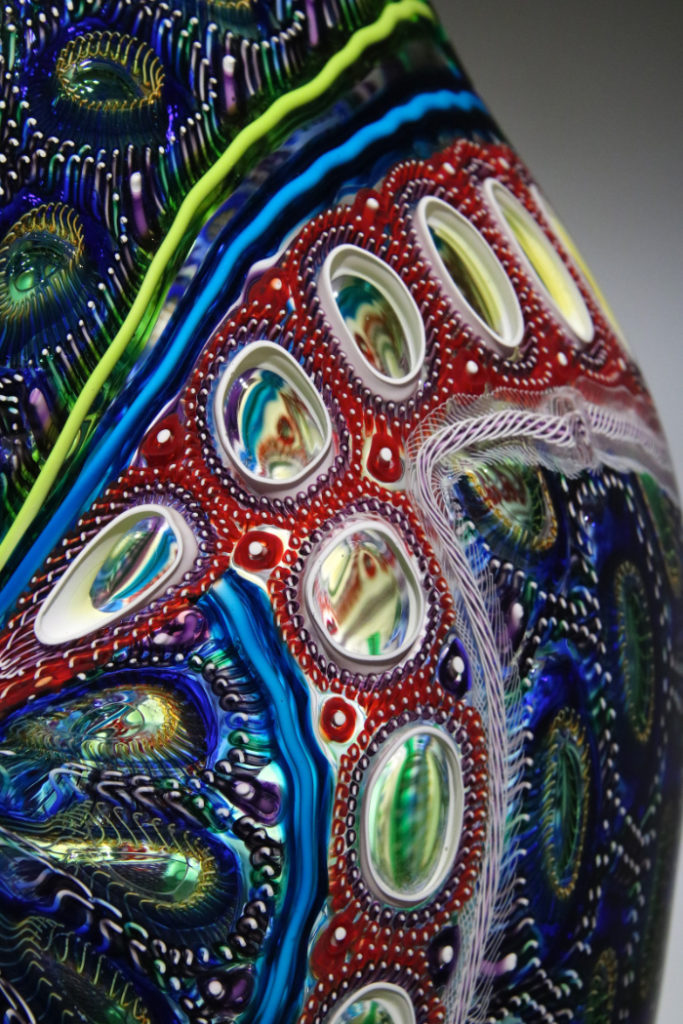 You are actively involved in the glass arts community. Why is this important to you?
As an extrovert, I both enjoy the pure social aspect of it and the friendships that are made. I also love learning and helping others when I can. The sharing of knowledge in such a small, and poorly documented, field but is so important for everyone's growth and enjoyment.
You have been working with the British glass artist James Devereaux on some collaborative sculptures. How did this come about and how have you found the experience?
As the glass world is quite small, James and I met initially through social media. Then we met in person at a conference in Murano and hit it off. In 2019, James mentioned he was going to be teaching at Pilchuck Glass School and proposed heading to San Francisco afterwards to do some collaborative work combining my patterns with his forms. It sounded creatively interesting and good fun, so that's how it began.
When James was scheduled to be in town, Public Glass [San Francisco's non-profit centre for glass, art and education] was holding a fundraising party and invited James to be the demonstrating artist. So we made our first collaborative Clovis sculpture on a Thursday and our second one during his demo in front of a few hundred people.
Since then, we've continued our collaborations during covid through email, text messages and me shipping pattern blanks from San Francisco to him in the UK. To date we've made 10 collaborative works, with another seven planned.  We're thinking about shows in 2022.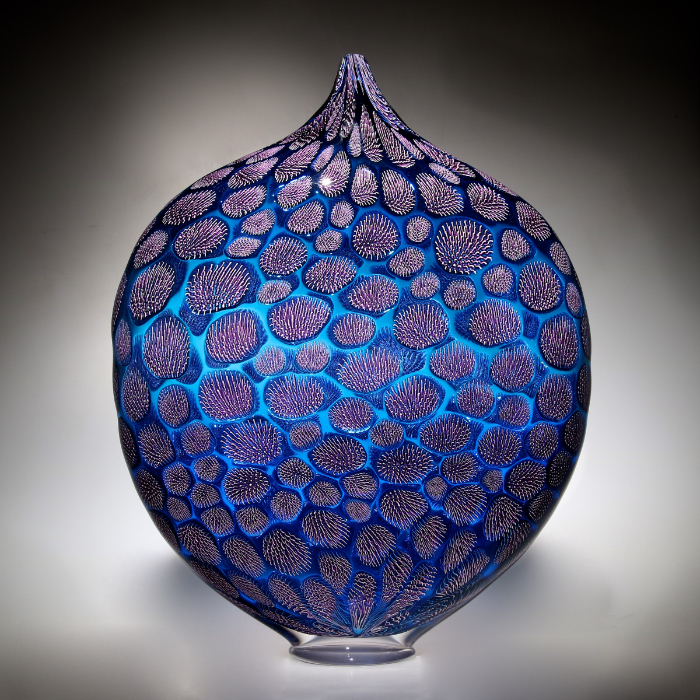 Where do you show and sell your work?
My work is consistently represented by a dozen galleries across the US and Canada.  It's been shown at shows and galleries in Europe occasionally, too.
Do you have a career highlight?
It is so hard to pick just one. It was fun spending a weekend trading emails with Elton John, while he selected a grouping. Another was installing sculptures on a ship while cruising around the North Sea. Demonstrating in front of 3,000 people at the Corning Museum of Glass was exhilarating. Spending a month in Japan blowing glass and exploring the culture was amazing.  I look forward to more travel post-covid.
Who or what inspires you?
Rarely anything inspires me directly. But occasionally I'm inspired by colours in textiles or nature, or structures in science or architecture.
Has the coronavirus impacted your practice?
Covid shut down my work for 3.5 months at the beginning of the pandemic, as the studio was closed. This was the longest interruption I've had in over 21 years of blowing glass and getting back up to speed was uncomfortable. It also cancelled two solo shows, at least one demonstration, lots of travel and a couple of group shows.
In exchange, I did enjoy spending a lot of time with my family, including my now 9- and 7-year-olds.
In contrast, 2021 was quite a good year. I worked consistently, found a fantastic new assistant and demand for my work has been strong. I think this is probably due to collectors' desire to add beautiful objects to the homes they have been spending so much time in through this pandemic.
I feel fortunate to have found something I'm so passionate about, and I'm very appreciative when others enjoy my creations.
About the artist
David Patchen is internationally known for his colourful and intricately patterned blown and hot-sculpted glass. His mastery of the murrine and cane techniques and use of vibrant colours results in large work that is detailed, precise and exciting. His work is frequently exhibited in shows and is in many private collections.
His book David Patchen: Glass is in the permanent collection of the Fondazione Giorgio Cini, the Glass Study Centre Library in Venice, Italy, and the Rakow Library at the Corning Museum of Glass.
He is actively involved in the glass arts community as Chairman Emeritus of the Board of Directors at Public Glass, former member of the Pilchuck Leadership Council and Board of Directors, Glass Alliance of Northern California. He has a private studio at Public Glass where he creates his work.
More information at: www.davidpatchen.com and @davidspatchen on Instagram.
Main feature image: David Patchen completing a Foglio. Photo: Drej Larson.
Glass Network digital brings you all the latest news and features about contemporary glass
Send your news, feature ideas or advertising requests to the Editor Linda Banks