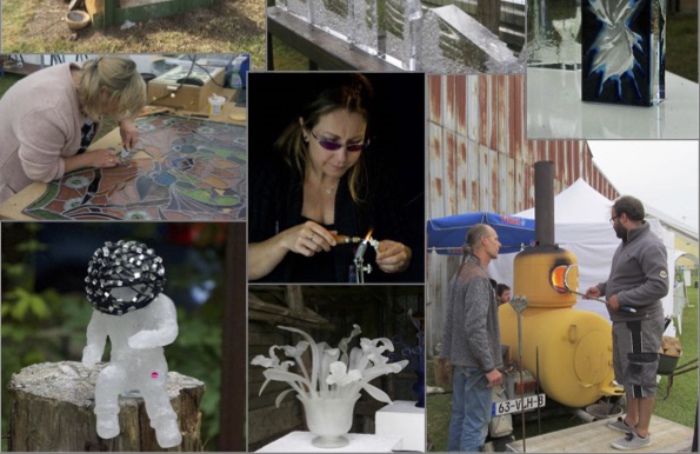 Luxembourg glass festival features artist demonstrations
The 9th International Glass Festival 2021 Luxembourg takes place from 19-22 August 2021. The event will present a juried glass symposium and exhibition, featuring glass artists and students from Europe and farther afield, to celebrate contemporary glass art.
Professional artists and students from around the world will demonstrate their skills in glass blowing, casting, pâte de verre, fusing, slumping, bead making, mosaics, stained glass, Tiffany technique, glass painting, sand blasting, grinding, carving etc.
The glass blowing demonstration will use a furnace transformed from an old water barrel by Dutch glass artist Ed van Dijk.
Artists and students working with glass will come together to share their experiences with glass.
Lectures and discussions will be followed by an exhibition of artworks from the international glass scene.
The public will be able to interact with international glass artists, schools and academies and find out about the many different glass techniques.
There will be workshops for both adults and children on 21 and 22 August, featuring glass fusing, glass beads, mosaic, glass recycling, clay and pâte de verre.
This year's glass artist participants are:
BELGIUM – Alfred Collard, Daniel Olislagers, Patrick Van Tilborgh
BULGARIA – Lachezar Dochev, Elizar Milev
CZECH REPUBLIC – Petr Stacho, Jirí Šuhájek, Vladimir Klein, Zuzana Kubelkova
ENGLAND – Julie Anne Denton, Michèle Oberdieck
ESTONIA – Kairi Orgusaar
FRANCE – Julie Gonce
GERMANY – Patrick Roth, Alexandra Geyermann, Elke Mank, Hermann Ritterswürden, Torsten Rötzsch, Samuel Weisenborn
HUNGARY – Amala Gyöngyvér Varga
ISRAEL – Louis Sakalovsky
JAPAN – Takeshi Ito
LATVIA – Zaiga Baiza Emeringer,  Baiba Dzenīte, Inita Ēmane, Agnese Gedule, Dainis Gudovskis, Ieva Birgele
LITHUANIA – Remigijus Kriukas, Paulius Rainys
LUXEMBOURG – Robert Emeringer, Linda da Costa
NEDERLAND – Ed Van Dijk, JanHein van Stiphout
POLAND – Aleksandra Kujawska
RUSSIA – Alexander Fokin, Taisiia Fokina, Igor Frolov, Andrey Molchanovskiy
SLOVAKIA – Andrej Németh
Students taking part are:
BULGARIA – Yana Sergeeva Ermakova, Alisa Stoilova, Kristin Emilova Vasileva
LATVIA – Santa Bekmane, Toms Cīrulis, Liene Knēta, Anastasia Pelna
LITHUANIA – Modestas Barštys
The event takes place at: Atelier d'Art du Verre, Heppchesgaass 2, L-9940 Asselborn, Luxembourg.
More information from: remering@pt.lu
Image: Activities and artworks from the 2019 event.
Glass Network digital brings you all the latest news and features about contemporary glass
Send your news, feature ideas or advertising requests to the Editor Linda Banks