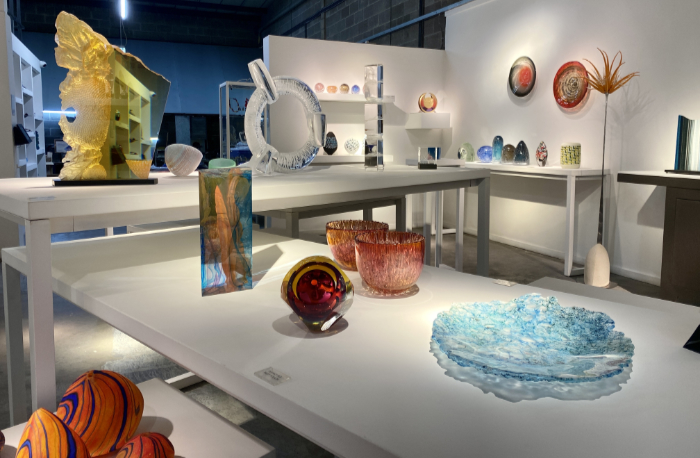 London Glassblowing at 45
Emma Park reviews the Anniversary Invitational Exhibition, which is on until 2 October 2021.
London Glassblowing's 45th Anniversary Invitational Exhibition celebrates the many decades that the studio, under the direction of Peter Layton, has been a leading influence on the art glass scene in Britain.
The 29 participants were selected by Peter and Ann Layton with Gena Johns, the Gallery Manager. The many works on show include some by Peter Layton and the late Sam Herman, who together led the way in introducing the studio glass movement to Britain from the USA and setting the standard that it was to follow.
All the other artists represented have either worked for Layton, collaborated with him, influenced him or were influenced by him, or exhibited regularly at London Glassblowing.
They range from the 'establishment' of contemporary glass, such as Katharine Coleman MBE, David Reekie, Colin Reid, and Baldwin and Guggisberg, to younger figures, such as Tim Rawlinson, who has worked with Layton for a decade, Sophie Layton, who adapts the patterns of printmaking to glass as a two-dimensional medium, and Sıla Yücel, a new assistant at the studio who uses moulds produced on a 3D printer in her kiln casting.
Altogether, the quality and variety testifies to the way that glassmaking in Britain has grown and flourished over the last 45 years, and London Glassblowing's vital role in this process.
Among others, the aesthetic effects of optical glass are exploited in cast and coldworked sculptures by Richard Jackson, Sally Fawkes and Colin Reid. Engraving is represented by Alison Kinnaird MBE, with a Butterfly Collection, Nancy Sutcliffe, with a finely delineated octopus on a glass cube, and Katharine Coleman MBE, who has contributed a bowl engraved with a detailed Bermondsey Street scene. Cathryn Shilling, who studied blown glass with Layton, presents some of her distinctive kiln-formed cane sculptures, including Woven Light, which weaves threads of dichroic glass through clear glass to create a shimmering, satin-like texture.
There are two Chihuly-esque installations by Neil Wilkin, intended, unlike most of the other exhibits, for outdoor display. Bruce Marks, Layton's studio manager, has presented a new series of Oculos vessels of layered blown glass with 'eyes' cut through in a simple but striking pattern. Resident artist Anthony Scala's series of Turbulence pieces evoke a sense of peace in the midst of disturbance, through their use of bubbles captured in harmonious geometrical forms. Sabrina Cant's Light of the Night and The Sun is a God present two discs of kiln-cast glass as if they were precious stones, each framed in a ring of gold leaf.
Conspicuous by their absence are the glassblowing couple Elliot Walker and Bethany Wood: they will be exhibiting with Laura Hart in the studio's next exhibition, Best in Glass (5-30 October 2021).
According to Layton, the idea behind the exhibition is to celebrate his organisation's contribution to studio glass, now that it has reached a "ripe old age" – somewhat like Layton himself who, by his own acknowledgement, is the "oldest" artist represented.
Founded in 1976, London Glassblowing is now in its third location, after starting from humble beginnings in Rotherhithe. As this exhibition amply demonstrates, studio glass in Britain would have been much the poorer without it.
Full list of contributors:
Alison Kinnaird MBE, Amanda Simmons, Anthony Scala, Baldwin & Guggisberg, Bruce Marks, Cathryn Shilling, Colin Reid, David Reekie, Hanne Enemark, Heike Brachlow, Kate Pasvol, Katharine Coleman MBE, Katherine Huskie, Layne Rowe, Liam Reeves, Max Jacquard, Nancy Sutcliffe, Neil Wilkin, Olga Alianova, Peter Layton, Rachael Woodman, Richard Jackson, Sabrina Cant, Sally Fawkes, Sam Herman, Sarah Wiberley, Sıla Yücel, Sophie Layton, and Tim Rawlinson.
The exhibition runs until 2 October 2021 at London Glassblowing, 62-66 Bermondsey Street, London SE1 3UD. Find out more and view the catalogue here.
Image: Some of the diverse glass art on show at London Glassblowing. Photo: Gena Johns.
Emma Park is a freelance writer specialising in glass and the arts.
Glass Network digital brings you all the latest news and features about contemporary glass
Send your news, feature ideas or advertising requests to the Editor Linda Banks