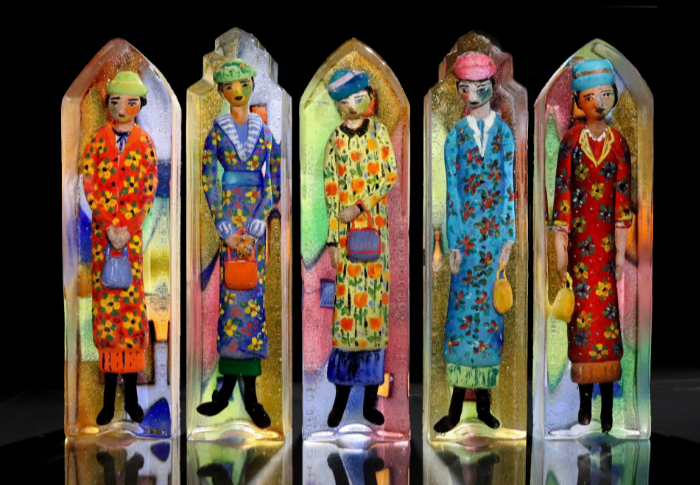 Lives frozen in time
Glass artist Stephanie Trenchard captures the essence of women artists from history in her striking glass designs, which are formed using sculpting, enamelling and sand casting. Linda Banks finds out more.
You are a painter by training and also a glass artist. What led you to start working with glass?
I pretty much married into glass. I had taken two classes with Joel Meyers as an undergraduate at Illinois State University. But it wasn't until 1997, when we moved to Wisconsin to build a hot shop for my husband Jeremy Popelka, that it became clear that I, too, would be working with the magic medium. It would be easier to support a studio with two artists using the material.
What glass techniques have you used in your career and why do you have a preference for combining sculpture, painting and sand casting today?
I really like the miracles the happen with the glass while sculpting, when I begin to see a figure or a face looking back at me or an object that comes to life.
Painting on glass is also very important to my work. Narrative storytelling is what much of my work is based on.
I also do some decorative work with painting on blown glass that is fired or gathered over, some hi-fire and some low-fire.
I have recently begun to work with large blown figures that I paint with low-fire paint, and then reassemble hot. I like to experiment with different ways to use hand painting in glass art.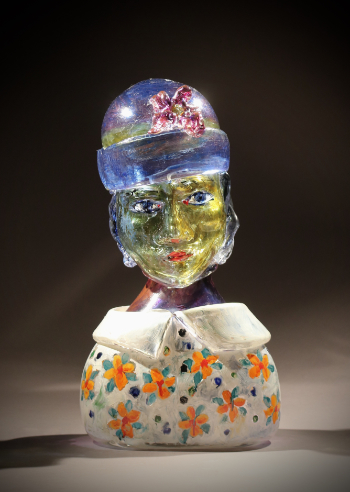 Can you tell us something about your methods? Do you draw your designs out or dive straight in with the materials?
I always start with a drawing, which I make as detailed as possible. When I create figures, it's the posture and the details, like the way different fabrics fall, or a style of hat, that tell the story of the character. I also need to know that the object I sculpt will fit into the mould that I am intending to use, which is often the most challenging part.
You share a studio with your husband, accomplished glass artist Jeremy Popelka. What are the pros and cons of working together? 
Hahaha! I'll just say that there are definite pros and cons. We have been together for over 35 years. He is extremely supportive of my career and my work and he is always on the lookout for a new and exciting way for us to connect with the greater glass art community. We are very lucky in that we share our passion and responsibility for our business and careers.
You have taught your skills to many students over the years, even establishing the Bangkok Glass Studio in Thailand in 2017. How did that project come about?
I think glass is really special in that it brings people together in such a dynamic and immediate way in the milieu of the hot shop. We both love teaching and know that we always get so much more out of the experience that we can ever imagine. I have made great friends and associates through teaching and I wouldn't give that up for anything.
Thailand was very exciting. We got an email in our Junk mail, which we just happened to stumble on, that was an invitation to come to Thailand and start a glass academy. At first we thought it was some sort of phishing, but we soon realised that it was not only sincere, but a marvellous opportunity. Two of our students there have since gone to Corning Museum of Glass to take classes. The Thai programme continues to thrive and we look forward to seeing our friends there again.
What is your favourite tool or piece of equipment and why?
I love my crimps and I have some medical tweezers that I use to take my stencils out of the sand that I would miss dearly. I love my casting shears. This is a tough question for me because I develop unnatural attachments to objects, especially tools. I am also really partial to palette knives for mixing my paints.
Your figurative art has a narrative quality. What message do you want to covey to your audience through your glass work?
Much of the work I do is about women artists from art history. I was dumbfounded at the lack of women represented in the art history texts back in the 1980s when I was in college. I am always cognoscente of the canon and how women and minorities are excluded.
I also like to make work that looks at the ephemera and material culture of the past and links together a poetic story. For instance, I made a piece about Virginia Woolf and her sister, Vanessa Bell, looking at each other while asking themselves, "What if I had made the choices she made?" One had a rich, full home life with lots of activity and people, the other had a life of much solitude and quiet. The former was not quite as well known, while the latter became massively famous for her work. What were the trade-offs?
With a curiosity about women artists' experiences, and how they have navigated motherhood, I have created pieces about Louise Bourgeois, Louise Nevelson and Alice Neel, to name a few. Selfishly, I wanted to know how it was possible. Unfortunately, it was very difficult for many women, and these are the stories that I am interested in.
Do you have a favourite piece you have made? Why is it your favourite?
My favourite is always the one I am currently working on. I have just finished a commission for the Museum of Wisconsin Art, based on the life of the artist Ruth Grotenrath. I added extra floral elements into the casting which led to interesting dynamics in the glass.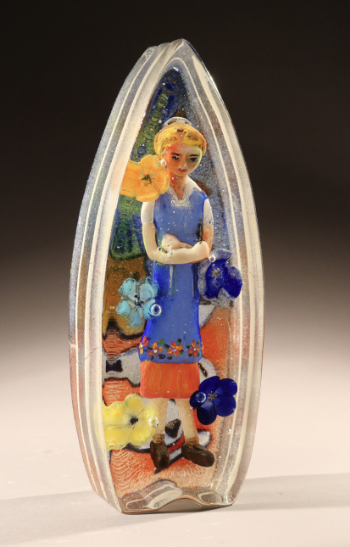 Where do you show and sell your work?
My work is at some wonderful US venues, including Habatat Gallery, Raven Gallery, Pieces, Tory Folliard Gallery and Edgewood Orchard Gallery. We also have a small gallery in our hot shop.
Do you have a career highlight?
That's a tough question, because it has all been pretty miraculous to me. But if I had to choose just a few things, I would include my opportunity to give a keynote speech at the Glass Art Society meeting in Venice in 2018, and being a visiting artist at Corning Museum of Glass, in the Amphitheatre Hot Shop. Both events were really spectacular.
Recently we also offered an artist residency in our sturdio to Jaime Guerro, which was a magical experience for all of us. It felt like college again, so that was definitely a career highlight this year.
Who or what inspires you?
Stories and more stories. I love to read history and literature and learn about how people have lived and what they have done, especially women artists, wives of artists and patrons of the arts. I'm always looking for a poetic link to an aspect of these stories that interests me and is novel.
How has the coronavirus impacted your practice?
During 2020 we spent a lot of time building our new furnace, designed by HUB glass. I now know that my enamels do best when cast at 2175 F. I painted a lot of oil paintings and I focused on creative writing, mostly poetry, which I find very rewarding. We also started a small, local gallery that highlights the work of underrepresented artists in our community. We were pretty busy and, luckily, very healthy.
I am also very thankful to my wonderful assistant Chelsea Littman, who has been with us for over four years and helped me make all sorts of new, challenging work.
Read more about Stephanie Trenchard and her work via her website.
Main feature image: '5 Coated Women on the Precipice' (2020). Sand-cast glass with painted inclusions. Photo: Jeremy Popelka.
Glass Network digital brings you all the latest news and features about contemporary glass
Send your news, feature ideas or advertising requests to the Editor Linda Banks