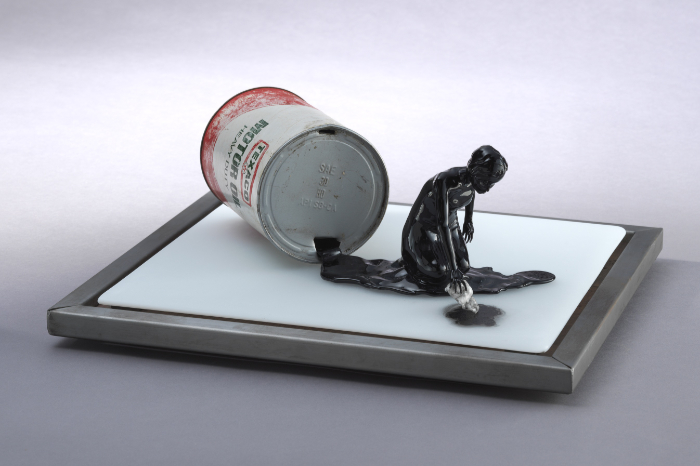 Flameworking
| 21-04-2022
Life stories in glass
When young, Carmen Lozar's favourite fairy tale was 'Thumbelina'. Today, she extends that enduring fascination with miniature worlds by creating diminutive glass art to describe different aspects of the human condition. Linda Banks finds out more.
What led you to start working with glass?
I found glass at the University of Illinois, Champaign-Urbana, when I was 19 years old. I loved the camaraderie of the hot shop, the solitude of the flame and kiln shop and, most of all, the qualities of glass as an arts material.
Much of your work uses flame working. Why do you prefer that method?
I have an affinity for models and small objects. As a child, 'Thumbelina' was my favourite fairy tale. Flameworking lends itself to the creation of intimate works of art. I grew up with a mother who practised puppetry and an architect father who collected ship models. I was surrounded by miniature worlds and framed theatrics.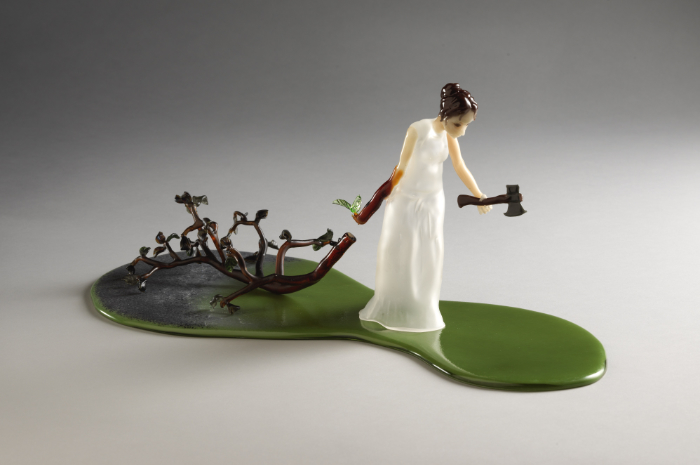 What is your creative approach? Do you draw your designs out or dive straight in with the materials?
There is a very linear path between my sketch book and the final product. I do not usually deviate from my drawings, but I spend a lot of time mentally manipulating ideas before they ever make it to the page. It would be easy to identify all the works I have ever made by just flipping through past sketchbooks. I have always admired artists who are flexible as they create, but I think I enjoy my work more when I am in control of the idea.
What is your favourite tool or piece of equipment and why?
At the torch, I have a pair of Carlo Dona small tweezers that I could not live without. The tips are precise enough to create wonderful detail, yet they are incredibly strong. The tweezers have curves along the sides and back for shaping and sculpting the glass.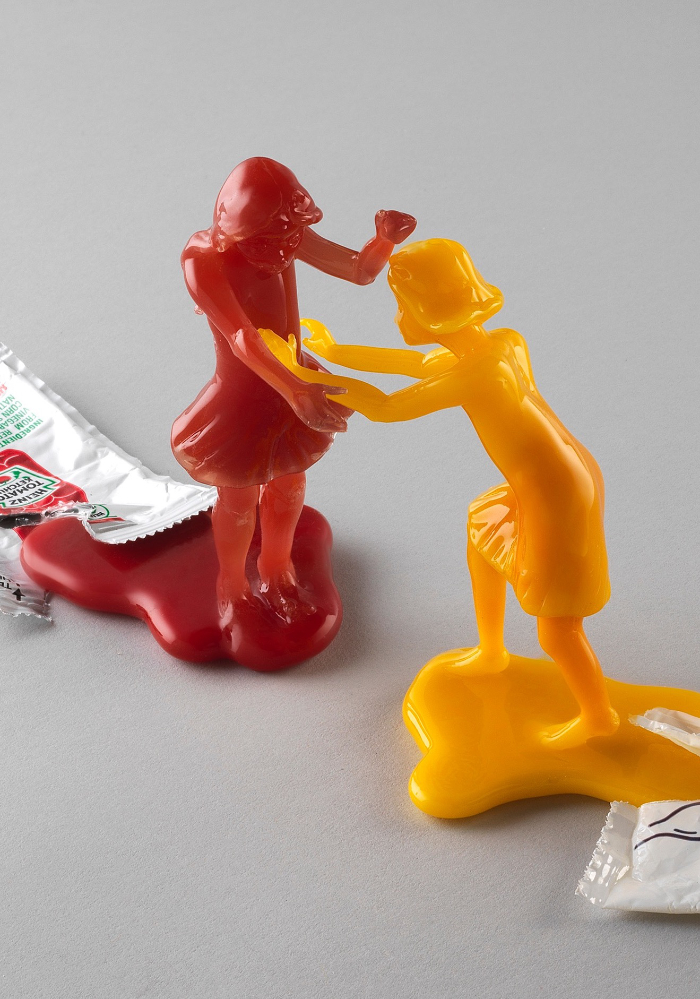 Some of your work is fun; some has deeper meanings. Often, you feature the female form. What message(s) do you want to convey to your audience through your intricate work?

Each piece is an explanation of how I am participating in the world; it is often a reflection of my own joys or inner turmoil. Sometimes the work is funny and free, because that is the way I am feeling, and other times the work is heavier, as is life, especially of late. When I was young, I often felt embarrassed that my work was so self-involved. However, as I have grown older, I have realised that it is just a way of communicating the human condition. It is my way of trying to be honest. I use the female figure not as a physical representation of myself, but as a broader emotive model.
The sculpture I create with glass is meant to inspire and provoke imagination. Telling stories has always been my primary objective. Some narratives are sad, funny, or thoughtful, but my pieces are always about celebrating life.
My current body of work deals with spills. Life is messy. These small narratives accentuate the movement and flow of glass, but they are also telling in how they represent our relationship to the world.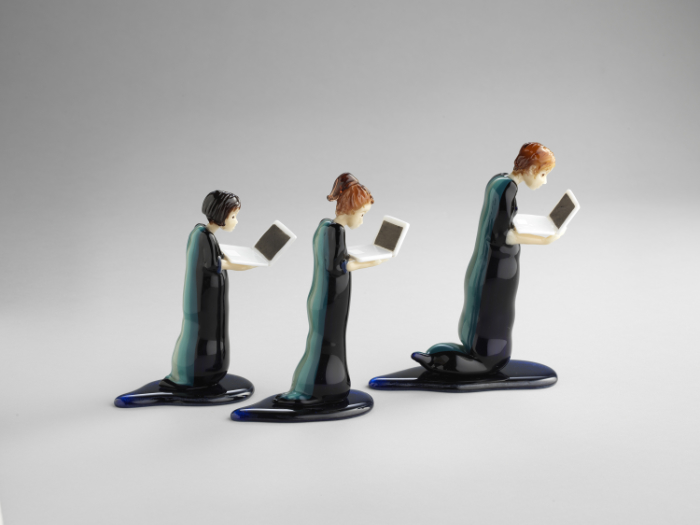 Do you have a favourite piece you have made? Why is it your favourite?
I have always loved the piece 'Oil Spill' (see main image) because it is so circular in its narrative. The piece features a woman who is formed of the oil which spills out of a container. She is desperately trying to clean up the mess that she has created from just being herself. It is a hopeless task, as she creates more of a mess with each move. This piece can be internalised, as life is so messy, but it can also be viewed in the larger context of basic human desire. People, including me, voraciously consume the very things that are destroying the environment, in turn destroying their own existence.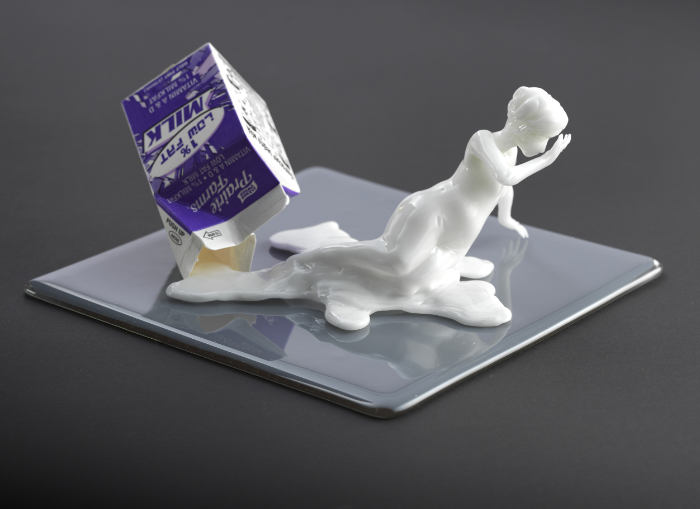 You also lecture and teach. How does this fit with your glass practice?
I love to travel. I am not sure I would have seen as much of the world as I have if it were not for teaching glass workshops. I have been to Turkey, England, Italy, and New Zealand to teach and lecture. Those trips were magical for me. I love meeting people and seeing new places. Those experiences collectively inform and enrich the work I make. I also teach during the academic year at a small liberal arts college, Illinois Wesleyan University. Working with college students keeps me grounded and present. Teaching does take away precious time from the studio, but it also re-energises my love of the material, especially during workshops.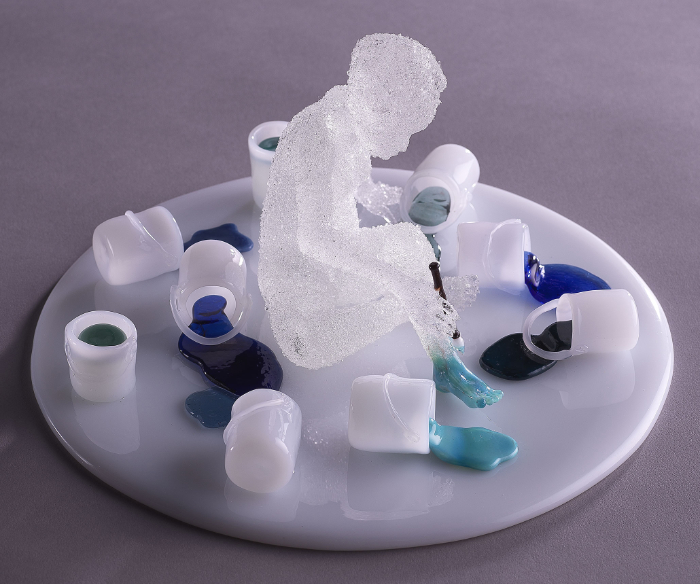 What is next for your glass practice?
I am always interested in expanding what I know and applying it to my practice. Technology is increasingly intertwining itself with crafts. I have had to learn some of this technology for the university and, although it is different to hand work, it is always wonderful to have one more tool in the toolbox.
I have also begun designing models for an artist who creates large-scale public sculpture. This exploration is just in its infancy, but I am excited at the prospect of seeing how the work will translate.
Where do you show and sell your work?
My main gallery is Ken Saunders Gallery in Chicago. I also do several group exhibitions every year.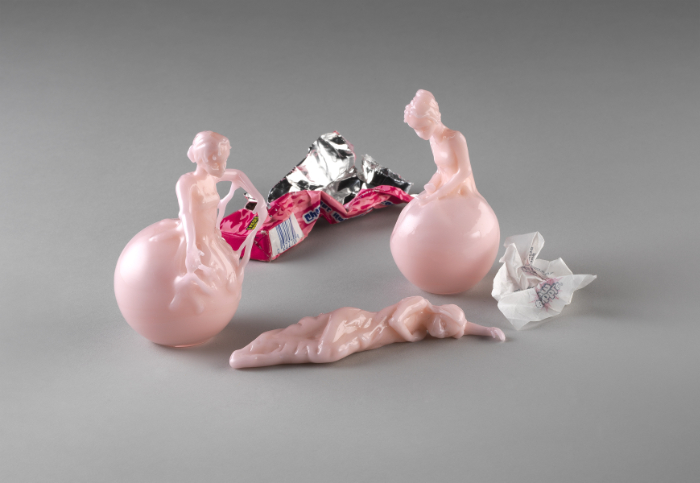 Do you have a career highlight?
Paul Stankard [the glass artist famous for his glass paperweights] recently wrote an article on my work which was published in Glass Quarterly. Paul has always been a mentor and supporter of mine and that has meant a lot over the years. It is easier to keep pushing forward when someone you admire believes in you.
Who or what inspires you?
I take my inspiration from everyday encounters with my children, the books we read together before bed, the natural world, the overwhelming complexities of being a woman, a mother, a wife, an artist and having a full-time job. I feel there is no end to the themes I would like to investigate, but very little time to physically manifest them.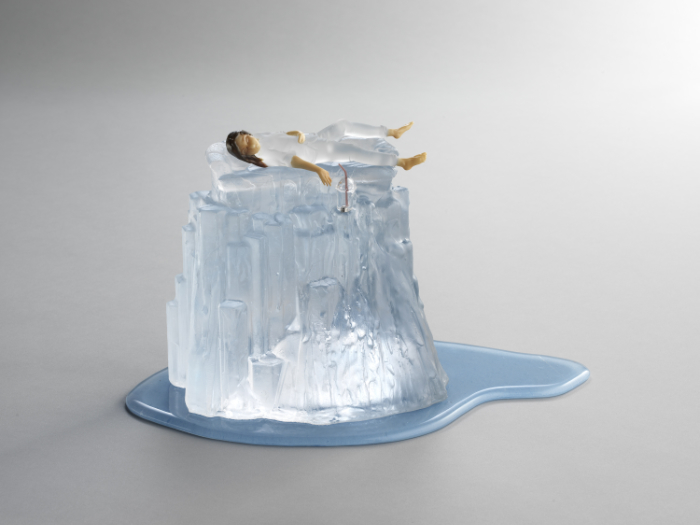 Has the coronavirus impacted your practice?
It has been harder for me to get to the studio during COVID-19. Life and schedules were so disrupted. I never stopped teaching in person at the university, except for a brief period. It has been two years of changing tactics and pushing ahead with trepidation and uncertainty. It has been difficult to find my balance and I am more productive when I feel anchored and secure. That said, I think that this tumultuous time will lead to artists into a new era of art making.
About the artist
Carmen Lozar is a glass artist and a faculty member of the Ames School of Art at Illinois Wesleyan University in Bloomington, Illinois, USA.
She often travels abroad to teach and share her love for glass, but always returns to her Midwestern roots.
A graduate of the University of Illinois at Urbana-Champaign, she completed her post-graduate degree at Alfred University, New York, and is represented by Ken Saunders Gallery in Chicago.
She has held two residencies at the Corning Museum of Glass and one at Penland School of Craft.
Her work is in the permanent US collections of the Museum of Art and Design (MAD) in NY, the Museum of Glass in WA and the Bergstom Mahler Museum in WI.
Find out more via her website: https://www.carmenlozar.com or follow her on Instagram: @carmenlozar
Main feature image: 'Oil Spill' (2018). Flameworked glass and found oil can.
Glass Network digital brings you all the latest news and features about contemporary glass
Send your news, feature ideas or advertising requests to the Editor Linda Banks