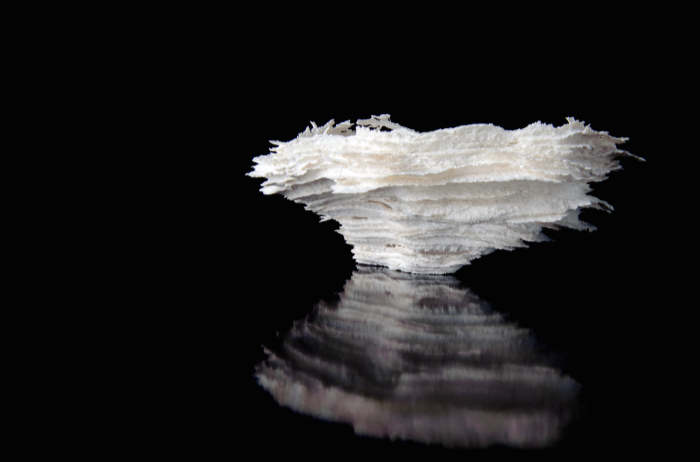 Pate de verre
| 21-06-2022
Learning from landscapes
Canadian glass sculptor Cheryl Wilson-Smith was a painter and potter before discovering the possibilities of using glass in the kiln. She draws on remote environments, the passage of time and memories to build layered artworks from glass frit. Linda Banks finds out more.
What led you to start working with glass?
It began with a bit of serendipity. At the time I was painting and making pottery and I discovered an Australian ceramics magazine in our rural drug store. The magazine featured slumped glass that you could make in a ceramics kiln. Intrigued, I gave it a try and was instantly hooked.
Glass keeps me engaged because it offers a wide range of creative possibilities, from the artistic to the practical, from its opacity through all its stages of translucency. Each of these possibilities has led me to advance my technical knowledge, which is vital to achieve any desired sculptural outcome. The intriguing science behind the glass that leads to the creation of a unique work keeps me exploring and creating.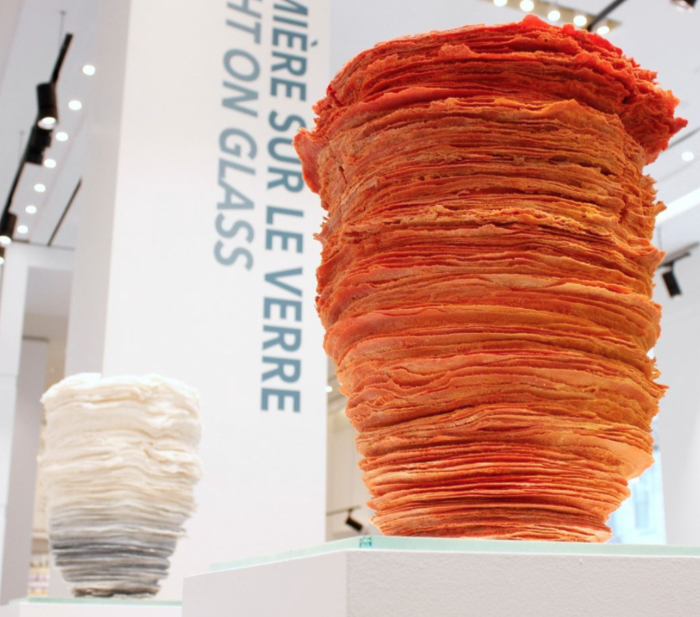 What glass techniques have you used, and which do you prefer?
Well, my own technique is my favourite, namely the layering of glass frit through silk screens, building it up layer by layer, as if I were a manual 3D printer. I then fire the work in the kiln to create a solid sculpture. Watch a video on my approach and thinking here.
My second-favourite technique is glass casting. I like the mould making and casting, but I do not really enjoy the cold working!
I have also been fortunate enough to study 3D printing in glass, which is amazing. Plus, I have explored both pate de verre and fusing techniques.
You use a mix of different glass methods to create your art. What is your creative approach? Do you draw your ideas out or dive straight in with the materials?
My ideas take time to develop. I ponder them for a considerable length of time, which can range from weeks to years. Before I execute them, I draw them, considering all angles and dimensions. I visualise the object in my mind, seeing it as if it is rotating in space.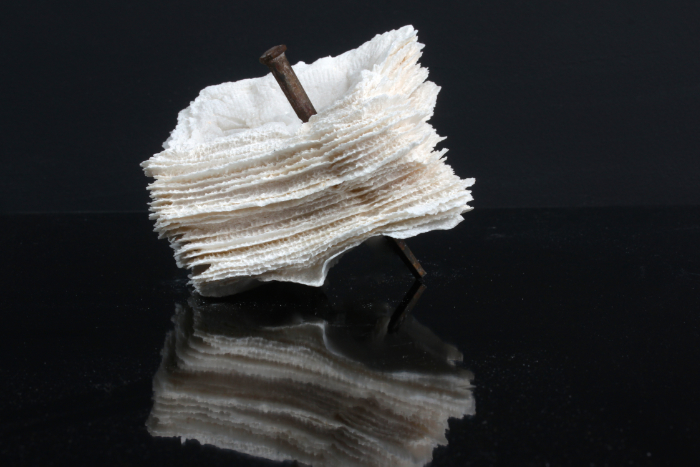 A lot of your work is inspired by natural land formations. What message(s) do you want to convey through your art? 
I am discovering that most often the parts of nature that inspire me are the things that spark curiosity or bring me calm. I hope I can share that with the viewers and, by sparking that calm or curiosity, I hope I can connect them back to nature. Through those connections I hope that the tremendous importance of our natural world will have resonance.
What is your favourite tool or piece of equipment and why?
Because of my technique, I do not have many traditional glass tools, but my kilns are my favourites. I have several. Through changes in time and temperature, we can do so much. They really are amazing machines.
Do you have a favourite piece you have made? Why is it your favourite?
I have several favourites, for various reasons. 'Promises and Lies; Keeping Score' comes to mind immediately. It was created for the 2016 Bullseye Glass Emerge competition and was my first attempt at narrative. It holds a special place in my heart. It took well over a year to develop. It is a remembrance of growing up as a child and the store where they had nails beside the cash register where they would stack the receipt after you paid, a way of keeping score for the day.
Pieces in my newest, 'Seeking', series are special because they are 17 inches tall, which is large by my standards. They are super heavy to make and very challenging, both in terms of time and technical knowledge. Each one requires about five days of me leaning into my kiln to build it. So, they are a very physical feat. They allow me to experiment with textures and to really share the glorious layers of my work.
'Winter's Breath', my first piece, is another that I adore. Its white-on-black dramatic photograph really reminds me of the drama of a Canadian winter (see main feature image).
I could go on and on! You could say that I like my work, and that's a good thing. Otherwise, why do it?!
Where do you show and sell your work?
I am fortunate to have several galleries in Canada that show my work, including Oeno Gallery in Prince Edward County, L.A. Pai Gallery in Ottawa, and La Guilde in Montreal. I also exhibit with Harrison Gallery in Key West, as well as at Gallery TEN in Edinburgh, with its amazing director, Paul Musgrove. I am always applying to take part in exhibitions, both nationally and internationally. You can also see my work on my website: www.cherylwilsonsmith.com
Do you have a career highlight?
I was thrilled to receive The Royal Bank of Canada (RBC) Award for glass in 2014. This is a national award for glass and was significant recognition for me.
I am also excited that my interactive installation '21 Pillows' is currently touring Canada. Watching people touch and move art you have made has given me huge joy.
Viewers of '21 Pillows' move through a Gallery imbued with raven calls. They are encouraged to select a kiln-fired glass rock from the thousand I made and place it in a spot that they are drawn to amongst the 21 Pillows. I believe that the interaction and collective energy of all the participants will shape the development of the installation and provide everyone with the opportunity to contemplate the passage of time, the vulnerability of humanity and the natural world, and what we as a collective do if we each make only a small change.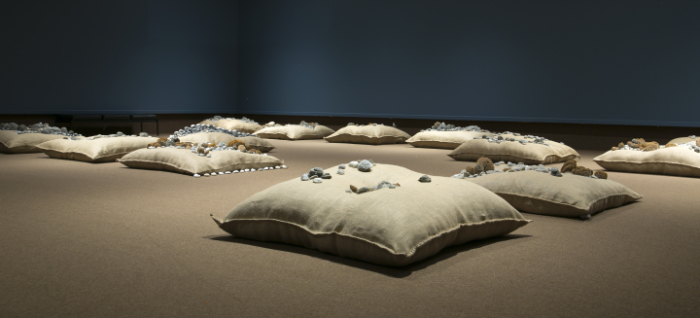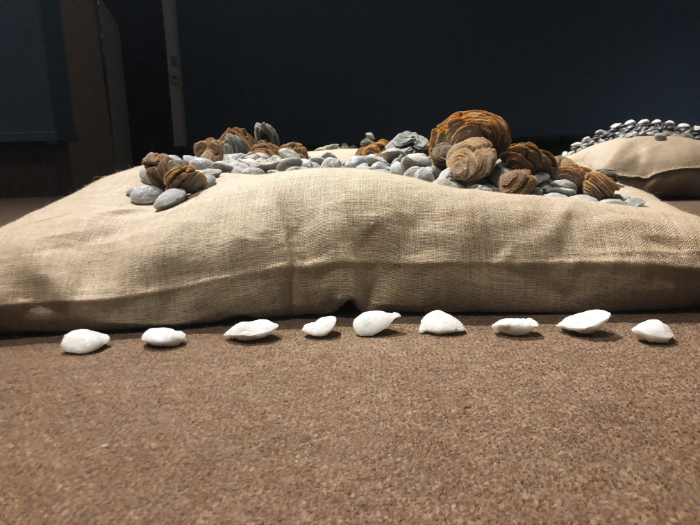 Who or what inspires you?
Walking in the boreal forest where I live is my visual and sensory inspiration. There is so much that surrounds me. My environment is filled with endless possibilities in the ever-changing four seasons.
Many people also inspire me. I am excited by the textural painting of Lucian Freud, the art of Anslem Kiefer, as well as the environmental commentary of people like the photographer Edward Burtinky. I am fascinated by the natural art of William Morris, the leader of the Arts & Crafts Movement. There are so many kind, contemporary glass artists, artists and gallerists who have helped me. It is a truly overwhelming list. They include glass artists Koen Vanderstukken, Ione Thorkelson, Richard Parrish and so many more.
Did the coronavirus impact your practice and, if so, how did you adapt?
Well, it definitely slowed the selling of my work. I believe my work must be seen in person to really understand its subtleties.
In addition, I changed during Covid. I had to isolate several times and took over the care of my father for several months. This meant I turned inwards. For those who know me, my becoming more introverted is hard to believe. I also spent more time being close to, and spending time in, nature, which was beneficial.
The pandemic also allowed me time to expand my torch work and explore metal smithing. I am not sure where these new ventures are leading yet, but I feel like they will complement and inform my future work.
Being a part of the Contemporary Glass Society really helped me during the pandemic. Being able to see other artists and explore their work virtually on the weekly Zoom presentations was a huge benefit to someone who already lives and works in a remote place. For that, I will always be grateful.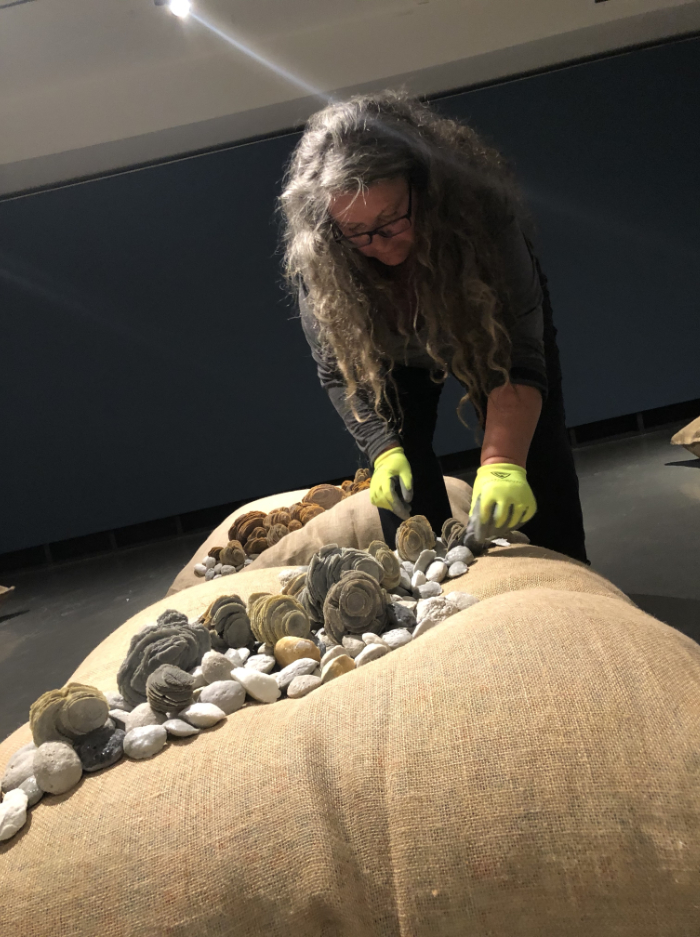 About the artist
Cheryl Wilson-Smith has lived all her life in Canadas' North, working and raising her family in Red Lake. Beginning as a painter and ceramic artist, she works in glass art, exploring the passage of time and her sense of place in the vast world around us. Drawing on her isolated life, residencies around the world and other travels, she has a unique perspective. By manipulating the physical characteristics of powdered glass, she achieves forms that resemble familiar land formations.
She began exhibiting in 2007, receiving national and international attention. Her work has been in numerous exhibitions and she had a recent solo installation at galleries throughout North America and in the UK.
Like most Canadians, her inspiration is landscape – landscapes remembered across generations, those affecting us, and those we impact.
She is interested in remembrances that shape an individual's art and design ideas. Her sculptures serve as receptacles for memory and time, while at the same time exploring the tensions as we try to walk responsibly in the world and contemplate the extent to which we all alter the landscape, for better and worse.
Main feature image: 'Winter's Breath' was the first glass frit sculpture Cheryl Wilson-Smith made in 2013. Photo: Shannon Kellestine.
Glass Network digital brings you all the latest news and features about contemporary glass
Send your news, feature ideas or advertising requests to the Editor Linda Banks