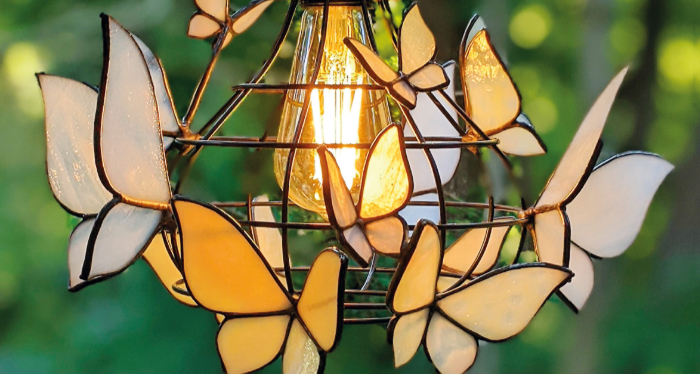 Stained glass
| 12-05-2022
'Kicking Glass' book teaches copper foil technique
If you are interested in learning the traditional copper foil technique for stained glass, glass artist Neile Cooper has written a new book to guide you.
'Kicking Glass' provides an in-depth, step-by-step approach to help you create beautiful artwork using this delicate method.
Ideal for the beginner or intermediate student, the book covers the basics of studio set-up, safety, tools and supplies, along with a section on the different types of stained and textured glasses that are suitable for using with copper foil technique.
There is guidance on how to cut glass and use patterns to build confidence before diving in and making that first project. Each section is liberally illustrated with colour photographs that provide clarity as well as inspiration for what can be achieved.
A total of 16 patterns are included, for designs ranging from a simple light catcher up to more advanced 3D work.
Alongside Neile's guidance, the book features insights from other glass artists, in the form of short interviews with illustrations. These provide further useful tips and inspiration from different perspectives.
Neile's warm and supportive approach comes across as she shares the vision behind the creation of her own sanctuary – a cabin in her garden that she is lovingly decorating with reclaimed window frames and stained glass designs based on her love of the natural world.
This is the book for you if you are thinking of trying out the copper foil technique, or would like to advance your skills.
'Kicking Glass' offers comprehensive training and a liberal helping of motivation through beautiful imagery and practical designs to try.
Neile Cooper has worked with stained glass for over 20 years. She gives regular talks and workshops.
She is based in Sparta, New Jersey, USA.
'Kicking Glass – A Creative Guild to Stained Glass Craft' is available in a paperback or eBook formats. It is published by Herbert Press and available to pre-order now (or order when it is published on 26 May 2022) via this link.
Book reviewed by CGS Glass Network digital editor, Linda Banks.
Glass Network digital brings you all the latest news and features about contemporary glass
Send your news, feature ideas or advertising requests to the Editor Linda Banks