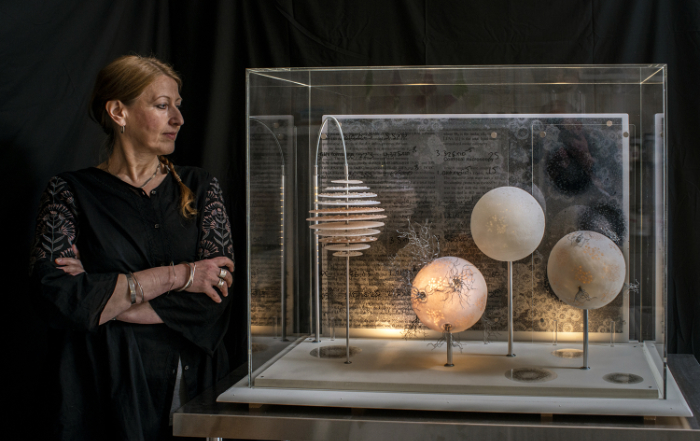 Julie Light: Art under the microscope
Pate de verre artist Julie Light likes to represent aspects of the human body in unconventional ways. In this interview with CGS Glass Network's digital editor, Linda Banks, she explains the evolution of her glass practice and how she adapted her methods to complete a contemporary glass commission with a scientific theme, despite the constraints of lockdown.
It's been a difficult year for many artists – what have you been working on?
I've been very lucky from that point of view. Days before the first UK lockdown started, I visited labs at Leeds University, in the UK, having won a commission to respond to research to discover whether membrane-disrupting peptides could be used to develop new cancer treatments. The commission is destined to be displayed in the Clinical Research Facility at St James' University Hospital in Leeds, where patients take part in research trials.
My studio is at home, so over the next nine months of lockdowns and the closure of the labs, I was still able to collaborate with the Leeds-based scientists at home via Zoom and to experiment in my studio to create the final piece, Diorama 1. Trying to show people samples and textures over Zoom is a real challenge, as a webcam doesn't convey the details well at all, but we managed to find ways around that using images and screenshares.
The isolation of the lockdowns allowed me to work on developing a style of pate de verre which incorporated different textures of glass, to mirror some of the phenomena that informed the team's research work. I also experimented with other techniques and ideas. It was a joy for me to be involved in creating a piece that celebrated research into treatment for a pervasive and life-threatening disease, but it was also a blessing that the disease was not Covid, because that was dominating everything else at that time.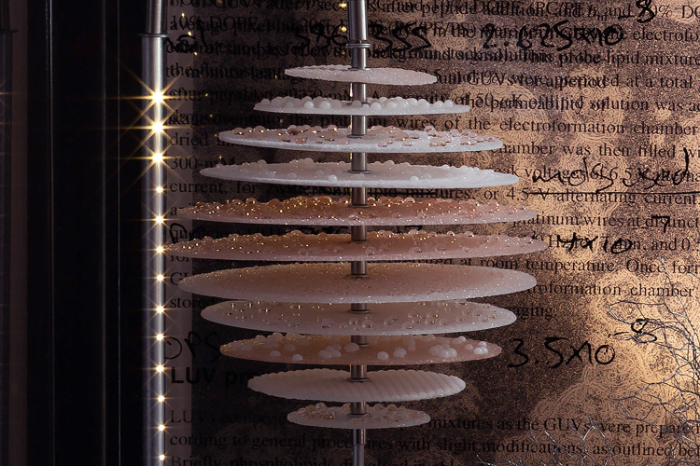 I have not been able to take the artwork to Leeds yet, owing to the travel and hospital restrictions, but I am delighted that I have been able to show Diorama 1 as part of a virtual international online exhibition of glass art created during the pandemic. You can see the show now at www.viralglass.org.
A lot of your work deals with scientific themes. What message do you want to convey with your art?
As soon as I began making glass art, I started to explore themes around medicine and the body, and this interest continued to develop until I found myself studying for an MA in Art & Science at Central St Martin's College a couple of years ago. I am extremely interested in how medical technologies allow us to experience our bodies visually in different ways, and so my artwork is often centred on unconventional representations of the body in health and disease.
A lot of us come across medical images in relation to our own health and wellbeing. When I had this experience myself, I began to ask, what does it mean to see yourself from the inside out, as we do with x-rays and MRI scans? How easily can we tell if a scan is actually of our own body? (I can tell you from experience that sometimes it's not easy at all!) And what happens when we see our cells through a microscope? Do we know what we're looking at?  I would love to think that my artwork helps stimulate conversations and contemplation around these types of issues.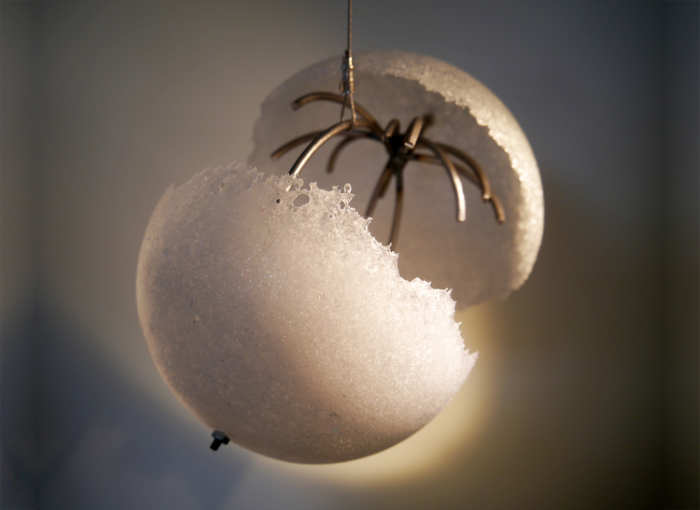 I am also very interested in how forms and structures within our bodies influence our physical experiences. For example, the different shapes of some mutations of blood cells can create a variety of health conditions related directly to the shape of the cell.  That is what inspired my Blood Morphology Series.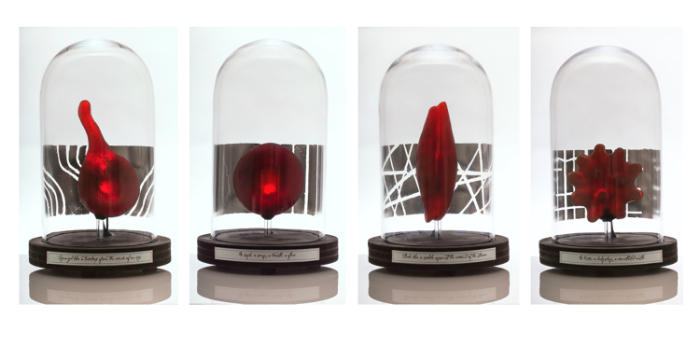 How did you get started with glass?
I came to work with glass by complete chance. I had been in a corporate job for many years and was feeling a bit stifled, but then I heard about a Norwegian artist, Nico Widerberg, who uses cast glass. Despite the fact that I hadn't made any artwork for a very long time, I knew I would love to try casting glass myself, so I signed up for a weekend to learn the basics. I was lucky that the course was taught by Fiaz Elson, who is a gifted teacher as well as an amazing artist.
I never looked back. Within a few weeks, I had found a studio space and a kiln and was practising casting small pieces. I continued to learn from other wonderful teachers, developing my skills at evening classes with Max Jacquard and then Angela Thwaites at Richmond Art School. I have also been lucky enough to participate in a couple of masterclasses at Northlands Creative. My first casting – of a human vertebra – was made about 12 years ago and I am as excited to experiment with different ideas and techniques now as I was back then.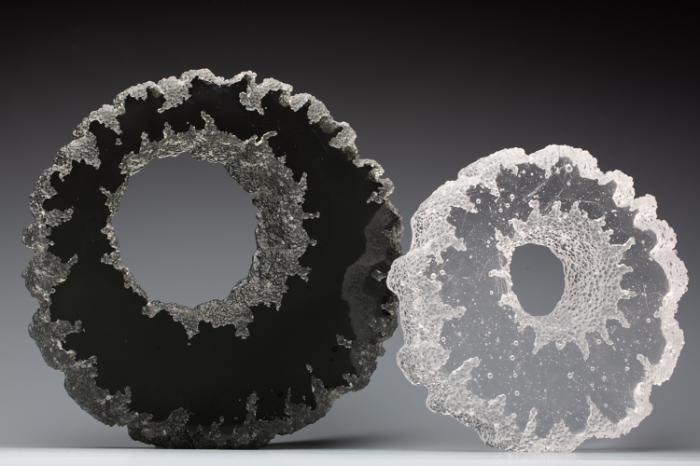 What techniques are you using at the moment?
I still do some casting and coldworking, but recently I have been focusing much more on pate de verre. The work I did creating Diorama 1 has led to a whole new set of pieces using the different pate de verre techniques I developed for that piece, incorporating different textures and applying external decoration.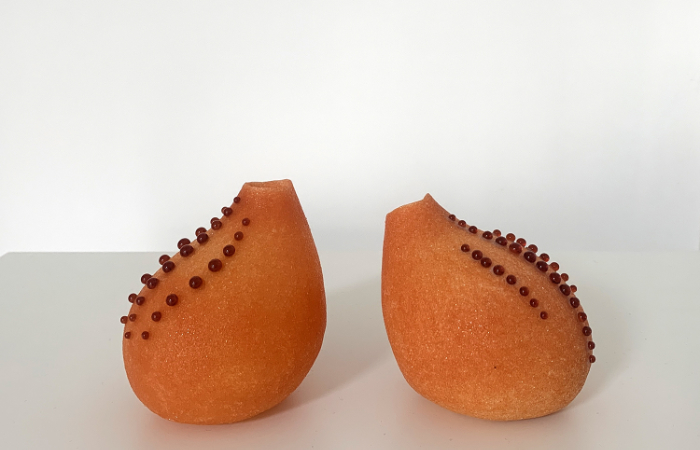 The result is the series of 'fantasy sea creature' vessels that I am making at present. These have a 'backstory' that the creatures evolved as hybrids between sea slugs and the plastic bottles that pollute the oceans. I'm still working on what the final installation might look like, as well as on perfecting the pate de verre process for creating them – and I am having enormous fun in the process.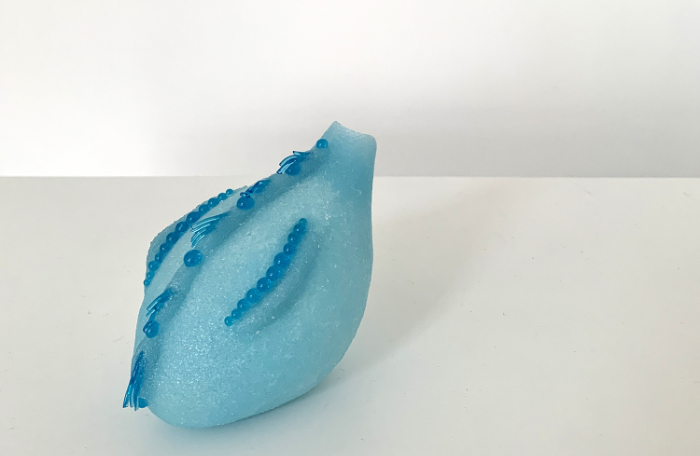 Where do you show and sell your work?
Some of the work I make can be quite challenging and is not what everyone wants in their living room, although I have been surprised – and delighted – to find that some people do!  Most often, I show my science-based work in exhibitions with a relevant theme or at institutions with a science focus, or it has been made as a specific commission.
A couple of online galleries stock my work, and I also find that a significant proportion of enquiries about sales come via my website. My next step is to create a dedicated shop page so that people can see what I have available.
I have just finished a five-year term as Chair of Just Glass, a group of more than 60 glass artists who have come together through learning warm glass techniques via adult education. Until the recent restrictions, we were holding shows regularly, and it has been a wonderful experience to exhibit my work with that of fellow members, as well as to help organise and curate these shows.
Find more of Julie's work at www.julielight.co.uk or follow her on Instagram or Facebook as Julie Light Glass.
About the artist
Julie Light was born and brought up in London. After a career at the BBC, during which time she gained a Masters and PhD in Media, she started casting glass in 2009. As part of her training in glass she studied for an HNC in 3D Craft Design at Richmond Art School and went on to receive a distinction in her MA in Art & Science at Central St Martins, University of the Arts London.
Julie has exhibited her work across the UK, at galleries, gardens, museums and hospitals. She often creates work collaboratively, and has completed a number of projects making and curating artwork with scientists, policy makers, and fellow artists, notably at The Royal Society, Kings College, London, and Imperial College, London.
Julie continues to serve on the committee of Just Glass, and works from her studio at home in Surrey.
Main feature image: Julie Light with Diorama 1, commissioned by Leeds University. Photo: Ernesto Rogata.
Glass Network digital brings you all the latest news and features about contemporary glass
Send your news, feature ideas or advertising requests to the Editor Linda Banks