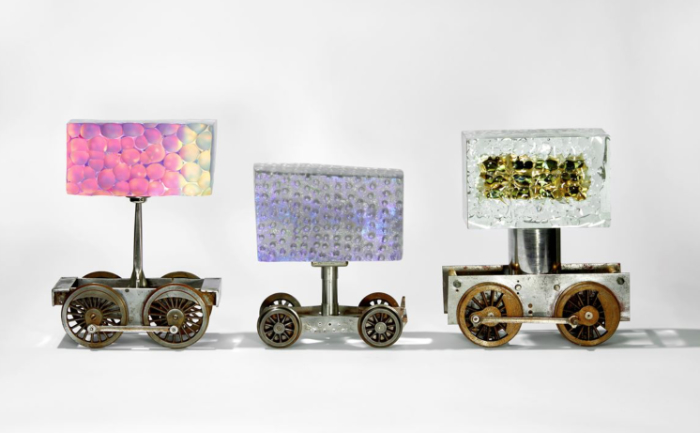 Jon Lewis solo exhibition at Vessel Gallery
A new solo show, 'Distant Electric Vision', featuring glass artist Jon Lewis, is on now at Vessel Gallery in London.
Engaged with themes of recycling, the creative synthesis of glass with metal, and the transformation of outmoded consumer products into art, this exhibition showcases new works conceived from the artist's unlimited imagination. From scorched meteorites to sculptural trains, Vessel says this exhibition "will surprise, intrigue and astound".
Artworks include Lewis's Moon Rocks, an ongoing series first created in 1998. These tactile pieces incorporate dichroic filters which reflect light of a chosen frequency, while absorbing the rest. When they are placed between two layers of glass with a diffused surface, the resulting object has a shimmering inner glow that changes colour depending on the angle of the light – a technique Lewis invented. Lewis states, "They look like they've fallen out of the sky and are a significant artistic and surprising technical discovery, which still delights and amazes me over 20 years later."
His Apertura series pieces are formed from recycled obsolescent Bang & Olufsen television screens. The optical glass, which has a high lead content, is melted down and blown into amorphic fluid forms. Each piece is then showered with sparks of iron ore which fuse with the surface of the glass upon impact. Lewis calls this unique process 'spark impregnation'. This metallic layer is then patinated, to age and weather the exterior. An 'aperture' of glass is left uncovered to echo a television screen, providing a penetrating observation window.
The term 'Distant Electric Vision' was coined in 1908 by the engineer A A Campbell Swinton, who presciently described the principles of the television years before the technology existed to make one. Lewis carries this vision into reality, fusing prehistoric and futuristic themes in his art.
Lewis was awarded the Glass Society Prize at the British Glass Biennale 2019. His Transceiver received an Honourable Mention in Trace – Showcasing Sustainable Glass Art, in the Glass Art Society's Virtual 2021 Conference.
His dichroic glass has been used in prestigious architectural commissions, including in the Space Pyramidion at the Child Museum of Cairo and the Bliegiessen Sculpture by Thomas Heatherwick at the Wellcome Collection. His work is in the permanent collection of the Glasmuseum Lette, Germany.
The Jon Lewis solo show is on now until 18 February 2022 at Vessel Gallery, between 11am and 5pm, Monday to Friday.
Vessel Gallery is at 114 Kensington Park Road, London W11 2PW. https://www.vesselgallery.com
Glass Network digital brings you all the latest news and features about contemporary glass
Send your news, feature ideas or advertising requests to the Editor Linda Banks