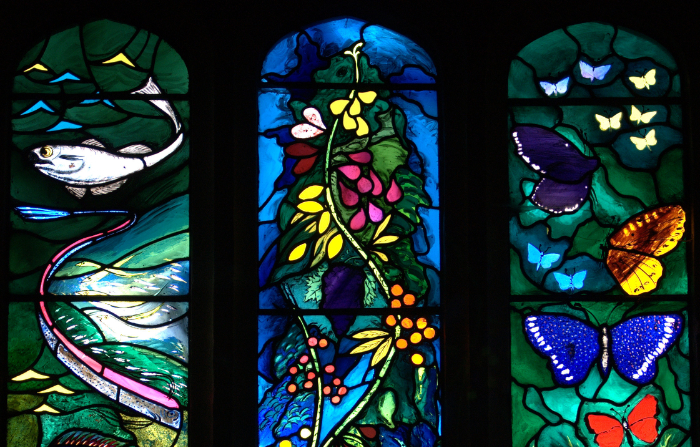 John Piper stained glass cartoon in Henley exhibition
Henley-on-Thames' River & Rowing Museum reopens on 20 May 2021 with a new display in its John Piper Gallery, entitled 'Painting in Coloured Light'.
The centrepiece of the exhibition is John Piper's vibrant cartoon for a stained glass window for All Saints Church, Farnborough, West Berkshire. The work was made in memory of the renowned artist's close friend and collaborator, Sir John Betjeman, in the mid-1980s. It was the last stained glass window Piper designed before he died in 1992.
Piper and Betjeman (1906-1984), the Poet Laureate, writer and broadcaster, shared a close friendship, along with a love of the British landscape and churches, embarking on many a 'church crawl' together.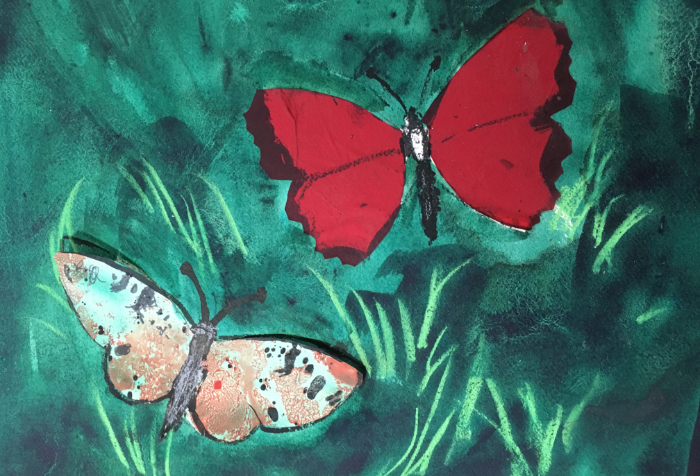 The window design features fish, a tree and butterflies. The central 'Tree of Life', with its brightly coloured fruit and flowers, suggests resurrection and eternal life. It was created in Piper's barn studio at Fawley Bottom near Henley-on-Thames, where he created large-scale designs for stained glass windows and the theatre.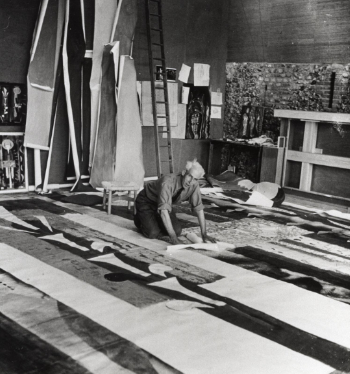 The cartoon hung in Piper's home there for many years and was loaned to the River & Rowing Museum by the Piper family in late 2018.
The cartoon has been expertly conserved, bringing its rich colours back to life and offering a close-up view of Piper's techniques for creating stained glass windows.
His lifelong interest in stained glass began as a boy, when he traced the stained glass windows near his home in Surrey and on family holidays. This interest led to Piper designing more than 60 stained glass windows during his career, using a blend of 'traditional' early stained glass and modernism. His work is found in locations from local churches to major cathedrals, including Coventry and Liverpool.
Talking about how them medium of glass had captured him, Piper remarked, "Stained glass is a great leader astray of anyone who works at it – designer and craftsman alike. In terms of colour and form it is eccentric. Colour is abnormally bright, since the light comes through the material instead of being reflected from the surface; tone is usually dictated by bounding leads or area joints of some kind. The whole thing is imprisoned within glazing bars that form an inexorable grid and are structurally necessary. This is its proper splendid discipline."
The Gallery highlights Piper's lifelong passion for stained glass and his exploration of this medium, influenced by the medieval windows he encountered from childhood. It opened in 2016 and features works from private and public collections that demonstrate Piper's artistic versatility, ranging from drawing and painting to stained glass and ceramics.
A general admission ticket to the River & Rowing Museum includes entry to the John Piper Gallery and the 'Painting in Coloured Light' exhibition. The Museum is open Thursday to Monday (10am-4pm) from 20 May 2021. Pre-booking is essential and tickets are on sale via this link. Booking is available up to 21 June 2021 in the first instance, but future dates will become available on a rolling basis.
Main image: Detail from stained glass window at All Saints Church, Farnborough, West Berkshire, featuring symbols of The Resurrection: fishes; tree of life; butterflies. Designed by John Piper and made by Joseph Nuttgens. Photo: Andrew Loutit. © The Piper Estate / DACS 2021.
Glass Network digital brings you all the latest news and features about contemporary glass
Send your news, feature ideas or advertising requests to the Editor Linda Banks