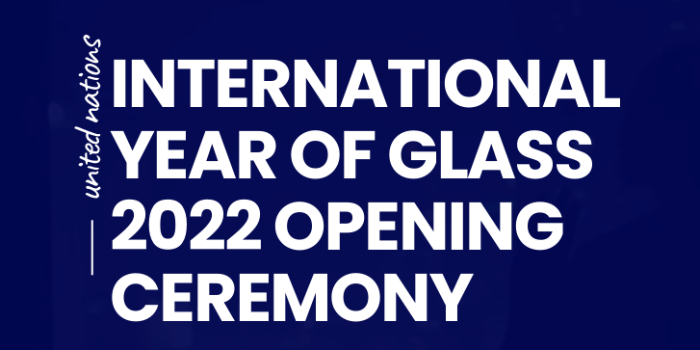 International Year of Glass 2022 launches with opening ceremony
The United Nations-designated International Year of Glass (IYOG) launched today (10 February 2022) with the official opening ceremony taking place over two days in Geneva, Switzerland.
Log in via this link to watch the live broadcast (the recordings will be available after 11 February if you miss the live versions – simply search 'International Year of Glass' in the search box on the UN Media website to find the speaker presentations).
The opening event takes place at the Palace of Nations in Geneva and features 30 world-class speakers. Talks highlight the latest thinking on how glass can aid the development of more just and sustainable societies alongside the most recent scientific and technical breakthroughs.
Opening the event on 10 February was Alicia Durán, chair of the IYOG 2022, with the General Secretary of the United Nations António Guterres, the Spanish Ambassador at UN Spanish Mission in NY, Agustín Santos Maraver, the Permanent Representative of Turkey at UN, Geneva, H.E. Sadık Arslan, the Minister Plenipotentiary/Deputy Permanent Representative of Egypt, Ahmed Salama, along with the Science and Technology Counsellor, Permanent Mission of China in Geneva, Shen Yanjie.
For the full programme of speakers and topics, follow this link.
Glass Network digital brings you all the latest news and features about contemporary glass
Send your news, feature ideas or advertising requests to the Editor Linda Banks