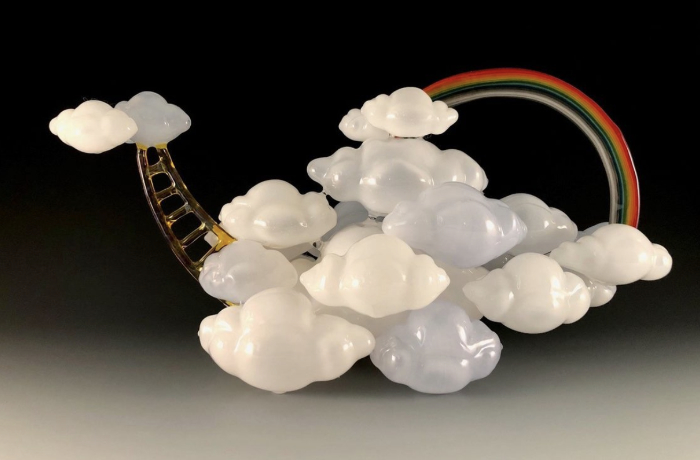 International Festival of Glass 2022 schedule launched
The programme for this year's International Festival of Glass (IFoG) is now live on the IFoG website. It promises lots to see and do at venues around Stourbridge (West Midlands, UK) across the August Bank Holiday weekend (Friday 26 August to Monday 29 August 2022).
Among the attractions this year are 12 exhibitions, including 'Expanding Horizons', an invitational exhibition by 34 artists from Korea, Japan and China, two book launches, 22 lectures, 28 workshops, 35 scheduled demonstrations and seven evening events, to fill both days and nights.
Meet the artists
Throughout the Festival, there will be opportunities to meet and learn from world-renowned glass artists. The Contemporary Glass Society (CGS) will host a 'Chit Chat' where visitors can hear talks by four of the teams creating work for the 'Collaborations' exhibition – Chris Day and Grace Ayson; Georgia Redpath and Stephen Foster; Kirsty Brooks and Max Jacquard; and Vanessa Cutler and Allister Malcolm.
Elliott Walker, the winner of Netflix's last 'Blown Away' series, is holding the grand opening of his new Blowfish Gallery and Studio with his partner, Bethany Wood, featuring an artist's meet and greet.
Over the road, at the new Stourbridge Glass Museum, you can meet Maddie Hughes who is taking part in the new series of 'Blown Away'.
Another good reason to visit the museum is to view the CGS's special exhibition, 'Past, Present, The Future', celebrating its 25th birthday, with 25 artists to represent each year of the organisation's existence.
The popular 'postcard' exhibition run by the CGS at each IFoG has the theme 'Holiday Heaven' this year. Over 100 CGS members will display a diverse range of skills and techniques as they represent different Commonwealth countries in glass panels measuring just 11 x 15 cm. These little works of art will be for sale at £50, £75, or £100, with a percentage going to support the ongoing work of the CGS.
The Masterclass leaders will stay throughout the Festival, contributing to the varied programme of lectures and presentations and demonstrating their skills. Offering insights into their making processes, Satoshi Ishida will talk about Japanese pâte-de-verre, and Wayne Strattman will consider the topic 'What is Plasma Art?'
IFoG events are taking place at different venues around Stourbridge, including: the Ruskin Glass Centre/The Glasshouse; Stourbridge Glass Museum; The Lace Guild; Red House Glass Cone; Amblecote Wordsley Methodist Church; Wolverhampton Art Gallery, and the University of Wolverhampton School of Art.
Check out the full schedule, day by day, via this link.
Image: Work from the 'Expanding Horizons' exhibition showcasing artists from Korea, Japan and China. 
Glass Network digital brings you all the latest news and features about contemporary glass
Send your news, feature ideas or advertising requests to the Editor Linda Banks