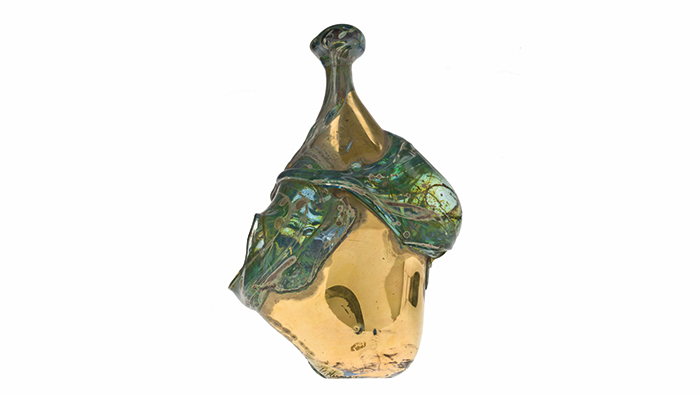 In memory of Sam Herman (1936-2020)
Leading glass artist and educator, Keith Cummings, pays tribute to one of the great innovators of the contemporary glass world.
Sam Herman, one of the major pioneers of the British Studio Glass movement, sadly died on 29 November 2020. As a maker, teacher and powerful apostle of hot glass forming, his influence on the development of the British Studio glass movement has been long lasting and truly revolutionary.
As one of the original students of Harvey Littleton's glass course at the University of Madison-Wisconsin in the early 1960's, he experienced first-hand the development of the small furnace at Wisconsin by Harvey Littleton and Dominic Labino. This allowed art students to actively shape the glass themselves, and to use glass as a genuinely creative studio material for the first time. It also placed glass in American colleges as a Fine Art material.
There were only a few courses in glass design at British art schools at this time, all of which saw glass as part of a strict design process in which students' designs were realised by skilled, industrially trained craftsmen.
When Sam Herman came to Britain in 1966 (after graduating with a Master of Fine Arts in Sculpture and Glass), bringing with him an exhibition of glass work by Wisconsin students, his impact during visits to Edinburgh, Stourbridge, and the Royal College of Art demonstrated both a new way of making and a new way of seeing glass as a vehicle for creative education. His personal example, and his refreshingly direct way of talking about his work, set in motion the entire first wave of British studio glass makers, including Pauline Solven, Karlin Rushbrooke, and George Elliott.
He was invited to teach at the Royal College of Art, becoming head of the glass department from 1967 to 1974, during which time he led the first group of students who were able to work hot glass from the new, Wisconsin-style furnaces.
In 1969 he helped to establish the Glasshouse in London which provided glass studios for rent, and also as an outlet for their work. His joint exhibition in 1971, with the jeweller Gerda Flöckinger in the Victoria and Albert Museum, further established his growing global reputation and signalled that studio glass in Britain had come of age.
He worked and exhibited across the world during his long, rich and productive life and career.
He was always unmistakably American in his strong, direct approach to teaching and making; he never stopped experimenting and encouraged his students to do the same. He nevertheless chose to settle in Britain, and remained a lifelong presence.
The recent book about him, edited by Rollo Campbell, with a foreward by the Marquess of Queensberry, is a fitting testament to his life and work.
By Keith Cummings
Feature image: Sam Herman, Free Blown Bottle (1971). 260mm high x 180mm wide. From Dan Klein & Alan J Poole's collection, now at the National Museums of Scotland.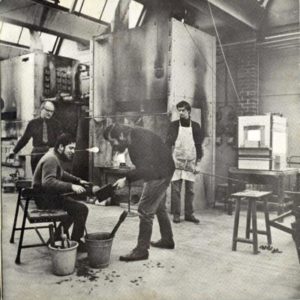 Stourbridge College 1965?
Glass Network digital brings you all the latest news and features about contemporary glass
Send your news, feature ideas or advertising requests to the Editor Linda Banks